257-Year-Old Coloring Book Rediscovered in St. Louis
The Florist contains 60 drawings, and recommends watercolor pigments like "gall-stone brown"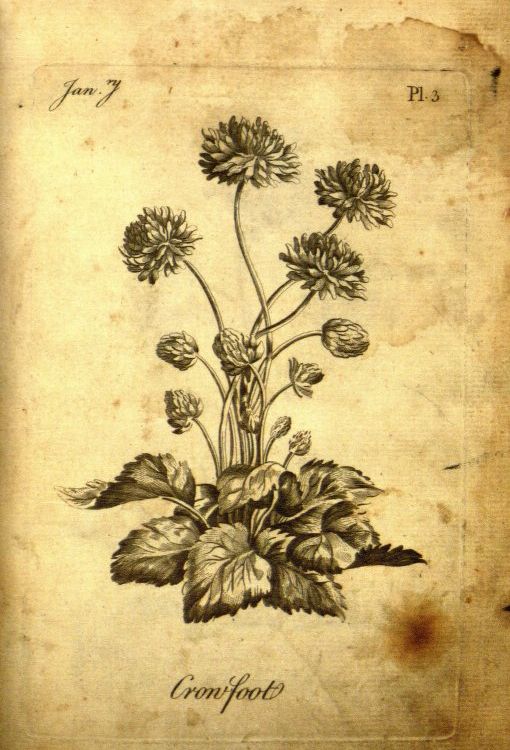 Intricate coloring books for adults have become quite the phenomenon recently (just ask Kate Middleton). Grown-up doodlers can find any number of titles to suit their needs: there are books filled with everything from lush garden scenes to Game of Thrones characters. But the coloring craze is not entirely new. As Jane Henderson reports for the St. Louis Post-Dispatch, a botanist at the Missouri Botanical Garden recently found an 18th-century adult coloring book in the garden's library.
The Florist, as the book is called, was printed in London in approximately 1760. It boasts 60 detailed images of flowers, along with rather detailed instructions for filling them in. Robert Sayer, the book's printer, recommends that doodlers opt for colors like "ultramarine," "sap-green," and the rather unpleasant-sounding "gall-stone brown." All were pigments for watercolors that Sayer sold.
Sayer also notes that the book is "intended for the use and amusement of Gentlemen and Ladies." But the garden's copy of The Florist wasn't used much at all. The book is marked with a few doodles that appear to have been made by a child, stains suggesting that someone used the book to press plants, and a few words—like the name "Albert," which was carefully inked across a blank page. Most of the illustrations, however, are devoid of color.
The fascinating find was made by Amy Pool, a botanist at the garden. "She was doing some light reading in The History of Botanical Illustration when she happened upon a reference to a 1760 coloring book," Henderson writes. "Pool entered the title in the garden's digital catalog and found it had a copy."
There are some 250,000 items housed within the garden's library, and nobody is quite sure how The Florist got there. According to Amber Van Dam of CNN, the book was once mass-produced, but only a handful of copies have been preserved. Yale's Center for British Art has two copies—one of which was colored in—and Virginia's Oak Spring Garden Library holds the only other copy in the United States.
When Sayer published his book of monochromatic flowers, botany was a very fashionable subject among the British upper class, according to Daily Life in 18th-Century England by Kristin Olsen. "Royal and aristocratic ladies, like royal and aristocratic men, collected natural specimens and kept up to date on the latest theories and classifications, and the gentry and middle classes followed suit," Olsen writes. The study of flora was considered a particularly suitable point of interest for young women, "though often with some discreet censorship of some of the more objectionably metaphors."
The Florist's illustrations are not particularly accurate, scientifically speaking, but Pool says she finds some charm in them nonetheless. You can judge The Florist's artistic merits for yourself at botanicus.org, which has uploaded a digital copy of the 257-year-old coloring book.