2,000-Year-Old Child's Shoe Found in Austrian Mine
The leather shoe in "outstanding" condition is comparable to a U.S. children's size 12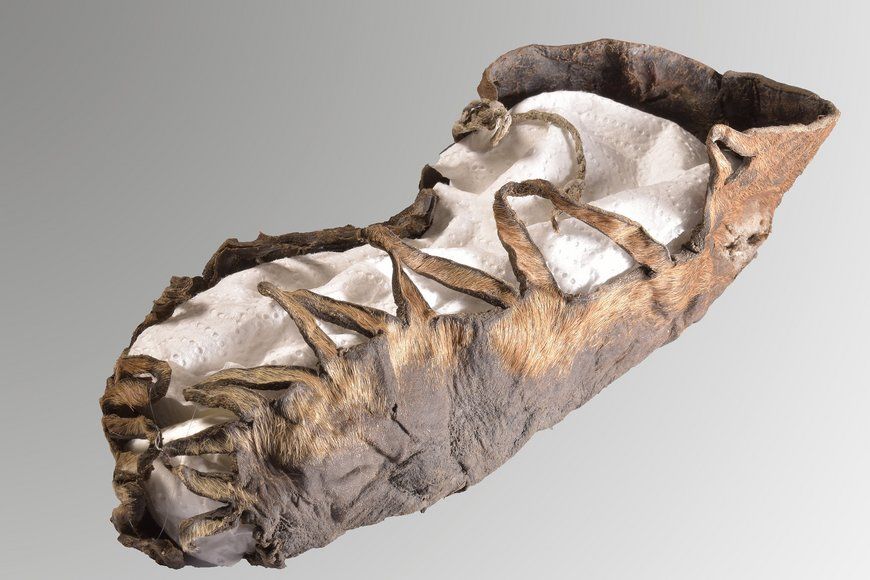 Archaeologists excavating a rock salt mine in Austria have discovered a shoe that belonged to a young child more than 2,000 years ago. 
Despite its age, the solitary piece of footwear is in "outstanding" condition, says dig leader Thomas Stöllner, an archaeologist at the German Mining Museum in Bochum, in a statement, per Google Translate. That's largely due to the preservative properties of salt, which is abundant in the mine.
For the last 22 years, archaeologists have been working at the site, which is located near the Austrian village of Dürrnberg, just south of Salzburg. The mine is situated close to Austria's southwestern border with Germany.
Researchers were excavating an area known as the Georgenberg tunnel when they stumbled upon the shoe, which is similar to a European children's size 30 or American children's size 12, per Live Science's Laura Geggel.
The shoe is made of leather and has a small piece of flax or linen still attached, which archaeologists suspect once served as a shoelace. Though they've discovered other shoes at the mine, those mostly belonged to adults. The newly discovered shoe suggests "the presence of children underground," per the statement.
"Perhaps their job was to shovel up discarded rocks. Or perhaps they carried precious materials to the surface. Maybe they had a different job entirely," as the Miami Herald's Aspen Pflughoeft writes. "The only clue they left behind was a 2,100-year-old shoe."
Based on the design of the shoe, researchers say it was likely made during the second century B.C.E. Various groups have been mining rock salt in the area since the Iron Age, which began around the year 800 B.C.E.
Near the shoe, archaeologists also discovered other well-preserved organic artifacts, including a piece of a wooden shovel and a bit of fur with lacing that may have once been attached to a fur hood.
"Organic materials generally decompose over time," says Stöllner in the statement. "Finds like this child's shoe, but also textile remains or excrement like those found on Dürrnberg, offer an extremely rare insight into the life of Iron Age miners. They provide valuable information for our scientific work."
The researchers plan to continue their archaeological studies at the mine over the next few years, with an overarching goal of exploring the entire area to "obtain as comprehensive information as possible about the work of the Iron Age miners and their way of life," per the statement.