Critically Explore 17th-Century Noblewoman's Little-Known Poems Online
Hester Pulter's works detail chaotic political landscape of the English Civil War, scientific discoveries, theological queries, personal struggles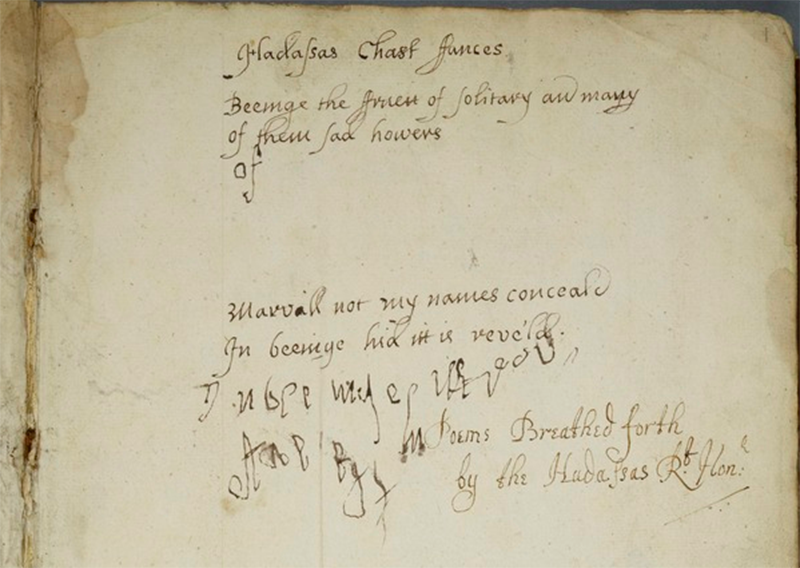 Hester Pulter was many things: an English aristocrat, an intellectual inspired by scientific subjects ranging from Galilean astronomy to botany, and a devout Christian with a vested interest in the study of eschatology. She catalogued her thoughts on these subjects and more in an incisive collection of poems composed during the turbulent years surrounding the English Civil War, but following her death in 1678, the writings went unread for some 350 years.
Then, in 1996, a graduate student conducting research at the University of Leeds chanced upon a manuscript of Pulter's long-lost poems, sparking a burst in scholarship on the 17th-century noblewoman. Now, Samantha Snively writes for the Conversation, the poet's prescient texts are finally freely available to the public via an online portal called "The Pulter Project."
The portal page explains that Pulter was born Hester Ley likely in or near Dublin around June 1605. At that time, her father was serving as a chief justice on the king's bench in Ireland, but he soon moved to England in hopes of winning James I's favor. By the time James' son Charles I ascended to the throne, Ley got his wish. Charles I elevated the family to the peerage, an honor that may have influenced Pulter's own sentiments toward the monarchy; in a poem composed following the king's 1649 execution, entitled "On that Unparalleled Prince Charles the First, His Horrid Murder," she laments, "So since our martyred sovereign's spirit's fled, / Our light and life, our hopes and joys, are dead."
Alice Eardley, editor of the first scholarly edition of Pulter's work, points out that the poet didn't blindly follow the political leadership of the day. In her writings, she criticizes the Parliamentarians, who argued against absolute monarchy and ultimately emerged triumphant, but also has harsh words for the ruling class, which she saw as failing "to defend both their king and the social hierarchy over which he presided."
It's likely Pulter kept these views, as well as similarly controversial opinions expressed in her poetry, relatively private. As Snively notes, 17th-century women who published works that fell outside of conventional tropes (household guides, devotional books and diaries) risked gaining a reputation for vulgarity and sexual promiscuity. Pulter may have shown her writings to family members—she wed her husband, Arthur, at a young age and eventually gave birth to 15 children, all but two of whom predeceased her—but other than that, they went unheralded.
The Pulter Project—an ambitious undertaking that enables readers to engage with multiple versions of Pulter's verse, from digital facsimiles of original manuscript pages to transcriptions and annotated modernizations—aims to expose its eponymous subject's "deeply felt responses to the carnage and chaos of the mid-seventeenth century," as well as the "afflictions and losses in her own life," to a wider audience than ever before.
Wendy Wall, a scholar of early modern literature at Northwestern University who serves as co-director of the project alongside Brock University's Leah Knight, explains that Pulter remains "a little bit of a cipher" despite the large body of work she left behind. At the same time, Wall says, there is a sense of liberation apparent in Pulter's compositions, perhaps because she believed her work wouldn't be widely circulated, so she simply wrote whatever she truly felt.
Eardley further notes that Pulter appeared to have viewed her home, an estate in Hertfordshire situated at least a day's ride from London's center, as a restrictive environment. Although this isolation may have affected her psyche, Eardley suggests it afforded her the opportunity to express "opinions and emotions not usually encountered in poetry by early modern women, or indeed men."
Amongst the most striking examples of Pulter's work are "View But this Tulip," a meditation on alchemical properties that ominously declares, "From sulfur, salt, and mercury they came; / When they dissolve, they turn into the same," and the elegiac "Upon the Death of my Dear and Lovely Daughter, Jane Pulter," which features an age-old expression of "grief, / And tears (alas) gives sorrow no relief."
A key feature of the Pulter Project is its "Curations" section, which compiles verbal and visual materials that add a new perspective to poems. Reflecting on "Made When I Was Not Well," a text that tackles the corporeal toll of aging, Frances E. Dolan compares contemporary "invisible woman syndrome" (a phenomenon in which middle-aged women tend to disappear from public view) with the extreme pressure to appear ageless experienced by 16th- and 17th-century women. Elizabeth I, for example, famously used portraiture to maintain the myth of her youthful beauty, which was believed to be linked with the state of the country itself.
Ultimately, Snively characterizes Pulter as a proto-feminist of sorts, writing that she "expresses early feminist ideas, and addresses, in complex ways, how society constricts women's behavior, devalues their work and diminishes their intellectual value." In Pulter's own words, "Why must I thus forever be confined / Against the noble freedom of my mind?"