15th-Century Pot of Gold (and Silver) Found in the Netherlands
Archaeologists say the coins can shed light on a little-known period of Dutch history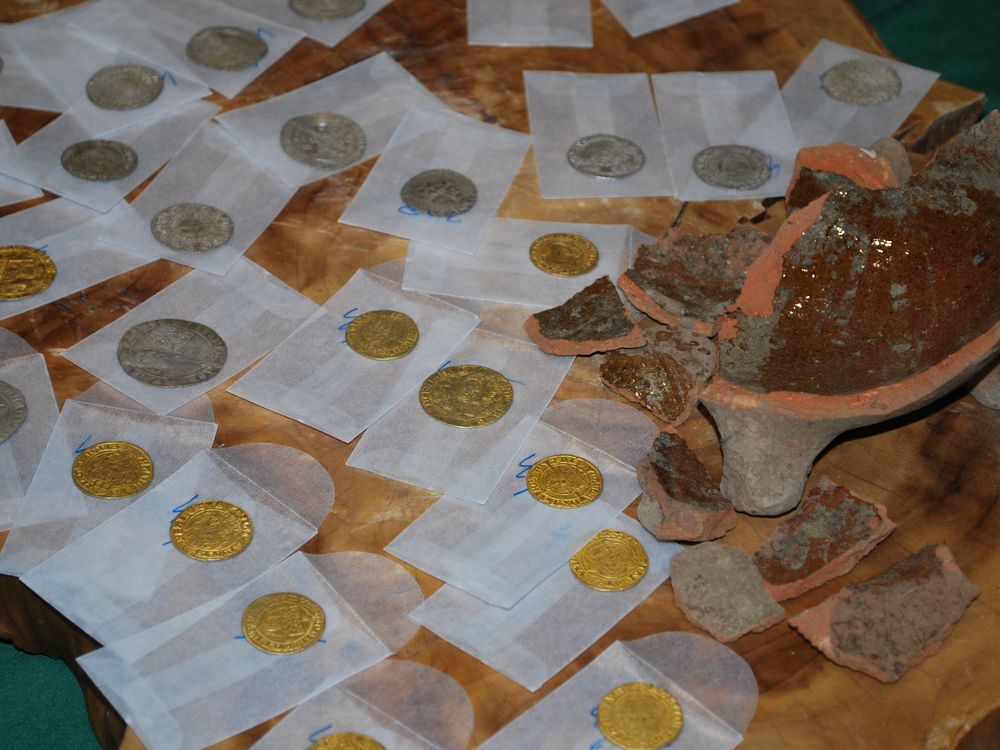 While digging in Hoef en Haag, a town in central Netherlands, waterworks employees recently unearthed a remarkable archaeological relic: a centuries-old pot filled with hundreds of gold and silver coins. There were no rainbows or leprechauns in sight, but as Janene Pieters reports for the NL Times, experts are nevertheless excited by the discovery, which they hope will shed light on a little-known period in the area's history.
The pot o' gold was found in early March by employees of the drinking water company Oasen, who immediately alerted archaeologists in the city of Utrecht. Inside the earthenware cooking pot were 500 coins, 12 of them gold, the rest silver. Remnants of textiles were also found in the vessel, which may suggest that the coins had been bundled into bags or cloth.
According to Dutch News, archaeologists have dated the pot to the late 15th century. The coins are engraved with the portraits of King Henri VI of England (who ruled from 1422 to 1461, and then again from 1470 to 1471), Pope Paul II (who was appointed in 1464) and David of Burgundy (who served as Bishop of Utrecht from 1456 until his death in 1496).
"[E]very coin in this treasure is a story in precious metal," archeologist Peter de Boer, who was on hand to inspect the newly discovered pot, tells RTV Utrecht, according to Pieters. "[T]here is a lot to discover: stories over power relations, religion and a lot of symbolism."
At the time when the coins were in circulation, the Netherlands and Belgium were ruled by the Dukes of Burgundy, a French noble family. Hoef en Haag, where the pot was found, is a new community but is located near the historic city of Hagestein. De Boer explains that Hagestein was destroyed in 1405, and little is known about life in the region in the aftermath of this violent event.
"In this sense we now have a 'pot full of stories,'" he says, according to Pieters. "[S]uch a random find makes [an] archeologist very happy."