107-Year-Old Japanese Sisters Are the World's Oldest Identical Twins
Umeno Sumiyama and Koume Kodama were born on the island of Shodoshima on November 5, 1913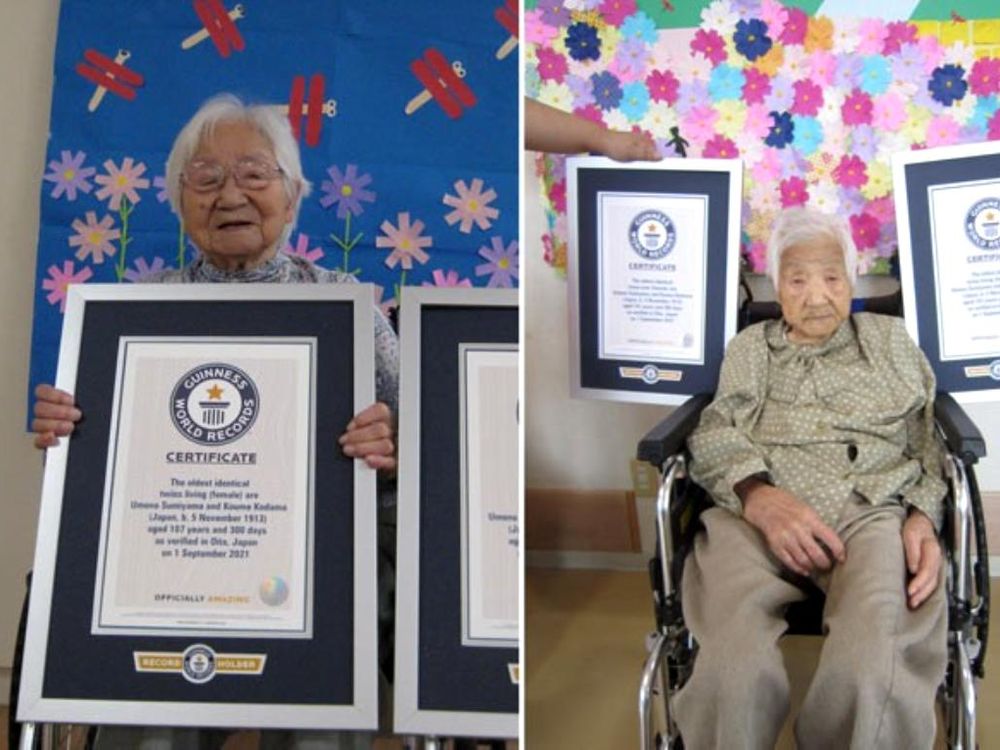 On September 1, sisters Umeno Sumiyama and Koume Kodama turned 107 years and 300 days old, officially breaking the record for the world's oldest living identical twins. The Japanese siblings are also the oldest identical twins to have ever lived.
As Mari Yamaguchi reports for the Associated Press (AP), Sumiyama and Kodama were born on Shodoshima island in western Japan on November 5, 1913. They were the third and fourth of 11 siblings.
Previously, Kin Narita and Gin Kanie, also sisters from Japan, held the title of oldest living identical twins. At the time of Narita's death in January 2000, the pair were 107 years and 175 days old. Kanie died the following March, at age 108, notes Hanako Montgomery for Vice.
Per a statement from Guinness World Records, which certified the siblings' record this month, the twins faced bullying growing up due to a cultural stigma against children of multiple births. Despite this, both girls were friendly and optimistic, their family members recall. Sumiyama was known as the more forceful sibling, while Kodama was usually regarded as more mild-mannered.
The sisters parted ways after elementary school, with Kodama going to Oita, a town on Japan's southern main island of Kyushu, to work as a maid, notes the AP. She stayed on Kyushu and got married. Sumiyama remained in their hometown and later started her own family there.
Sumiyama and Kodama lived through many of the defining events of the 20th century, including the 1918 influenza pandemic and two world wars. Toward the end of the Second World War, Sumiyama had to flee her home, as soldiers were building an air raid shelter in the mountain behind it, according to Guinness.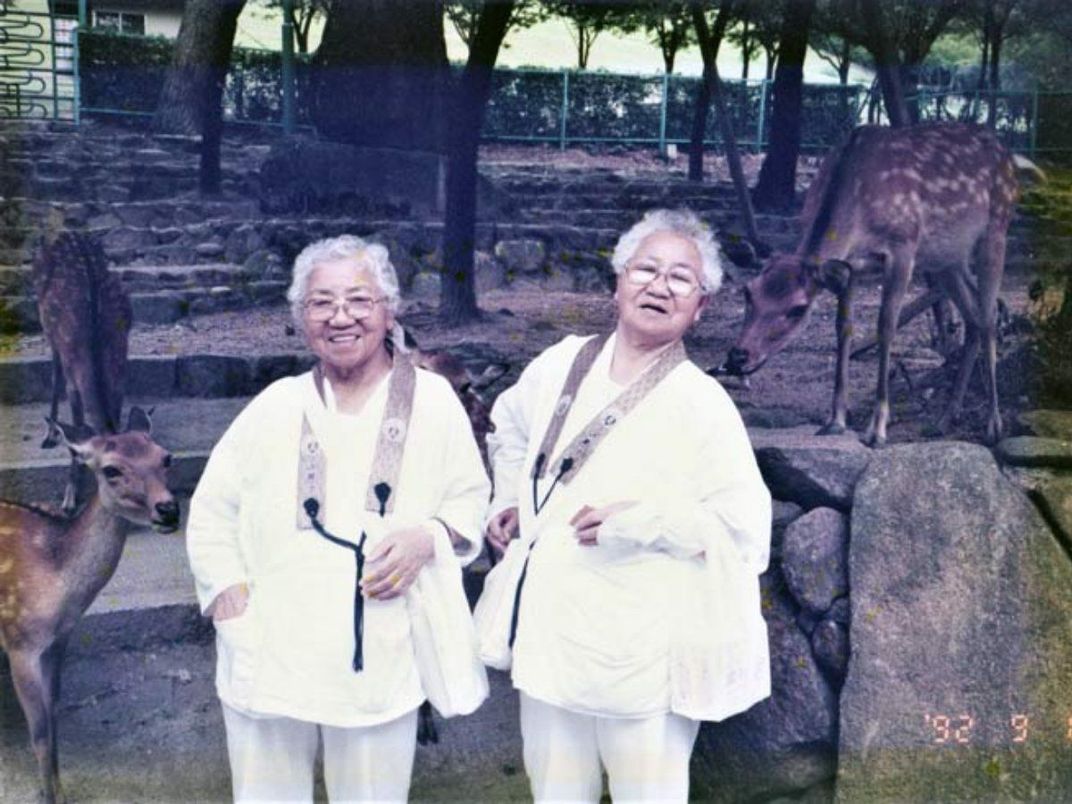 Because the twins lived more than 186 miles apart, it was difficult for them to meet frequently, and for the majority of their lives, they mainly saw each other at weddings and funerals. After the sisters turned 70, however, they reunited for a number of Buddhist pilgrimages, including the 88-stop Shikoku pilgrimage route, reports Vice.
As the twins grew older, they started joking about outliving the previous record holders, who were affectionately referred to as "Kin-san" and "Gin-san." On Sumiyama and Kodama's 99th birthday, the former looked at a photo of Narita and Kanie and laughingly said, "I think we look younger."
The now-deceased sisters became well known in the late 1990s for both their age and sense of humor. Writing for the Guardian in 2000, Jonathan Watts deemed the duo "the smiling faces of [Japan's] rapidly greying society."
According to Japan's health and welfare ministry, around 29 percent of the country's 125 million residents are 65 years or older. Of these senior citizens, 86,510 are centenarians, half of whom turned 100 this year, notes the AP.
These two sets of twins aren't the only Japanese people to break age-related world records. Kane Tanaka, who celebrated her 118th birthday in January, is the world's oldest living person, while Jiroemon Kimura, who died in 2013 at 116 years and 54 days old, is the oldest verified man in history.
Japan's high number of supercentenarians, or people over 110, owe their longevity in part to the country's healthy culinary traditions and habits. But as Rachel Nuwer pointed out for Smithsonian magazine in 2014, Japan has also been keeping meticulous birth records for more than a century, making it easier to authenticate age claims. Other countries, like China and India, only started maintaining such detailed documentation in the early 1900s.
Guinness mailed certificates verifying Sumiyama and Kodama's new record to the separate nursing homes where they now live. Due to her declining mental state, Kodama couldn't comprehend the certificate's significance—but Sumiyama received hers with tears of joy.