Wild Things
Life as We Know It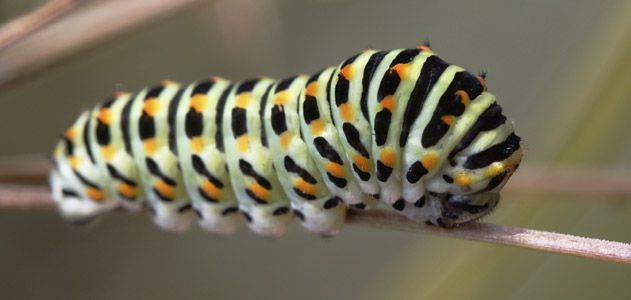 Alarming Taste
Most Papilio caterpillars—future swallowtail butterflies—taste horrible to birds, but only some species (like this one) sport bold colors. Why? University of Arizona-based research shows that such species favor narrow-leaf plants where they are highly visible—and their warning colors can be a bitter reminder to predators.
Precocious
Neanderthal children grew up fast, say scientists at the Max Planck Institute in Leipzig and elsewhere. In a study of a 100,000-year-old jaw, growth lines in the teeth show that the Neanderthal was only 8 years old. Yet the jaw was similar to that of a 10- to 12-year-old human (even back then). The finding underscores a trait that makes people distinctive: our prolonged childhood.
Coral Grief
Carbon dioxide in the atmosphere can harm coral reefs by dissolving in seawater, making it more acidic and reducing levels of calcium carbonate—a mineral corals need to build their skeletons. Researchers from Stanford and elsewhere suggest that because of the gas, calcium carbonate in oceans may be so depleted by 2050 that 98 percent of reefs worldwide will be in danger.
The Evolution of Sharing
Common marmosets display what researchers in Zurich call "unsolicited prosociality"—that is, they will slide a tray of food to a marmoset in a nearby cage even if there's no chance of getting something in return, and even if the other animal is unrelated. So far, they're the only animals other than human beings known to be so altruistic. Whether they say "Please" and "Thank you" is unknown.
Observed
Name: Lilium longiflorum, or the Easter lily, variant Nellie White.
Pretty Little Features: White, trumpet-shaped flowers; sweet fragrance.
Creepy Little Secret: The Nellie White's bulb can move. In the dirt. Where no one can see it.
Now It Can Be Told: Cornell University researchers have found that the bulb develops one set of roots for taking nourishment from the soil and another set for... digging. If the bulb is planted too shallowly, those roots contract, pulling the bulb farther into the ground until it hits the optimum depth. The researchers say two things about this "contractile root" business: one, it is stimulated by light, and two, they'll be darned if they can say exactly how it works.