Why Are Endangered Sea Turtles Showing Up Cold and Seemingly Lifeless on Northeastern Shores?
In the past three decades, scientists have confronted a worsening epidemic of stranded Kemp's ridley sea turtles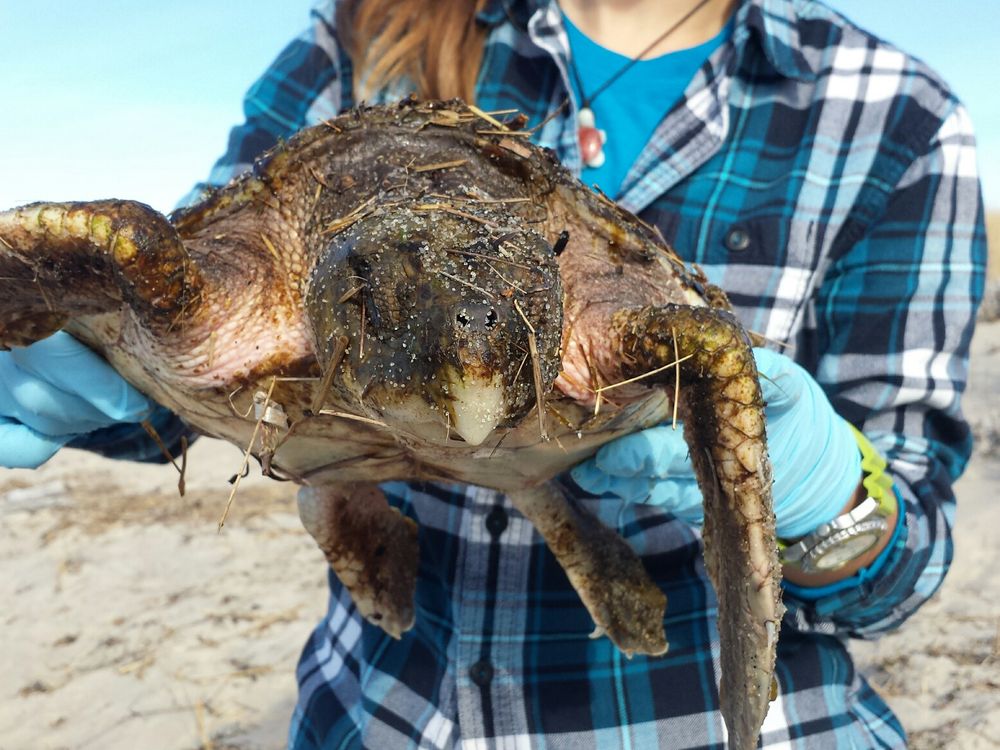 A Kemp's ridley turtle lies motionless, seemingly dead, along the high tide line on Skatet Beach. It's exactly as Bob Prescott predicted. Prescott, the director of of Mass Audubon's Wellfleet Bay Wildlife Sanctuary on Cape Cod, bends down to move the turtle out of the reach of the cold ocean water, and covers it in seaweed to shield it from the wind.
It's 6:45 a.m. on November 24, 2016. When Prescott looked at the weather report the previous night, he saw that one of the year's first winter storms would soon be descending on New England, crossing the Northeast from Buffalo to the Eastern coast and bringing with it icy temperatures, lake effect snow and chilling winds. That's when he knew he would be up early in the morning, walking the beaches of Eastham and Orleans, in search of turtles.
The middle of October marks the beginning of a dangerous "cold stun season" for sea turtles caught on these Northeastern shores. Hundreds of turtles, mostly Kemp's ridleys, wash ashore each year once ocean temperatures sink to 50 degrees F. The geography of the Long Island Sound and the curving Cape Cod Peninsula create a barrier to turtles trying to swim south, away from rapidly cooling waters. Before they can flee, icy waters often stun the cold-blooded reptiles into a paralyzed state, leaving them at the mercy of the tides, currents and wind.
Fortunately, Prescott has cold stun stranding predictions down to a science. Using years of wind and stranding pattern data, he understands how turtles are pushed by wind to specific beaches along the inner arm of the Cape Cod peninsula. But it wasn't until recently that experts were even aware of the mass turtle strandings that occur across Northeastern shores. Turtle bones from archaeological digs suggest the phenomenon has been occurring for hundreds of years, possibly since the formation of the Cape.
Whether turtles disappeared at some point from Northeastern waters or we simply were unaware of their presence remains unclear. But in the past 30 years, scientists have been stumped by a sudden upsurge in turtles found stranded, motionless and on the brink of death along these shores.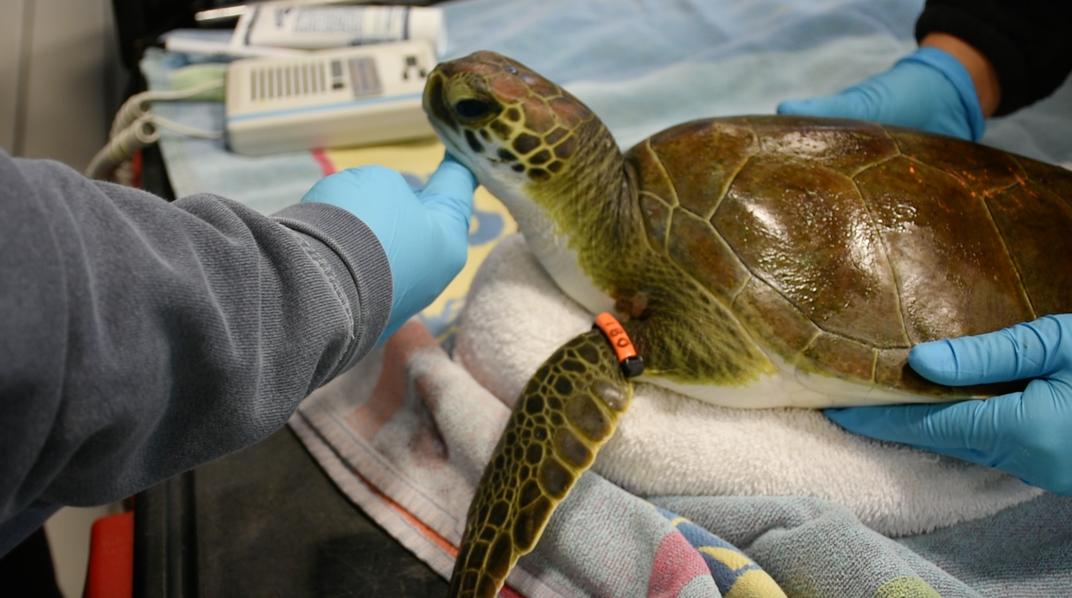 In the late fall of 1985, Sam Sadove got a call that two sea turtles washed ashore on the northern coast of Long Island. Sadove, who founded the Northeastern stranding network in 1977, was the co-founder of Okeanos Ocean Research Foundation and the lead expert on marine animals on Long Island. He expected to find dead loggerheads or leatherback turtles; both species were common in the Long Island Sound and occasionally washed up during the fall. What he found instead was completely unexpected.
A quick glance-over and years of experience told Sadove that the two dinner-plate sized turtles—despite being extremely sluggish and still—were in fact alive. He recognized them as Kemp's ridley sea turtles, one the most endangered sea turtles in the world and a species that until that day had never been observed outside the Gulf of Mexico.
"Those two turtles I thought were not a big deal," Sadove said. "That led to two more turtles being called in. Within a week I got calls of about ten, which is an extraordinary number."
By the end of winter, 52 turtles had washed ashore on Long Island, all appearing still and lifeless. Without a proper rehabilitation center to care for them, Sadov feared they wouldn't survive. So he and a team of volunteers and coworkers from the stranding program created an emergency triage hospital within his small home. "They were living in my house," Sadove said. "I have pictures of my living room with no furniture and three kiddie pools and the bath tub filled with turtles."
The initial diagnosis by Sadove and veterinarian William Zitek was hypothermia, but neither had seen the medical affliction in turtles before. Post mortem examinations of the 41 turtles that eventually died revealed pneumonia in the lungs, bone lesions in the flippers and sand lodged in the intestines: all symptoms of hypothermia. These symptoms would appear in turtles stranded on Long Island beaches year after year, as cold stunning became a regular phenomenon in the Northeast.
Today, the Northeast Stranding program is a well-oiled machine. In 2015, 260 volunteers worked with the foundation to educate, rescue, and rehabilitate marine animals. On Cape Cod, the Massachusetts Audubon Society of Wellfleet has a team of roughly 200 volunteers that patrol beaches during the high tide sometimes finding over a thousand turtles in one season. They patrol beaches both during the day and night and then drive the turtles to the New England Aquarium's rehabilitation facility in Quincy, Massachusetts, just south of Boston.
Yet despite this, there are still too many turtles. When the Quincy rehabilitation center was built in 2010, the average number of cold stunned turtles was around 90, and the facility was built to hold between 80 to 100 turtles. In 2014, 104 turtles entered the rehabilitation center in just one day. Today, the high number of cold stunned turtles in Massachusetts quickly fills the capacity of the facility. 
"Essentially what we do now is we triage them, we stabilize them, we get them up to temperature, and then the stable ones are shipped elsewhere," said Connie Merigo, Rescue Rehab program director at the New England Aquarium.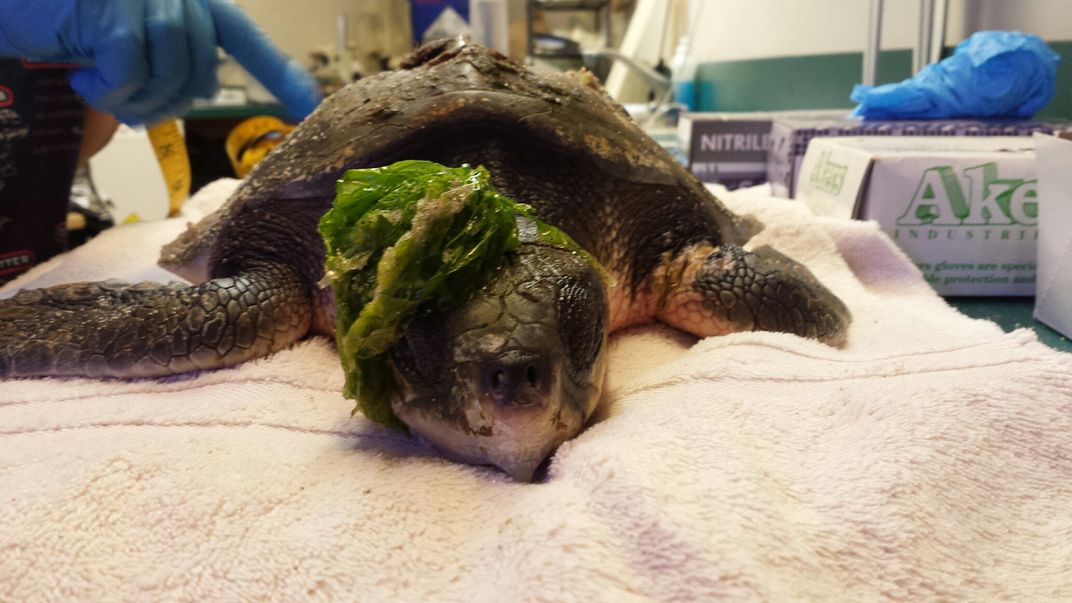 Despite the initial wave of strandings that occurred mainy on Long Island during the 1980s and 1990s, the high numbers of strandings have since shifted to Cape Cod Bay. In 2014, Massachusetts Audubon collected roughly 1,235 cold stunned turtles, the largest number recorded. "It was totally flabbergasting. We never thought that we would have that many turtles in our waters," says Prescott. 
That year, 552 turtles were shipped to other rehabilitation facilities and aquariums around the country by the Greater Atlantic Region of the National Oceanic and Atmospheric Administration (NOAA). "We think that there's not going to be any small seasons anymore," says Kate Sampson, Sea Turtle Stranding and Disentanglement Coordinator for NOAA. "This is probably the new norm, that we're going to have hundreds of turtles and that we're always going to need to move them."
Scientists speculate that the sudden increase in cold stun strandings stems from a combination of factors, including changes in ocean conditions due to climate change.
"After the El Nino year something really shifted," Prescott says. "Prior to the El Nino years of the late 90s, these strandings were happening in the Long Island Sound. The inshore waters are so warm that the turtles are now starting to swim with a great deal of regularity into the Northern waters, mostly the Gulf of Maine." Those turtles that feed in the summer months in the Gulf of Maine eventually find their way south into Cape Cod Bay, where they often end up trapped and cold stunned.
But scientists do note one ray of hope: A possible explanation of the increase in turtle strandings may just be that there are more turtles. A joint effort by the United States and Mexico in 1978 seems to be reviving the population of a turtle once destined for extinction. In 1985, there were just 702 Kemp's ridley nests recorded across Mexico and nesting sites in Texas. By 2011, 20,769 nests were recorded.
Whatever the cause, it's likely that young Kemp's ridleys that find their way to New England will continue to end up stunned washed ashore in the coming years. When they do, workers like Prescott and other workers from the Audubon Society will be waiting to bring them to safety.
"There was one turtle that had an entire bonnet of algae on its head because it had been sitting in the bay," recalls Leah Desrochers, a former employee of the Massachusetts Audubon Society of Wellfleet. "When you pick up that turtle, you realize it's so weak and it's so little. That turtle is in your possession, and you get to save that turtle's life."