Where Are the Greenest Schools in the Country?
The definition of being eco-conscious is so much more than having solar panels on a roof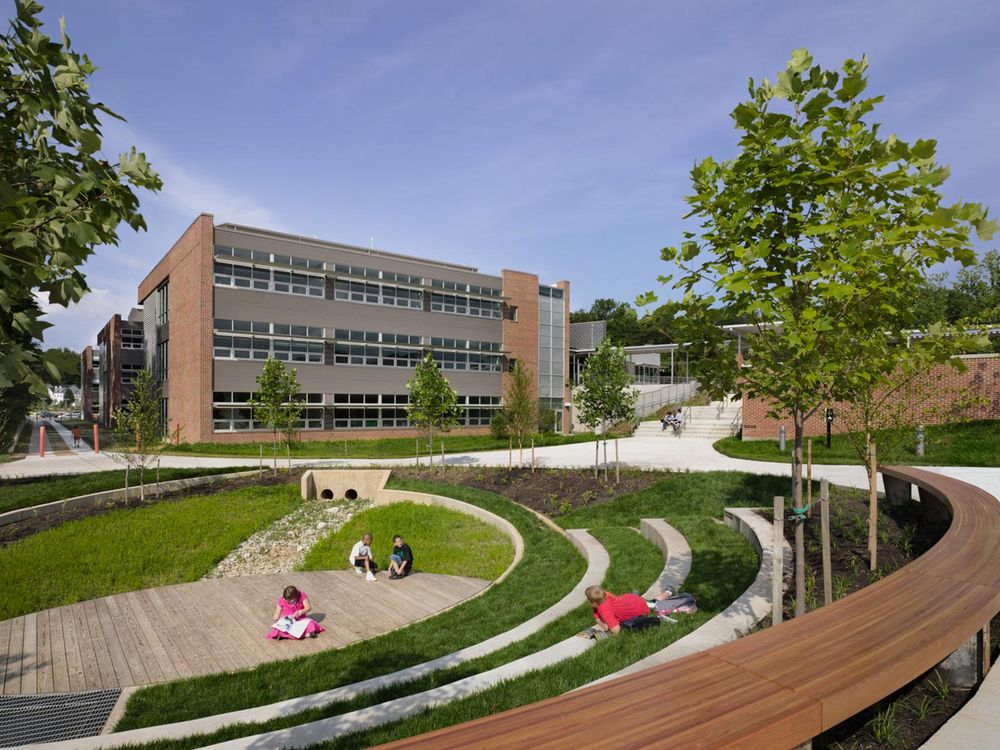 When you look at the numbers, it becomes shockingly apparent why the greening of schools in our country should be a priority. Upward of 60 million Americans—a figure amounting to 20 percent of the country's total population—work and study in K-12 schools on a daily basis. Sadly, though, of the 98,000 public schools in the United States, some 25,000 are crying out for repairs; in the most desperate cases, students and teachers are breathing in toxin-laced air.
Green Schools, a new exhibition at the National Building Museum in Washington, D.C., presents 41 elementary, junior high and high schools—13 local to the Maryland, Virginia and D.C. area—that are leaders in sustainable design. The schools reflect a variety of projects, from small-scale measures, like converting to eco-friendly cleaning supplies, to sweeping, LEED-certified redesigns of entire buildings.
"You will see that range," says Sarah Leavitt, a curator at the museum. "There is something we can all do to green our schools."
What follows is a survey of nine exemplary schools featured in the exhibition. Green Schools is on view at the National Building Museum through January 5, 2014.
Phelps Architecture, Construction, and Engineering High School Washington, D.C.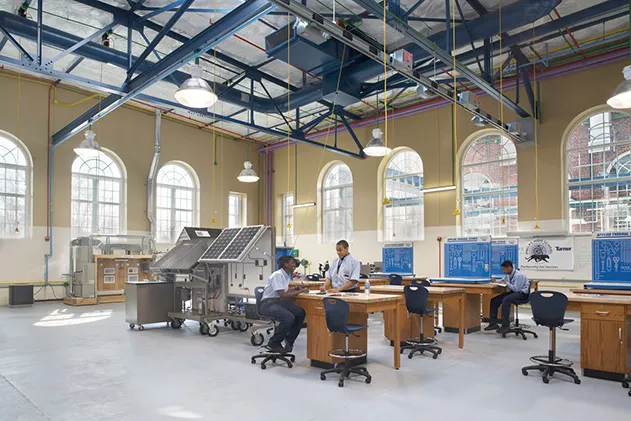 Phelps ACE High School in Washington, D.C., takes a unique approach to education, in that in addition to traditional academic subjects it offers technical courses in welding, electricity, plumbing and carpentry. "The entire building is designed as a teaching tool," says the school's website. For students to clearly see how the building is constructed, some of the plumbing pipes are left exposed, for example, and anyone can read monitors in the school that register how much energy is being supplied by its photovoltaic solar arrays and helical wind turbines.
Manassas Park Elementary School Manassas, Virginia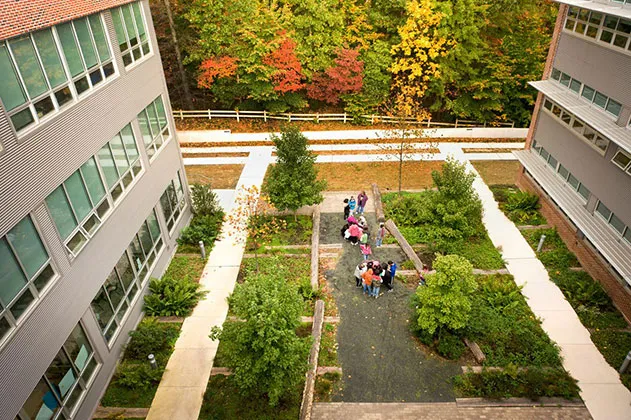 Built in 2009, the Manassas Park Elementary School strives to instill an appreciation for nature in its student body. "Courtyard classrooms facing the woods feature native plants and 'fallen log' benches," reads an exhibition panel in Green Schools. Designers of the campus named classrooms after local plants and animals; they also included signage throughout the school, so that teachers can structure lessons around the building's energy-saving features.
P.S. 164 Brooklyn, New York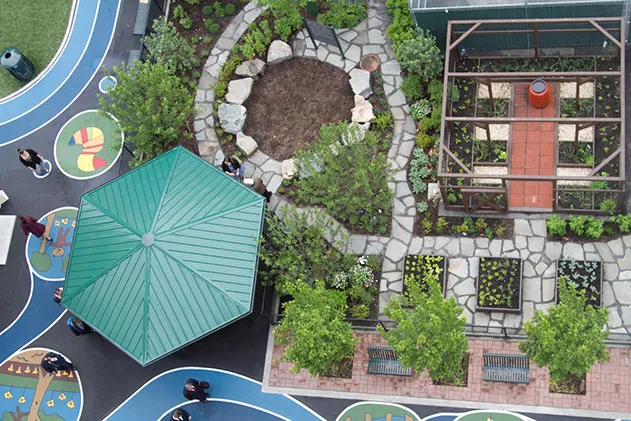 The Trust for Public Land has been working, through its Parks for People program, to replace asphalt playgrounds in urban areas with green spaces. In 2012, two schools housed in the same building in Borough Park, Brooklyn—P.S. 164 and P.S. 77, a program for students with special needs—became the proud recipients of a "sensory garden." In the plot, students can touch fuzzy lamb's ears, sniff sprigs of lavender and sample basil and other herbs.
Kiowa County School Greensburg, Kansas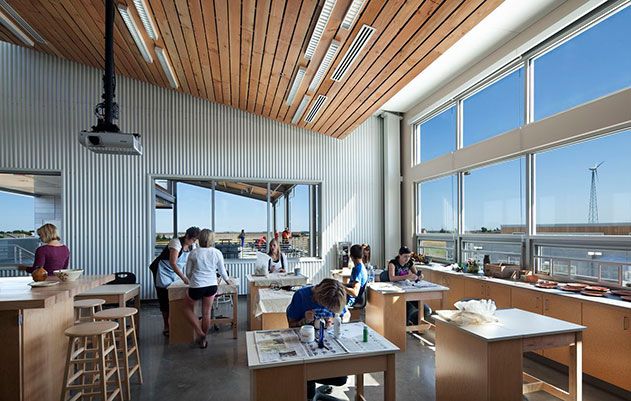 On May 4, 2007, a 1.7-mile-wide tornado leveled Greensburg, Kansas. Twelve residents of the tiny town (population: 1,400) were killed, and the damages to the infrastructure were massive. Nearly all of the homes were obliterated, as was the local school. Greensburg, sad as the disaster was, was now a clean slate. So, when it came to rebuilding, the townspeople made every effort to go green. Kiowa County School, completed in July 2010, is a $45 million LEED-Platinum building that serves 250 students from kindergarten through grade 12. Just outside of the junior high laboratory (shown above) is a 50-kilowatt wind turbine that converts the gusts whipping across the prairie into electricity for the school.
Newton North High School Newton, Massachusetts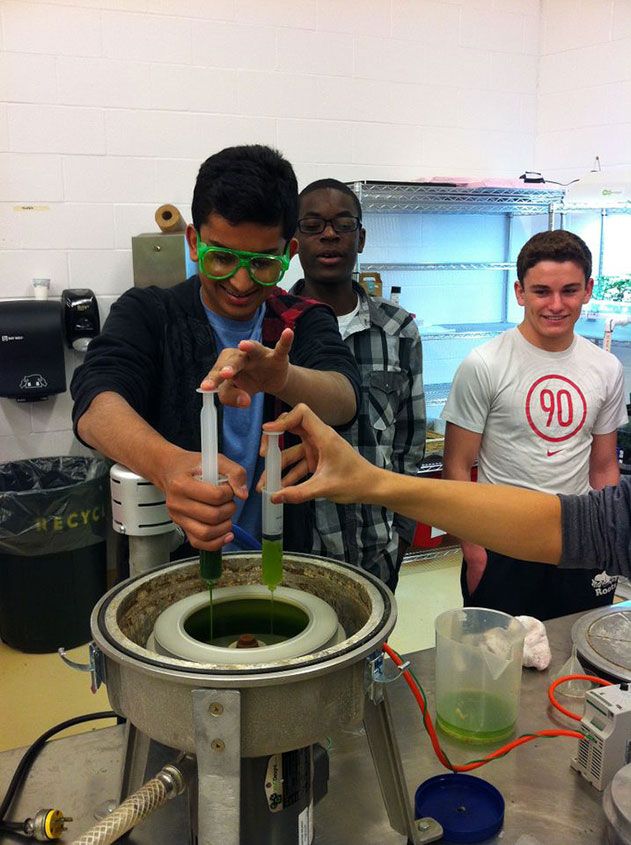 Room 148 at Newton North High School, outside of Boston, is a Greengineers Lab. In this space, every day is a science fair. Students—or "greengineers"—put their heads together to come up with potential solutions to society's environmental problems. "Students experiment with energy-saving plans and projects, such as building a stationary bicycle for the cafeteria that provides healthy exercise while also powering a blender to mix up smoothies for students during lunchtime, and a centrifuge used to manufacture fuel out of algae," according to the National Building Museum.
Sidwell Friends Middle School Washington, D.C.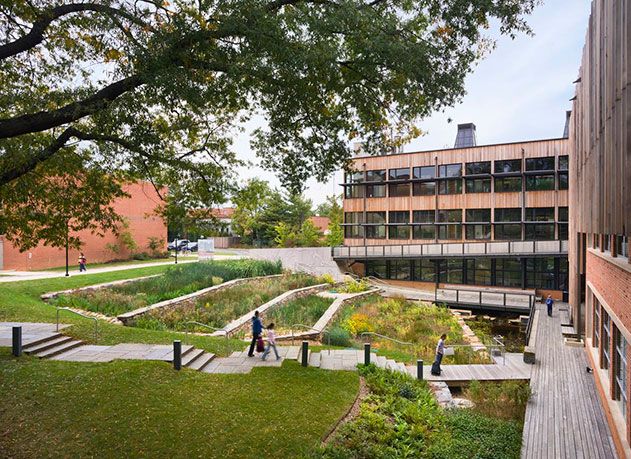 Waste management isn't the most glamorous of topics, says co-curator Deborah Sorensen, but it is profoundly important whenever you talk about sustainability and schools. She calls Sidwell Friends Middle School, a private school in northwest Washington D.C., a "showcase project" in this regard. In addition to a green roof and a photovoltaic array, which supplies five percent of the building's electricity, the school, renovated in 2006, has a beautifully constructed wetland that filters wastewater. Once the bathroom wastewater passes through a settling tank, and then the wetlands, where microorganisms assist in cleaning it, and yet another filter, the resulting "gray water" is channeled back into the school's bathrooms.
Poquoson Elementary School Poquoson, Virginia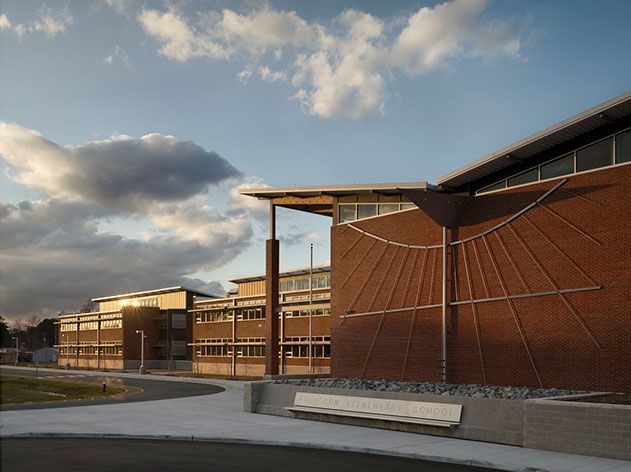 Hurricane Isabel, in 2003, caused flooding in much of Poquoson, Virginia—situated on a peninsula jutting out into Chesapeake Bay. The city had to build a new elementary school, as a result. Completed in 2008, the Poquoson Elementary School is energy and water efficient. Its design also draws students outdoors to learn about their environment. Students can tend gardens on the premises and follow a boardwalk to a wetland lab.
Gloria Marshall Elementary SchoolSpring, Texas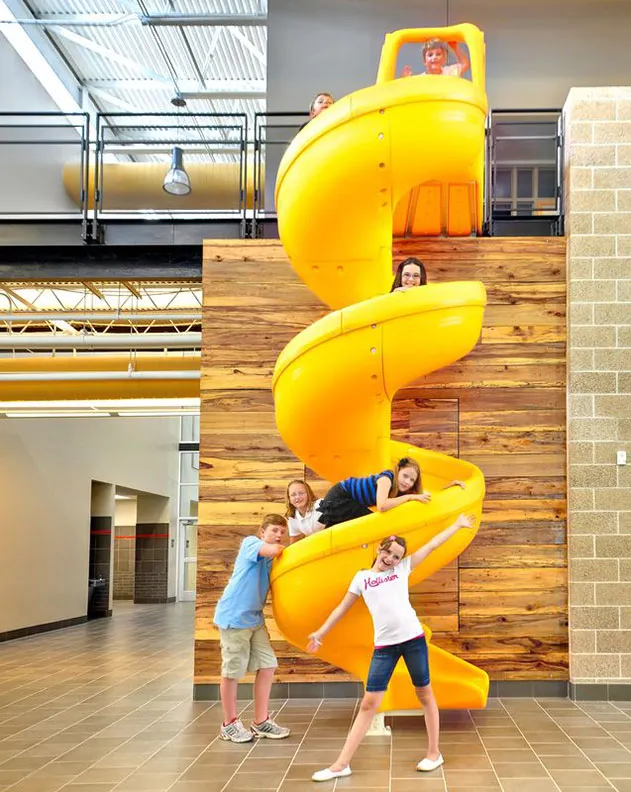 Completed in 2011, Gloria Marshall Elementary School in Spring, Texas, a suburb of Houston, meets some of the highest standards in green building. One of its crowning achievements has to do with its lighting. Architects paid particular attention to the positioning of windows within the school in order to take full advantage of natural daylight. There are sensors to control the lights installed in each classroom. This way, the lights are raised only when needed, which, in the school's experience, is about one quarter of the time. Architects also incorporated some playful features, like this slide, shown above. Teachers use the helix-shaped slide to describe DNA.
Kensington Creative and Performing Arts High School Philadelphia, Pennsylvania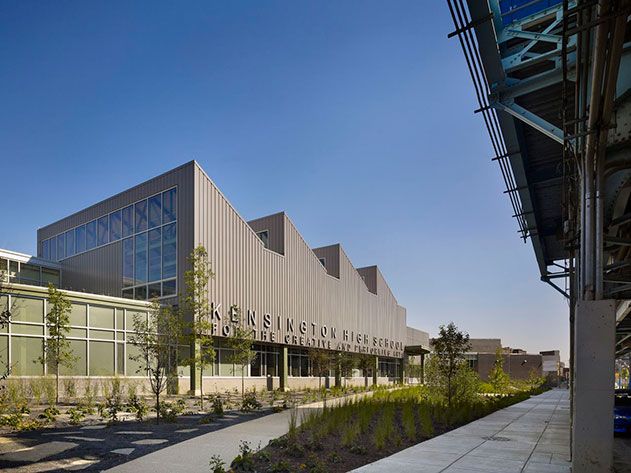 The property where Kensington CAPA now stands certainly had a few marks against it. Located in Philadelphia's Kensington neighborhood, the lot was bordered, rather closely, by the tracks of a noisy elevated train and was a known site for drug deals. But, the architectural team overcame these challenges—structuring the building so that the gym and cafeteria were closer to the tracks than the classrooms, for starters. The result is a school that faculty, staff, students and parents are proud to call their own. The first LEED Platinum certified public high school in the country, Kensington CAPA makes use of natural daylight, geothermal heating and green roofs. Forget sprinklers! The site manages storm water so efficiently that its gardens and practice field do not need to be watered.