What Would You Pay for a Plastic Bag?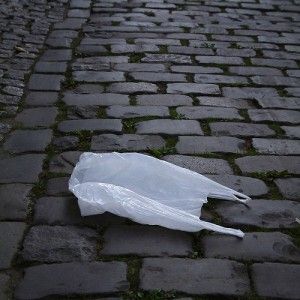 Would you pay for a plastic or paper bag to haul your groceries home? On January 1, residents of Washington, D.C., began paying five cents for every one of these bags when shopping at stores that sell food, including grocery stores and carry-out restaurants. The alternative: bring your own.
Washington is not the first place to institute a bag tax or ban. Ireland did so in 2002, charging 15 cents per plastic grocery bag (the price has since risen). Their bag consumption dropped by 90 percent in a year. China prohibited shops from providing plastic bags to customers for free and banned super-thin plastic bags entirely in 2008 (reducing usage by 66 percent in a year), and Kenya and Uganda have also banned the bags. The head of the United National Environment Programme has even called for a global ban. (A UNEP report calls plastic "the most prevalent component of marine debris, poses hazards because it persists so long in the ocean, degrading into tinier and tinier bits that can be consumed by the smallest marine life at the base of the food web.")
In the United States, proposals to tax or ban bags have had uneven success. San Francisco became the first U.S. city to ban plastic bags in 2007, and a ban will go into effect in Los Angeles later this year. And the Swedish home store Ikea began charging 5 cents per disposable bag back in 2007 and encouraging shoppers to purchase reusable blue bags. But a bag tax was rejected in Seattle and Baltimore, as was a bag ban in Philadelphia.
Not surprisingly, the plastics industry is not a fan of these taxes and bans. They say that these programs do not reduce plastic usage and that people turn to paper as an alternative thinking it's greener when it's not. (Washington taxes both kinds of bags, so that's not really an issue here.)
Here in Washington, reaction to the tax has been a mixed bag (if you'll excuse the pun). Store owners are still figuring out how to institute the tax. And some people are so annoyed they say they'll drive to Virginia to buy groceries, likely spending more money on gas and sales tax than they would on the bag tax. Others are pleased by a program that will reduce bag usage and provide much needed money to clean up our poor polluted Anacostia River (a third of the river's trash is plastic bags).
I've been carrying around a nylon grocery bag, one that folds into a little pouch, in my purse for the past couple of years. I didn't like how many plastic bags I was throwing away and found the reusable bag a great alternative for most of my shopping, as I tend to buy in small quantities. And now, when I need a paper bag to collect my recyclables or some plastic bags for pet waste, I don't mind shelling out a few nickles; it's going to a good cause.
It's not as if we haven't made do without paper and plastic bags in the past—my mother still hangs onto my great-grandmother's wicker shopping baskets. However, the biggest benefit of these measures might be in our heads, helping to change people's mindsets and get them thinking about the little ways to alter their lives and keep the planet cleaner.