What Will Become of Vermontasaurus?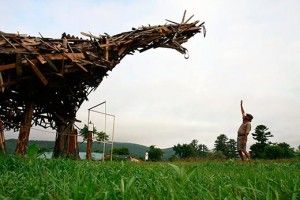 There can be a fine line between "art" and "eyesore"—especially when it comes to roadside dinosaurs. Which side the 122-foot-long "Vermontasaurus" falls on is a matter of taste.
As reported by the Associated Press, last month the 61-year-old Vermont resident Brian Boland decided to create a dinosaur out of the scrap wood around the margins of the small Post Mills Airfield (which he owns) in Thetford, Vermont. Boland and volunteers nailed whatever bits and pieces they could find together to create the towering sculpture, and, despite its ramshackle appearance, I quite like it. It won't win any prizes for scientific accuracy, but its spiky, monstrous appearance evokes the way I thought of dinosaurs as a child.
Town officials are not as pleased with Boland's work. To them, the wooden dinosaur is a structure—not a sculpture—and hence Boland should have applied for a $272 building permit before bringing Vermontasaurus to life. Furthermore, the Vermont Division of Fire Safety has raised concerns about whether the dinosaur might come tumbling down on tourists, and Boland has been cited for other violations related to development of his land. What started as a fun construction project has turned into a bureaucratic morass, and Vermontasaurus may not be able to escape the death trap of local rules and regulations. Its fate has not yet been decided, but Bolan says he has been told he might have to tear it down.
What do you think? Is Vermontasaurus an eyesore that should be taken down, or is it a neat piece of art which should be allowed to stand? Have your say below.