What in the World is a Rock Hyrax?
It's the elephant's closest living, land-based relative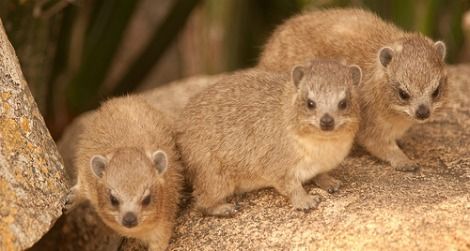 What is the land animal most closely related to the elephant?
It's the rock hyrax (Procavia capensis), a small furry mammal that lives in rocky landscapes across sub-Saharan Africa and along the coast of the Arabian peninsula. Though it looks nothing like its cousin, the elephant, the rock hyrax's toes, teeth and skull share several features with the pachyderm. It has two teeth, for example, that give it the look of a rodent but are actually tiny tusks. (It's been some 60 million years since their common ancestor existed; obviously evolution had plenty of time to introduce differences.)
Rock hyraxes look something like large guinea pigs. They grow up to two feet in length and 12 pounds in weight. Their feet are adapted to their rock-bound lives; the rubbery soles lift up in the middle and can act like suction cups, letting them cling to smooth surfaces. The hyrax's bacteria-laden three-chambered stomach lets it digest leaves and grasses, but it will also eat birds' eggs, lizards and insects. Babies aren't born with the bacteria they need for digestion, though, so they eat the poo of adult hyraxes.
These mammals live in colonies of up to 50 individuals. They'll sleep together, look for food together and even raise their babies together (who then all play together). To watch out for predators—such as leopards, pythons, servals and birds—rock hyraxes will form a circle. They can spot danger from more than 3,000 feet away. When they're feeding, the dominant male in the group keeps watch and sends out a shriek of alarm if he sees anything worrisome, sending the group to run for cover. (Rock hyraxes are very vocal and make at least 21 different sounds; you can hear one in the video below.)
If you spot one in the wild, it's likely to be resting, as that's how hyraxes spend the majority of their time, lying out, basking in the sun. Their days generally start out with several hours of sunbathing, which warms them up before they go out to search for food.
Sounds like a good life, except, perhaps, for having to eat poo when you're a kid.