What Happened When a Disaster Preparedness Expert Was Caught in an Earthquake
In this Generation Anthropocene podcast, geologist Anne Sanquini gives her first-hand account of April's disaster in Nepal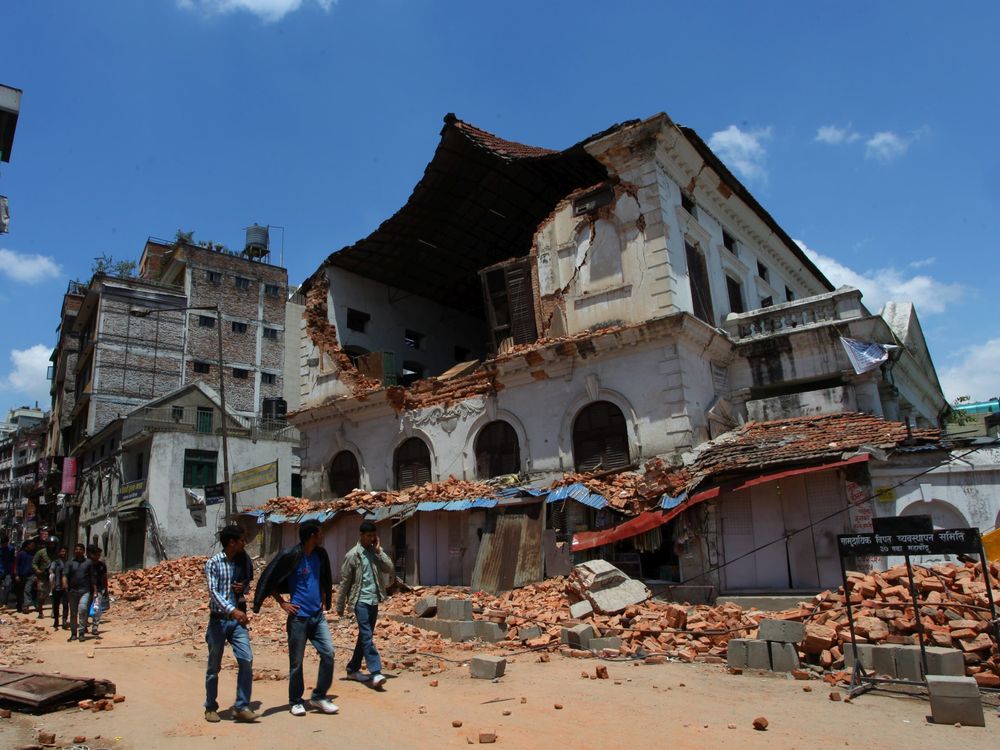 Living in the Anthropocene means having a healthy respect for the Earth—not just so humans can figure out how to thrive in sustainable ways, but also so we can be prepared when natural disasters strike. This is especially important for urban planning: as cities grow and change, we need to make sure they are suited to their environments and are built to last.
On April 25, Stanford geology researcher Anne Sanquini was getting ready to screen an educational film about earthquake preparedness with her team in Kathmandu, Nepal. As she recently told Generation Anthropocene producer Miles Traer, she had just turned on the projector when the tremors started:
"I can hear glass crashing. There's a horrible groaning, rattling, extremely loud," she said. "And I really thought we'd go into freefall at any minute, that the floor would just give way below us."
The magnitude-7.8 earthquake that struck Nepal that day devastated the city and its surroundings, toppling centuries-old cultural sites and claiming more than 9,000 lives. For Sanquini, who had spent years studying earthquake risk in the region, this was the major quake she had long dreaded. One of the area's fastest growing cities, Kathmandu sits along the border of two colliding continental plates, a zone where earthquakes are relatively common. But in her research, Sanquini has found that most of the urban structures in the capital are made of bricks and stone held together with mud, making them prone to collapse during a seismic event.
In this episode from the Generation Anthropocene podcast archives, Traer gets Sanquini's first-hand account of the quake and its aftermath. As she had feared, buildings mortared with mud were either deeply cracked or entirely collapsed. And the people they met in the streets were in mourning not only for lost lives but also for the ruined temples and monuments that represented their cultural heritage.
Luckily, there is a small success story to come out of the tragedy. Listen to the full episode above to hear more about Sanquini's team in Nepal and their work retrofitting schools in Kathmandu.