What Does Hollywood's Future in Space Look Like?
A new generation of private space stations is opening up a promising frontier for movies and television shows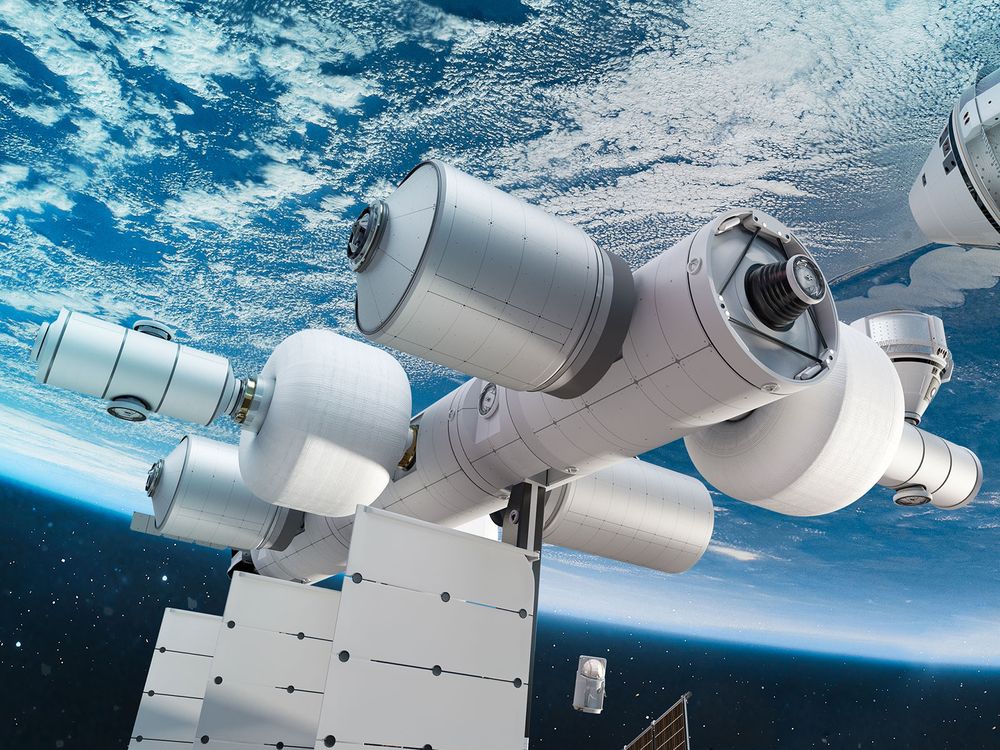 Movies set in space are nothing new. Classics, like 2001: A Space Odyssey and Barbarella, and, more recently, blockbusters like Interstellar and Gravity have all won over audiences. But with no hope of filming on location, directors have long relied on other approaches, like recreating spaceships with computer-generated imagery and simulating zero gravity with parabolic flights.
But thanks to the rise of the commercial space industry—and a new flock of next-generation space stations set to launch sometime around the turn of the decade—filming in low-Earth orbit is no longer a far-fetched idea. As the cost of rocket launches continues to fall, producers are already sketching out dramas, sporting events and even reality television shows that, at the very least, could involve components that are shot in space.
"It's wide open, and there really aren't any straight, hard-and-fast protocols there," says Allison Dollar, the co-founder and executive producer of the Space Tourism Conference, an initiative that promotes the civilian space travel industry. "The point is that because the commercial space business is growing at a very fast clip … the next piece would be the infrastructure that would allow more than just a few people up at a time to actually be doing activities like this off-world."
Space-based film production isn't entirely new. The 1984 Russian film Return from Orbit—a movie that involved cosmonauts doubling as actors—included shots filmed on one of the Soviet-era Salyut space stations. In 2013, Canadian astronaut Chris Hadfield released a music video filmed aboard the International Space Station (ISS) for his cover of David Bowie's "Space Oddity." (He also recorded an album while in orbit.)
Space tourists have also produced movies beyond the atmosphere. In 2008, a game developer named Richard Garriott signed up as a civilian space tourist and visited the ISS after paying $30 million for a ride on Russia's Soyuz rocket. While on board, Garriott filmed and shot a comedy short film called "Apogee of Fear, "which he called the first science fiction production made in space. The film starred astronauts as fictional versions of themselves in an offbeat parody of life aboard the ISS. His trip was also covered in the 2010 documentary Man on a Mission.
Now, as the commercial space race and commercial space tourism kick off, space films are getting far more professional. Netflix, for example, is now streaming two space-focused documentaries. Last year's Return to Space documents SpaceX's efforts to carry American astronauts to the ISS, the first such trip by an American spacecraft since the Challenger era. The film included interviews and footage of the astronauts before takeoff, but it also featured shots captured aboard the spacecraft via pre-installed cameras. And the 2021 docuseries "Countdown: Inspiration4 Mission to Space" follows the three-day journey of the first all-civilian crew to travel to low-Earth orbit. While professional production teams worked on the pre- and post-launch scenes, some of the footage on the station was captured by the amateur crew themselves.
Space-based dramas will require more logistical planning. One example is a planned production called Helios, which is set at the end of this decade. While producers don't expect to actually film actors in low-Earth orbit, they are still relying heavily on the space industry for help. The Helios team has sought advice from an American astronaut and will highlight a United Launch Vulcan rocket. The biggest collaboration involves the film's agreement with private space company Blue Origin, which is allowing the terrestrial production to use a simulation of its planned Orbital Reef space station as a model for the film, along with other assets from the company. Orbital Reef is one of several stations that has received NASA funding to potentially replace the ISS in the coming decade or so.
"The reason why we are partnering up with major space companies is that we want people to look at this movie in the year 2030 and get a glimpse of what it's really like in 2030 with the real companies, not fake companies," says Patricia Beninati, a producer and co-writer of the film.
This next phase of space entertainment may also include reality television. A planned reality series called "Space Hero" will reportedly have two dozen people compete for the opportunity to travel to space, with the winner's journey broadcast to cap off the show. Discovery Channel has announced a similar series, titled "Who Wants to Be an Astronaut," although neither program appears to have begun production. Others have suggested live-streaming space-based sports, such as space dodgeball.
Commercial space companies are now preparing for the arrival of media productions. Blue Origin has said that it's open to working with the media and entertainment industry once its new space station launches. Nanoracks, which has partnered with Lockheed Martin to build a corporate space station called Starlab, has already worked to deliver a 360-degree camera into orbit to film a virtual reality project called "Space Explorers: The ISS Experience," supposedly the "largest production ever filmed in space." The camera incorporated a robotic arm attached to the ISS.
And Axiom Space—which is now building a space station that will attach to the ISS before separating when the ISS is decommissioned—has plans to create an "inflatable microgravity media venue." The company says this venue will serve as an entertainment and content studio.
A British company called Space Entertainment Enterprise is now working with Axiom and Tom Cruise on filming an upcoming movie on that station. Its founders have described Axiom's future studio as a "supreme-quality space structure enabling the expansion of the $2 trillion global entertainment industry into low-Earth orbit."
All of these projects serve as a reminder of the surprising new niches created by the new space age—and that low-Earth orbit is increasingly going corporate. NASA was never interested in stunts and showbiz, observes Dollar, but those could be Hollywood's stock and trade in space.