Walk Durham's Dinosaur Trail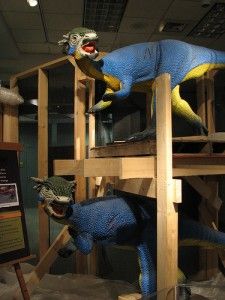 In 1996, damage caused by Hurricane Fran forced North Carolina's Museum of Life and Science to close down their beloved Pre-History Trail. The path, opened in 1967, was meant to take visitors on a journey through 300 million years, but in the wake of the storm it seemed like a good time to pause. Not only did the dinosaurs need some repairs, but scientific research conducted since the trail opened had made most of the dinosaurs woefully out of date.
On July 25, 2009, however, the museum will re-open its Dinosaur Trail with a new collection of scientifically up-to-date dinosaurs. The drab, tail-dragging sculptures have been replaced by dynamic, brightly-colored works of paleo-art. (If you want a sneak peek check out these photos from Flickr user viridari who attended a special preview of the trail earlier this month.) The new dinosaurs look pretty good, and fans of the old trail will also be glad to know that the old "Brontosaurus" has had its head reattached (after it was removed in an act of vandalism) and will also be there. It might look a little out of place next to its updated relatives, but it is a good reminder of how our understanding of dinosaurs has changed during the past forty years.