This Thanksgiving, Make a Wish on a Dinosaur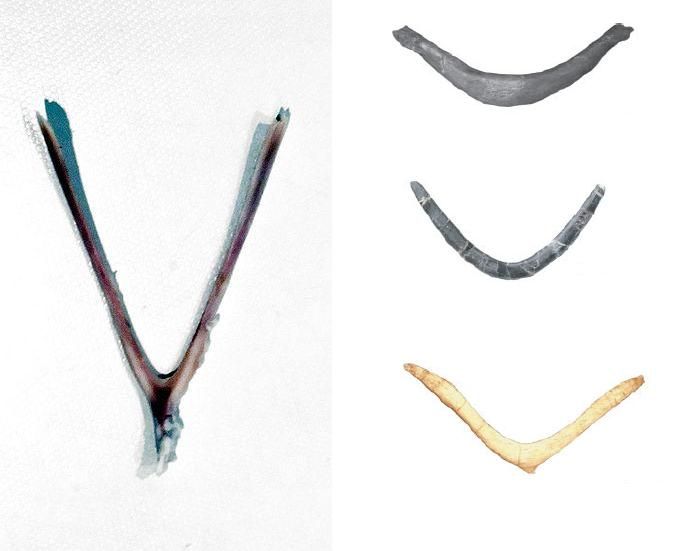 Tomorrow families all over the United States will be taking part in the ritualized, yearly tradition of dinosaur dissection. Granted, "Thanksgiving" is a much better name than "Annual Dinosaur Dissection Day", but the fact of the matter is that the turkey on the table has a lot in common with its prehistoric, dinosaurian predecessors.
You don't have to be a trained anatomist to see the correspondence between a dinosaur skeleton and a turkey skeleton. Take the wishbone, for example. This Y-shaped bone is situated in front of the turkey's shoulders and was formed by the fusion of two separate bones called the clavicles. The terminology here will become important later. "Clavicle" is the term used when these shoulder bones are separated, whereas the words "wishbone" and "furcula" refer to the fusion of the clavicles into a single Y, V, or U-shaped bone.
For a long time it was thought that dinosaurs lacked clavicles. No one had ever found them, and the apparent absence of these bones caused some naturalists to discount dinosaurs as bird ancestors. Among them was the Danish artist Gerhard Heilmann, and he laid out his reasoning in his 1926 book The Origin of Birds.
In Heilmann's day it was thought that dinosaurs had evolved from a group of early, crocodile-like creatures called pseudosuchians. These creatures had clavicles, but since no one had ever found a dinosaur with clavicles it was thought that dinosaurs had lost these bones during their evolution. This loss meant that - despite the bird-like anatomy of the coelurosaurs -  dinosaurs could not have been ancestral to birds. It would be impossible to lose a trait and then have it spontaneously reappear, and so Heilmann and other paleontologists proposed that birds had a much earlier ancestry among pseudosuchians like Ornithosuchus (the "bird crocodile").
But dinosaurs really did have clavicles. The trouble was that these bones were either lost during preservation or overlooked. Among the first dinosaurs to be discovered with an intact wishbone was Oviraptor from the Cretaceous rock of Mongolia. When Henry Fairfield Osborn described its skeleton in 1924 he clearly marked a Y-shaped bone as the "interclavicle" - a bone present in some animals between the clavicles - but the bone really represented the entire "missing" wishbone. A wishbone was also found among the bones of the predatory dinosaur Segisaurus in 1936, but the discovery of these bones did not change the consensus that birds had evolved directly from crocodile-like ancestors.
It would not be until the late 20th century that small coelurosaurian dinosaurs would be rightly recognized as being ancestral to the first birds. As scientists discover more about dinosaurs, they continue to find that many "bird" traits - such as feathers and systems of air sacs inside the body - were widespread among dinosaurs, and the wishbone is just one small example of this evolutionary connection. Clavicles, both separate and fused, have been found in all major groups of dinosaurs, but true wishbones were only present among the theropod dinosaurs.
As reviewed in recent studies led by Christine Lipkin and Sterling Nesbitt, respectively, many theropod dinosaurs had wishbones. Even the mighty Tyrannosaurus rex had one, and enough Tyrannosaurus wishbones have been found to even detect variation among their shapes. Indeed, the wishbone was an extremely widespread and ancient trait among theropod dinosaurs, perhaps going back more than 215 million years. The wishbone was not a recent evolutionary innovation of modern birds, but a piece of ancient skeletal architecture which links your Thanksgiving feast with some of the most fantastic creatures to have ever evolved.
From all of us at Dinosaur Tracking, have a warm and happy Thanksgiving!
References:
CARRANO, M., HUTCHINSON, J., & SAMPSON, S. (2005). NEW INFORMATION ON SEGISAURUS HALLI, A SMALL THEROPOD DINOSAUR FROM THE EARLY JURASSIC OF ARIZONA Journal of Vertebrate Paleontology, 25 (4), 835-849 DOI: 10.1671/0272-4634(2005)0252.0.CO;2
LIPKIN, C., SERENO, P., & HORNER, J. (2007). THE FURCULA IN SUCHOMIMUS TENERENSIS AND TYRANNOSAURUS REX (DINOSAURIA: THEROPODA: TETANURAE) Journal of Paleontology, 81 (6), 1523-1527 DOI: 10.1666/06-024.1
Nesbitt, S., Turner, A., Spaulding, M., Conrad, J., & Norell, M. (2009). The theropod furcula Journal of Morphology, 270 (7), 856-879 DOI: 10.1002/jmor.10724
​H.F. Osborn (1924). THREE NEW THEROPODA, PROTOCERATOPS ZONE, CENTRAL MONGOLIA American Museum Novitates