The Old Meets the New at Odgen's Dinosaur Park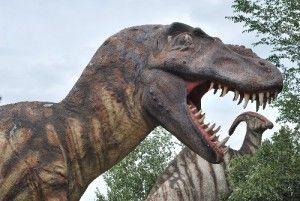 There are at least two ways to look at dinosaurs. You can examine their fossilized bones, the stuff that comes directly from the fossil record, or you can imagine what those bones would have looked like when they were clothed in muscle, sinew, and skin during the animal's life. At the George S. Eccles Dinosaur Park in Ogden, Utah, these two visions are brought together.
By the time I visited the park last month I had already seen my fair share of Utah's dinosaurs, but the Ogden attraction was unique in that it boasted a large collection of dinosaur sculptures. Some of the life-sized dinosaurs were relatively old (they dragged their tails and looked rather dim-witted), while other newer models better fit our present understanding of dinosaurs as active, dynamic animals. The "vintage" dinosaur models were mixed in with the newer ones, creating an odd scene that hinted at the evolution of our understanding about what dinosaurs were like.
While the park is most famous for its sculptures, it also has a museum. The facility boasts a number of fiberglass skeletons and donated fossils, yet they are not presented in an organized fashion. A chunk of meteorite is placed at the feet of a mammoth skeleton while a model of a woolly rhinoceros stands right below the museum's Tyrannosaurus rex, for example. There are a few labels for some of the larger pieces, but fossil bric-a-brac is scattered everywhere; the place is in desperate need of a good curator. Visitors can also peek in on prep work being done at a fossil lab in the museum, although it is unclear whether any scientific research is carried out there.
After visiting places like the Museum of Ancient Life, Ogden's dinosaur park paled in comparison. I have no doubt that kids will love it though. It is a great place to just go look at fossils and dinosaurs, and if you (like me) prefer your dinosaurs presented with a little more science there are plenty of other museums in northern Utah to check out.