The Gray Wolf: The Great Lakes' Comeback Kid
How do scientists know how many wolves are out there? Listen to how they howl, and then count how many wolves howl back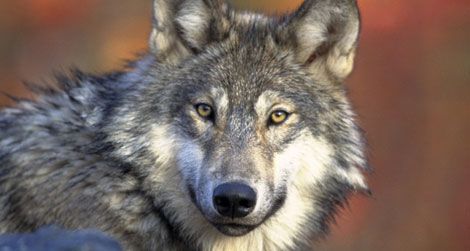 The gray wolf has been taken off the federal endangered species list three separate times in the past 9 years. In each case, wolf advocacy groups persuaded courts to intervene, and the wolf ended up back on the list. On December 21, the U.S. Fish and Wildlife Service officially delisted the wolf yet again in Wisconsin, Michigan and Minnesota. And many environmentalists hope that this time the decision will stick.
Over the past several decades, the wolf population in the Great Lakes region has skyrocketed. In 1985, Wisconsin had just 14 wolves. Today the state has roughly 800. More than 4,000 wolves live in the region, most in Minnesota.
Wolves tend to steer clear of humans, so keeping track of their numbers can prove challenging. How do scientists know how many are out there? Sometimes they talk to them. In the summer and fall, they conduct howling surveys. Biologists and volunteers drive the roads at night, stopping at regular intervals to howl. At each stop, they record their location and whether they got a response from real wolves. They write down how many wolves or pups howled back. These surveys provide information on the wolves' whereabouts, abundance and pup production. A few years ago, I accompanied expert howler Adrian Wydeven, a mammalian ecologist at the Wisconsin Department of Natural Resources.
Check out the audio clip to hear him howl like a wolf:
As the number of wolves has grown, so too has the number of wolf-human conflicts. Attacks on people are exceedingly rare, but wolves do kill dogs, cattle, sheep and other livestock, angering landowners. When the wolf was on the federal endangered species list, states couldn't do much beyond compensating people for their losses.
The wolf's delisting, which took effect January 27, "will make it easier to deal with problem wolves," Wydeven says. "This allows federal trappers to trap at sites where wolves have attacked pets or livestock. It allows landowners to defend their pets and livestock." And landownders with a history of wolf depredation problems can apply for a special permit that allows them shoot wolves on their property. Having that flexibility provides enormous comfort to landowners and "really  leads to very few wolves being killed," he says. Since the wolf came off the list, "we've  issued almost 70 permits," Wydeven says. So far, only one wolf has been shot by a permit holder.
Many major environmental groups are hailing the delisting as a step in the right direction. The Natural Resources Defense Council calls the delisting date, "a good day for wolves and for national wolf conservation policy." Defenders of Wildlife and National Wildlife Federation are on board too.
But the controversy over Wisconsin's wolves is far from over. Last week, the state assembly passed a bill that, if signed by Governor Scott Walker, would allow wolf hunting and trapping. "I'm guessing he probably will support it," Wydeven says. The Great Lakes Indian Fish and Game Commission, a tribal resource management agency representing 11 Ojibwe tribes, opposes the bill for cultural and religious reasons.
Whether the bill passes or not, Wisconsin and neighboring states will closely monitor wolf populations in the coming years. Wydeven relies on mostly on radio collars and, in the winter, he and a team of volunteers scan the ground for wolf tracks. In the summer and fall, of course, Wydeven will continue to howl.