The End of the Red Deer River Dinosaur Expedition (For Now)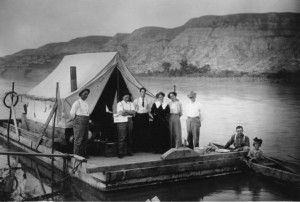 One month ago I wrote about the efforts of paleontologist Darren Tanke and crew to launch a dinosaur-hunting expedition along Alberta's Red Deer River using the same techniques employed by famous fossil collectors Barnum Brown and Charles H. Sternberg. That journey has now come to a premature end.
As reported by the Red Deer Advocate, the paleontologists aboard the home-made scow ran into trouble early. Navigating the boat down the river was an extremely difficult challenge (it often ran aground), and a tent that was not as waterproof as had been advertised added to the group's frustrations. A member of the crew gashed her hand on a box of safety equipment, requiring a stop at a local hospital, but the major event that led to the trip's cancellation was the collapse of expedition leader Darren Tanke on July 4th. Exhausted and suffering from anemia, Tanke was taken to a local hospital and could not rejoin the trip, which ended on July 7th.
As Tanke told the newspaper, his experience made him wonder what it must have been like for Brown and Sternberg when they traveled down the river 100 years ago. The difficulties faced by the present crew gave him even greater respect for the fossil hunters of old. And, despite this setback, Tanke plans to take the scow out again next year. Adjustments will be made based upon what he and his crew learned during this trip, and I wish them better luck during next year's expedition.