The Dinosaurs That Ate Paris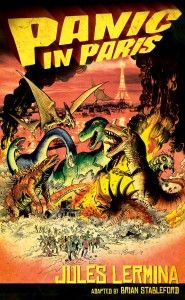 Two years before Arthur Conan Doyle described the adventures of British naturalists in search of dinosaurs in his 1912 novel The Lost World, French author Jules Lermina published a tale of dinosaurs beneath the streets of Paris. For many years it was overlooked, but as paleontologist Michael Ryan recently wrote on his blog, there is a new English translation called Panic in Paris that will soon be released.
I have been unable to find a synopsis of the book (other than "Dinosaurs eat Paris"), but the new cover art by Stephen Bissette looks pretty cool. I'll report back here when I manage to get my claws on a copy.