The Dinosaurs of Thanksgiving Point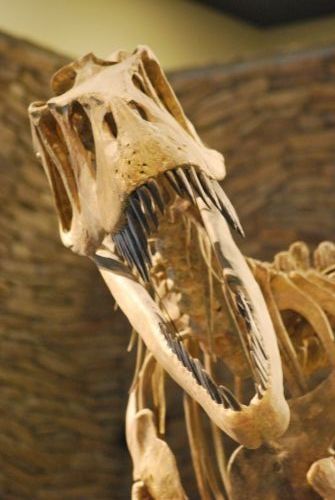 During my trip to Utah several weeks ago I knew I had to stop by the Museum of Ancient Life at Thanksgiving Point, not far from Salt Lake City.
As the Web site for the attraction states, the Thanksgiving Point facility "is not an ordinary museum." Its impressive collection of dinosaurs do not stand alone on isolated islands of plaster or concrete, but instead are placed in dramatic poses among ferns and fallen logs. As visitors follow the path through the museum they will encounter the predator Torvosaurus chasing down a group of fleeing herbivores, a pair of Pachycephalosaurus butting heads, two Tyrannosaurus challenging each other for the rights to a dead hadrosaur, and many other unique dinosaur restorations. Indeed, the Museum of Ancient Life has not only restored the skeletal forms of dinosaurs, but it has attempted to bring them "back to life" as best it can.
As if all this were not enough to lure kids in, there are also plenty of hands-on exhibits in the museum. Young visitors can play with sand and water at the "erosion table" or mix-and-match body parts to create a new kind of dinosaur. While the educational value of playing in the mud and juggling dinosaur parts is questionable, it sure is fun.
While the Museum of Ancient life does not have as strong a research component as some of the best dinosaur museums in the world, its exhibits are very impressive. It was refreshing to see the dinosaurs restored in active, life-like poses rather than the more static positions they are given at other museums. The vast array of skeletons there will no doubt delight children and hardcore paleo-fans alike.