The Death of the EV-1
Fans of a battery-powered emissions free sedan mourn its passing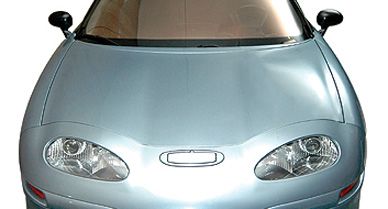 The relatively brief history of the automobile echoes with romantic stories of lost causes, undeserved failures, great ideas unheeded, righteous hopes dashed, prophets before their time and heroes overwhelmed. Innovative also-rans litter the landscape of the chrome-bright past, felled by forces too formidable or a market too fickle. The 1948 Tucker, a surprisingly advanced car, is one spinout on the boulevard of broken axles. The Cord was a much-admired failure, as were the Kaiser, with its pop-out safety windshield, the beautiful Raymond Loewy-designed Studebaker Starliner and the sporty 1950s Nash- Healy. Though all these worthies signaled new directions and influenced the future, they failed.
The loss of such cars saddened enthusiasts, but rarely has a vehicle's demise occasioned an actual funeral. But just such a send-off, at the Hollywood Forever Cemetery in Los Angeles, marked the passing on July 24, 2003, of General Motors' sleek, futuristic, battery-powered, emissions-free EV1.
Behind a white hearse circling the cemetery and to the sounds of a bagpiper rolled a line of EV1s, their devoted drivers taking a literal last ride in the cars they had leased from GM. Many extinct cars continue to exist as collectors' treasures; in rust-free California, for example, such evolutionary casualties as Edsels, Corvairs and Studebaker Avantis tool down freeways. But the EV1, an innovatively engineered attempt to jump-start GM's 21st century, will never again be driven by loyal fans. Although some 1,100 of the vehicles were produced since 1996 and leased to drivers in California and Arizona, almost all were destroyed once the leases ran out. For many of the lessees, this was a tragedy. As one owner wrote in an open letter to GM CEO Rick Wagoner, "...the EV1 is more than a car, it's a path to national salvation."
The production car's sleek look and exceptional aerodynamics are largely credited to Paul MacCready, CEO of AeroVironment, who also designed the first human-powered aircraft to cross the English Channel. It was up to GM chief designer Dennis Little and lead designer Mark Kaski to make the radical aerodynamics work in a street-ready car. "American automakers are criticized for not being innovative," says Bill Withuhn, a curator at the National Museum of American History (NMAH). "But GM was way out ahead with the EV1, and even though production was limited, a lot was learned by designing it."
Many factors contributed to the failure of a car that was not, technically, a failure. The original version's range was only about 100 miles before the cars had to be plugged in for a recharge. (Battery life was somewhat improved in two later iterations.) "A lot of people failed to understand that the EV1 was a commuter car—not a long-haul California to New York car," notes Withuhn. But many drivers log more than 100 miles a day, and while the EV1's range sufficed for suburban driving, as a two-seater it didn't work for families with kids. And even some admirers of its design faulted the way it drove. "The car was fast," says R J Muna, a photographer who shot many of the EV1's advertising pictures, "but the batteries made it heavy, and with a rear axle narrower than the front, the handling felt odd." Perhaps the most telling blow, however, for the all-electric car was the development of gas-electric hybrids such as the Toyota Prius, capable of recharging their batteries while cruising down the highway.
Only 40 EV1s were preserved, according to Jill Banaszynski, manager of the EV1 donation program, to be given to museums and institutions or kept for research by GM. Of these, the only fully intact EV1, complete with its (now inert) lead acid battery, is today part of the NMAH collection. "Our requirement is that all the vehicles in the museum have to be complete models," says Withuhn. "We may remove parts, but we have to know that if we wanted to drive a car, or a steam engine, we could—not that we would. It's a question of authenticity."
This stipulation initially posed a problem for GM, which had decided to take the cars off the road because only a relative handful of technicians knew how to work safely on the powerful batteries. But a series of negotiations proved fruitful, and the museum, in March of 2005, received its own complete example of an exemplary machine.