The Best Science Visualizations of the Year
Browse through the winning images that turn scientific exploration into art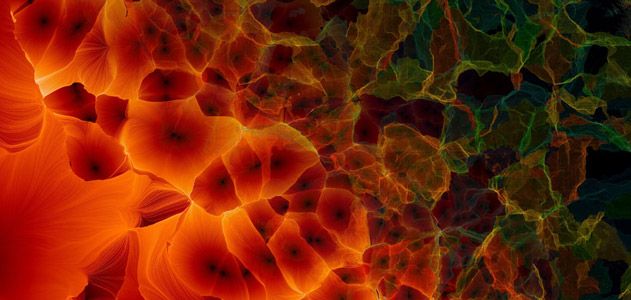 Antibodies to the Rescue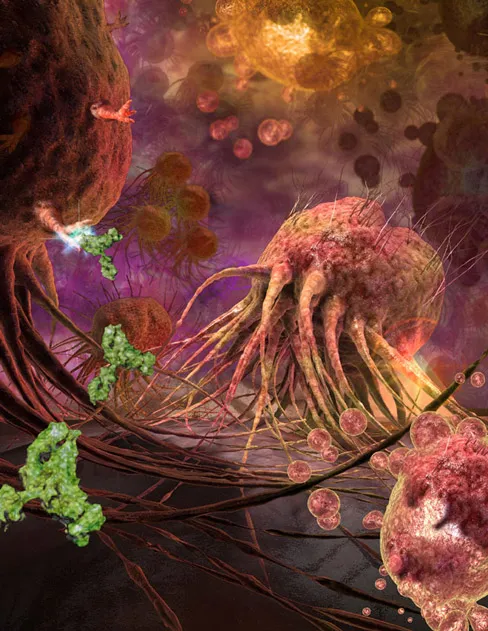 The annual International Science & Engineering Visualization Challenge, presented by Science magazine and the National Science Foundation, shows off scientists' artistic side. What makes the winners stand out, says judge Corinne Sandone of Johns Hopkins University, "is the initial visual impact" followed by "a certain depth of information . . . the quality of the image and the aesthetic decisions."

In one of the more sci-fi of this year's illustrations, green antibodies attack a tentacled breast cancer cell.
Mitosis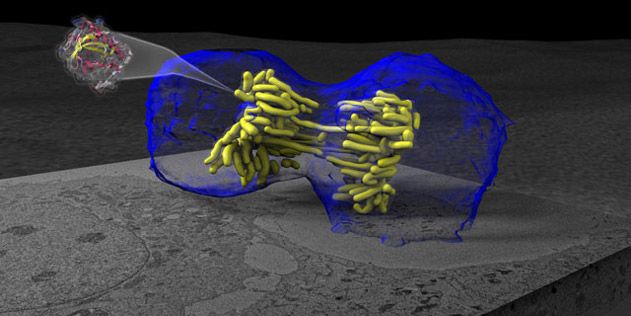 A People's Choice award goes to this illustration of a cell undergoing mitosis. The highlighted molecule seeming to fly out of the dividing cell represents a fluorescent protein called "MiniSOG" that scientists are beginning to use to refine their electron microscope images.
Layered Compound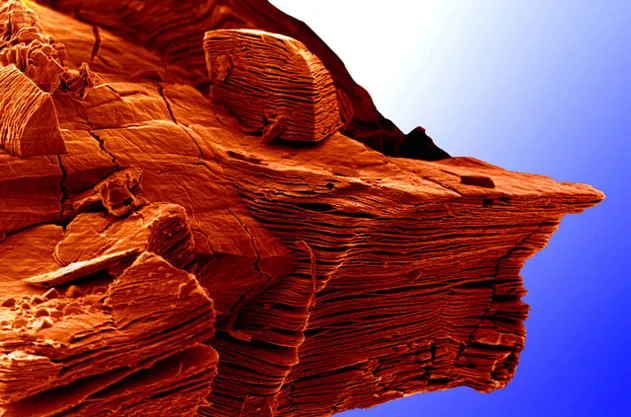 It's not a sandstone cliff in Utah or the backdrop for a "Looney Tunes" Roadrunner cartoon. This People's Choice winner in the photography division—yes, it's a photograph—shows a layered compound called Ti2ALc2, from a family called MXene.
Young Cucumber Trichomes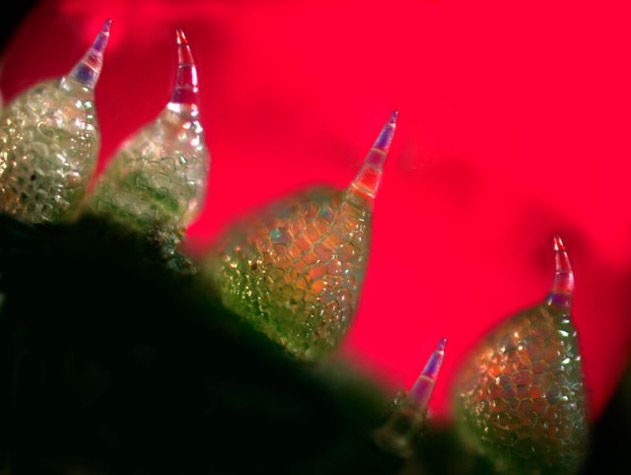 Any gardener who has gotten a rash from handling immature vegetables can see the danger in this honorable mention photograph. It's a young cucumber, magnified 800 times to show the needle-like trichomes that protect its skin.
Metabolomic Eye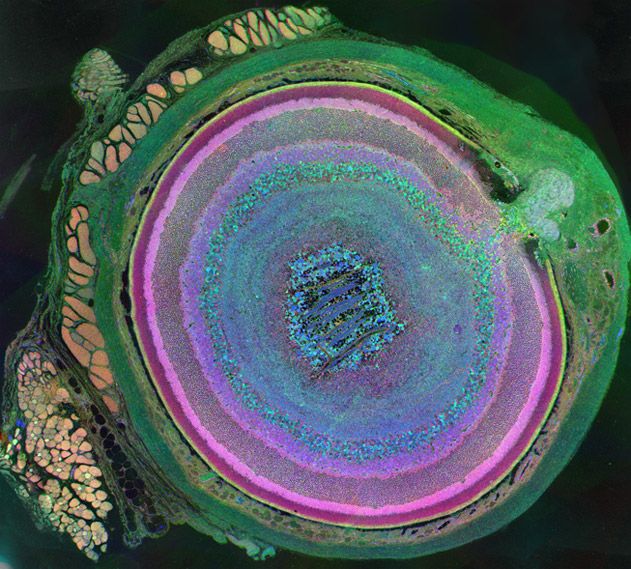 "Retinas are like little parallel super computers," says Bryan Jones, a neuroscientist at the Moran Eye center in Salt Lake City. As part of his research into the eye's circuitry, he created this image of a mouse eye, titled Metabolomic Eye, the first prize winner in the photography category. The mammalian eye has about 70 different types of cells—goldfish and turtles have even more complex retinas with about 200 kinds of cells—and "every cell has its own place in the world," he says. Jones sliced a mouse eye with a diamond knife, stained the various cells according to their metabolic activity, then digitally reconstructed the back of the eye. "It's kind of like a gobstopper. If you take a gobstopper and lick, lick, lick, lick, lick one spot on it, you can sort of get through and see all the layers. That's sort of what I did, a few nanometers at a time." -- additional reporting by Sarah Zielinski
Complex Numbers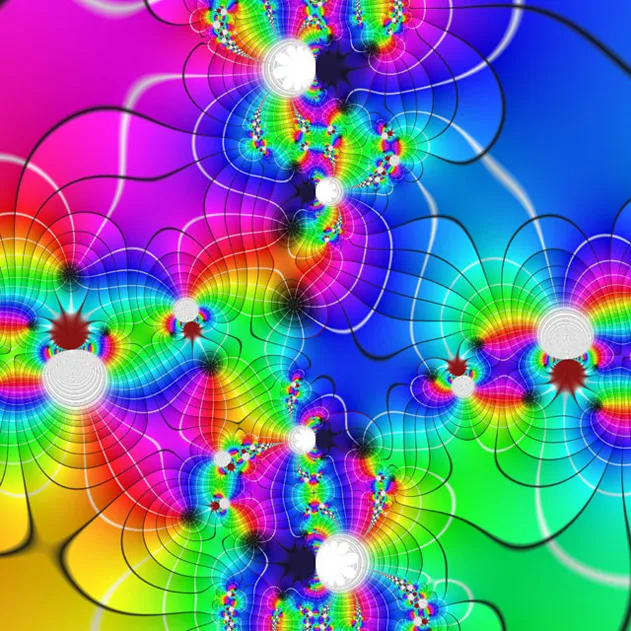 How do you imagine complex numbers? Believe it or not, colors help. In this illustration, complex numbers (combinations of real and imaginary numbers) are given different colors, zeros are represented by black spots and singularities (which approach infinity) are represented by white spots.
Carbon Nanotubes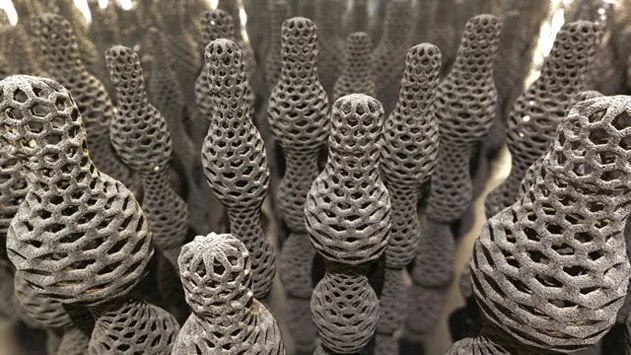 Nanoengineering has made great progress since the first Bucky balls (soccer ball-shaped spheres). We now have nanofibers, hollow nanocages and molecule-thick sheets of graphene, all built on a billionth-of-a-meter scale. This honorable mention in the illustration category shows carbon nanotubes whose diameters can be manipulated from one end of the tube to the other.
Cell Division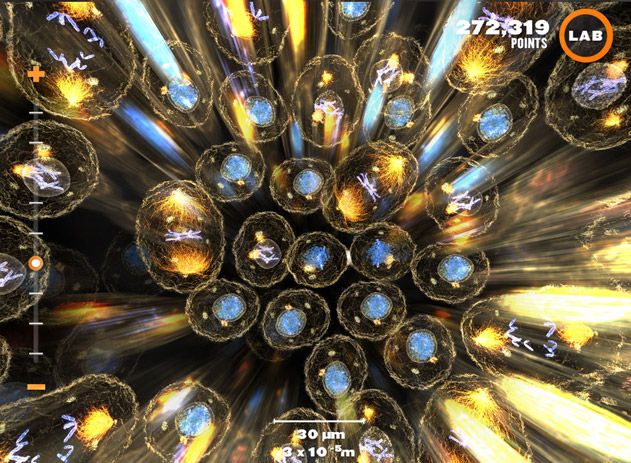 This interactive game, called Powers of Minus Ten, lets people zoom in on a human hand, magnifying it to the cellular and molecular level. This stage shows cells in various stages of division
Cosmic Web

To go backward in time, start at the far right side of this Cosmic Web poster, which represents the universe as it is today, scattered with galaxies. As you move to the left, you see earlier stages of the universe in which dark matter—a mysterious substance astronomers can detect only indirectly—was structured as webs and filaments. Before that, closer to the Big Bang, dark matter was dominated by tides and voids.

See a larger version of this image »
Ebola Virus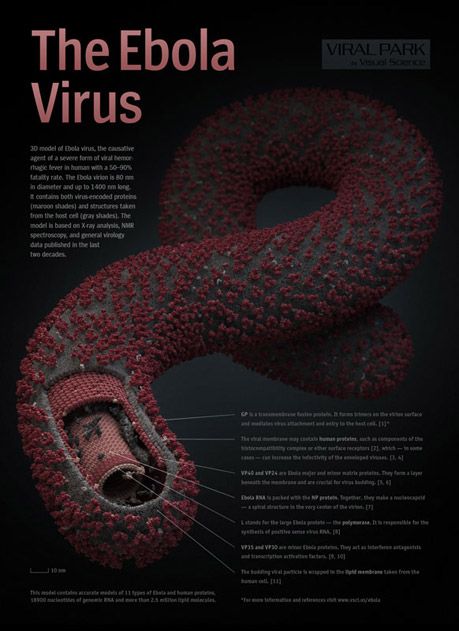 An honorable mention in the posters category goes to this menacing image of the deadly Ebola virus.

See a larger version of this image »
Transmission Electron Microscope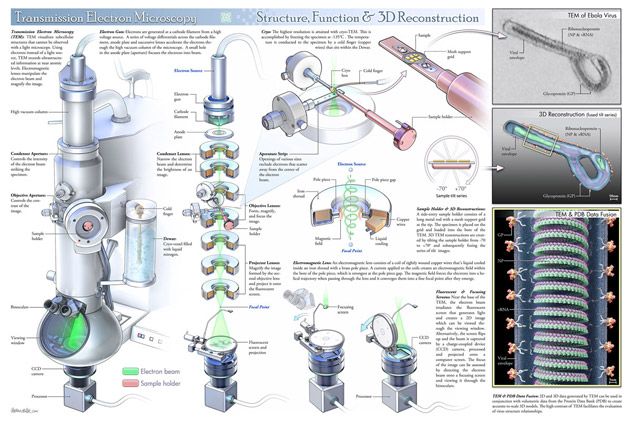 In a bit of a meta-award, one of this year's honorees depicts the technology used to depict many of the subjects of other award-winning images. Compare the Transmission Electron Microscope image of the Ebola virus in the upper righthand corner with the Ebola virus poster to get two views of one of biomedicine's most urgent research subjects.

See a larger version of this image »