Spanx on Steroids: How Speedo Created the New Record-Breaking Swimsuit
After Olympic officials banned the swimsuit that caused records to fall at the 2008 games, scientists are back with a new outfit that might break even more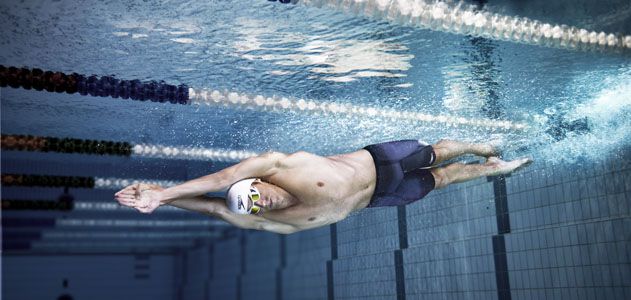 In 2009, Speedo's research team began to brainstorm innovative ways to help swimmers go faster. The polyurethane bodysuits that contributed to an astonishing number of swimming world records over the previous 18 months had been banned. To think outside the box, the Speedo representatives met outside the lab, joining academics, coaches and research consultants at hotels, conference centers and even an English country house to spawn ideas, ideas inspired more by Captain Avenger than Mark Spitz.  
"Lots of conversation was had around wild and wacky ideas," says Joe Santry, the research manager for Speedo's Aqualab in Nottingham, England. "Some of the initial sketch concepts brought to the table looked like a superhero suit with a sleek cap, goggle, and suit combination that wouldn't look out of place in a Marvel comic."
They were trying to replace the now infamous full-body LZR suit. Dubbed "the rubber suit," it compressed a swimmer's body into a streamlined tube and trapped air, adding buoyancy and reducing drag. Speedo says 98 percent of the medals at the 2008 Olympics were won by swimmers wearing the LZR. Michael Phelps set world marks in seven of his eight events at Beijing wearing the suit, but applauded its ban.
The new rules, in effect since 2010, permit only "jammers," suits from the kneecap to navel for men, and from the knee to shoulder for women. The fabric must be air permeable, and a suit may not have any fastening devices such as a zipper, a response to companies that began creating wetsuit-like neoprene suits after the 2008 Olympics.
Ultimately, Speedo decided to rebuild not only the suit, but create a "racing system" that it claims combines the suit and the goggles and cap working in synergy to reduce drag and improve performance.
At Aqualab, researchers took four years and spent 55,000 man-hours to produce what Speedo calls the Fastskin 3 system. The internal team of 19 supplemented by outside experts talked to hydrodynamic experts, aircraft engineers and nano textile producers. They called on experts in kinesiology, biomechanics, fluid dynamics and even a sports psychologist, who suggested a blue-gray tinge on goggle lenses to instill a sense of calm and focus. They tried the "Six Thinking Hats" method of brainstorming, a green hat for creative ways to attack a problem, a black one to look at the feasibility of those ideas. They "reverse brainstormed," picturing how to make a swimmer go as slow as possible with oversized goggles and a suit compressing the body so parts stuck out, creating drag. The crazier the idea, the better.
"It opens up your mind," Santry says. "We all have a strict path of how we get used to thinking. We used those techniques to pull out interesting facts and work around ideas."
They scanned athletes in 3-D, creating avatars so computational fluid dynamics software could uncover where turbulence and drag were being created, similar to racing car teams that use aerodynamic modeling. "We found the head and goggles created huge amounts of turbulence at the top of the body, and this slowed down the swimmer and decreased the effect of the suit," Santry says. "So much like a Formula 1 car, which has this wing that allows you to set up airflow, we realized we needed something like that for a swimmer."
That began the most revolutionary aspects of the system: redesigning the goggles and cap. They scanned the heads of athletes from around the world and merged the results in a software program to generate an average head shape, one that fits 95 percent of people. Santry, who has developed helmets for cyclists, noted that time trial racers use an aerodynamic teardrop shape. They designed a swimmer's cap that does something similar, building a place for a woman's hair that creates a tail on the back of the head.
"From research done in Beijing we knew goggles and caps caused a lot of drag, but this time round we had the internal expertise and time to produce a research-driven goggle from scratch," Santry adds. "This allowed us to really get playing in that area and take the crazy superhero-type sketches to reality."
A new 3-D printer at Aqualab fabricated prototypes of the cap and goggles for testing within hours, rather than sending drawings to a manufacturer and waiting weeks or months. "In the past we couldn't do many changes to the original design," Santry says. "With this process, we completely revolutionized the goggle from scratch."
For the suit, the team spent a year inventing a new fabric that creates compression changes across its surface where more lycra is knitted into some areas. In the end, Fastskin is Spanx on steroids, compressing a body three times more than the LZR. The suit constricts the stomach the least and the chest, buttocks and hips the most, attempting to mold swimmers into an unblemished tube.
Speedo has applied for nine patents for the Fastskin-3. The company says only six machines in the world are capable of producing the compression fabric; it owns all of them.
In the final stages of testing, athletes wearing the suits were pulled in a high-tech pool lab at the InnoSportlab De Tongelreep in the Netherlands recorded by underwater cameras and a drag measurement system. Speedo claims the Fastskin-3, when measured against a standard suit, reduces passive drag, the resistance produced by a swimmer's body while it is held in a streamlined position, by 16.6 percent and active drag, the resistance at the surface, by 5.2 percent. By measuring oxygen in and out of the body while swimmers pulled themselves over an underwater ladder, researchers at Iowa State reported the system improves oxygen economy by 11 percent.
"It's like miles per gallon in a car," Santry says. "You can swim at the same speed, but use less fuel. It allows a swimmer to go harder for longer."
Speedo scanned its key athletes to create a 3-D avatar to size the suit. Just wearing the Fastskin requires athleticism. Some female swimmers, who step into the suit through an armhole, reported it took them as much as an hour to wriggle into it on their first attempt. Santry says it can be done in 10 to 15 minutes with practice. "The first time you do it, it's daunting," he adds. "There's quite a bit of compression in the suit. It can feel a bit alien."
How much faster does that tight, tubular fit help a swimmer in a 500-meter race?
"We haven't gotten down to that detail," he replies. "When you're comparing suits, there are so many different factors."
He points out that Phelps, Rebecca Adlington and Ryan Lochte swam their best times in years using the system in recent months (all have lucrative sponsorship deals with Speedo; Phelps earned a $1 million bonus for his 2008 performance, which he donated to charity).
Ultimately, though, the proof will be in the pool in London.
Santry hopes to get down to London to see a few races. Meanwhile, he's already working on the next generation of suit for the 2016 Rio games.
"We've got some brilliant ideas going forward," he says, "but I'm afraid they're all confidential at the moment."