Should You Buy a Wildlife Calendar?
Not all photographers are ethical about where they shoot their photos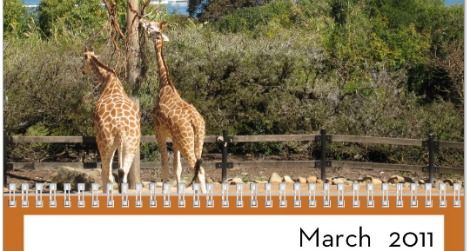 It's that time of the year again. No, I'm not talking about the holidays. I mean it's time to buy your 2012 calendar. But a story from a past issue of Audubon magazine has got me thinking about the ethics of buying a wildlife calendar.
According to the story, nearly all publishers of calendars (and posters) "have no standard for honesty in wildlife photography." There's no guarantee that the cute animal in the picture was photographed in the wild or in captivity. And it's the captive ones that are the worry, specifically captive animals in game farms. Game farms raise wild animals and rent time with them to photographers.
"There are no standards for the care of game-farm animals," Cristina Mittermeier of the International League of Conservation Photographers told Audubon. "They're rented out for profit. I find that sickening. We don't even know how many game farms there are. They give nothing back to habitat conservation." Audubon gives some examples of how animals may be treated at a game-farm photo shoot:
Battery acid is splashed on captive fish to make them leap frantically. I talked to one genuine wildlife photographer who has quit submitting deer photos to hook-and-bullet publications because he can't compete with all the photographers who rent or own penned deer bred for freakishly large antlers. One such mutation…had four owners, the last of which bought him for $150,000. For years the ancient beast was kept on life support with medications and surgeries.
It would be easy to say, then, don't buy a wildlife calendar, but there's some confounding factors in this equation. Honest environmental organizations have been known to commission posters and calendars with these game-farm photos. Not all, though, and the article doesn't specify which ones. If you want to buy from one of these organizations, your best bet is simply to ask them about where the photos were taken (you want to give them money–they should answer your questions). Or you could give the organization a donation while saying "no" to the calendar. And if you need one to decorate your wall, go the route I have the last couple of years, and make your own. Your photos may not be as good as those by professionals, but you'll know that no animals were harmed in the creation of your masterpiece.