Should We Blame Scientists for Not Predicting Earthquakes?
A group of Italian scientists may go to trial for allegedly playing down the risk of the quake that struck the Abruzzo region of Italy in April 2009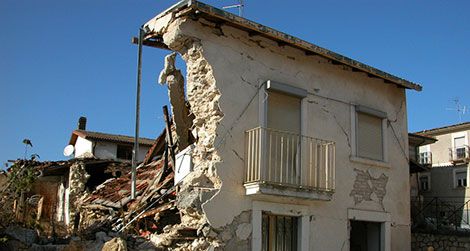 Last year I wrote about a group of Italian scientists who had just been indicted on charges of manslaughter for not alerting the public that a particularly bad (magnitude 6.3) earthquake would occur on April 6, 2009 in the Abruzzo region. Several months later, after scientists worldwide protested the move, it looked as if the charges would be dropped. But that has now changed, and the scientists are likely to go on trial; if convicted, they face up to 12 years in prison. They've not been blamed for not predicting the earthquake, but close enough, as the New York Times explained yesterday:
They do not stand accused of failing to predict the earthquake; everyone agrees that would have been impossible. But prosecutors say that by playing down the risk of a major earthquake, the panel — the National Commission for the Forecast and Prevention of Major Risks — failed to uphold its mandate and did not allow the local population to make adequately informed decisions about whether to stay in their homes or move to a safer place.
Here's what happened back in 2009:
Before the April 6 earthquake, the region had been experiencing smaller earthquakes for some months. Following a magnitude-4.0 quake on March 30, the six scientists now under indictment met with Bernardo De Bernardinis, the deputy technical head of the Civil Protection Agency, to discuss the risk of a larger event. After the meeting, De Bernardinis told reporters at a press conference that "the scientific community tells us there is no danger, because there is an ongoing discharge of energy. The situation looks favorable."

The minutes of that meeting, however, show that the scientists were cautious in their evaluation of the situation, Nature reports, saying that a major quake in the region was "unlikely" but could not be ruled out.
Either way, the claim that people would have altered their behavior if the scientists had been less cautious and issued a more forceful warning is simply not plausible. The way that you prepare for an earthquake when you live in an earthquake-prone area—be it Italy or California—should be to build to certain standards to make structures as earthquake-proof as possible. You don't wait for some sign that you should flee the area and then hope for the best.
And it appears that the region had failed that preparation, which was apparent even in the first days after the 2009 quake. From Reuters the day after:
…shocked Italians asked how modern buildings — not just historic churches and stone houses — could crumble into pieces in a region known for its high seismic risk.

"Once again we are faced with the lack of control on the quality of construction," Franco Barberi, who heads a committee assessing earthquake risks at Italy's Civil Protection agency, told reporters in L'Aquila.

"In California, an earthquake like this one would not have killed a single person," he said.
The tragedies in this story keep mounting—309 people died. Innocent scientists could be put in prison. And I have to wonder if the real reason for all those deaths, that modern buildings were apparently not built to adequate standards for the area's risk, is being completely ignored, thus setting up Italians for more disasters.