Scaling the Washington Monument
Mountaineering park ranger Brandon Latham talks about how engineers investigated the monument from hundreds of feet above the ground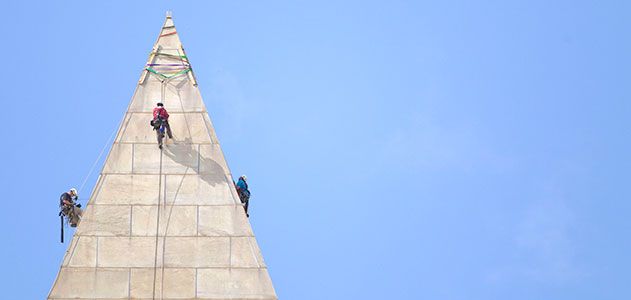 As a mountaineering ranger at Denali National Park, Brandon Latham is charged with performing search and rescue missions on 20,320-foot Mount McKinley. But the National Park Service recently tapped the 40-year-old rope-rigging expert for an assignment of a different sort. This past week, Latham helped advise engineers rappelling down the 555-foot-tall Washington Monument. The "difficult access team" from Wiss, Janney, Elstner Associates, a firm based in Northbrook, Illinois, has been surveying the exterior of the obelisk stone by stone for any damages caused by the 5.8-magnitude earthquake that struck Washington, D.C. on August 23.
What were your initial thoughts when you were asked to help in this operation?
Well, being from Alaska, kind of surprised. But I was excited at the same time to help out the Park Service in any way that I can. I have somewhat of a specific skill set outside of just being a ranger, and that skill set is having experience with the rope access system that the contractors are using. I have worked both in a mountain environment and an industrial environment using these types of systems.
What are the technical challenges to rappelling down the monument?
The first challenge for the contractors was to try to come up with a solution on how to rig their ropes and operate outside on the ropes safely. How are you going to anchor the ropes? And, how are you going to anchor the ropes so that you can survey the top of the monument, the pyramidion? If you didn't have to survey the top of the monument, then it would be fairly easy to create anchors and come out the windows, because you have a lot of options for anchors. There is steel for the elevator at the top that you could wrap slings around and connect your rope to. But since they had to survey the very top of it, they had to put the slings around the very top.
What other assessments had to be made beforehand?
I was there the week before the actual operation started, and before they were out on ropes. The first week entailed going over the initial safety plan and work plan with the Wiss, Janney, Elstner managers. Are the workers going out all certified? To what level are they certified? What is their weather plan? What is their communication plan? Just going over all those details was a lot of work.
Then I went up with Eric Sohn, one of the engineers. We popped the south hatch, and we assessed whether or not we would have access from there. We looked at the steel on top of the elevator. We also looked at the marble that is on the inside. You can wrap slings around that marble. We also just kind of looked at the physics behind putting slings on the very top of the monument and how that would work out.
What was your role?
I acted as an interpreter, so to speak, just to help the Park Service understand what the contractors were doing and to help them feel more comfortable from a safety standpoint—that, yes, these guys are adhering to national safety regulations.
Can you explain how the rappel was done?
They took carabiners and clipped them to the sling that is at the top. The rope was put in place with knots clipped to the carabiner. They had two ropes—a work line, which is always under tension, and then a safety line, that is unweighted. If the work line fails, then you have the safety line as a backup. They were able to reach the ropes from the windows and clip the ropes into their control devices, which are attached to their harness. Once they were connected into both lines and safety checked by someone else, then they were able to squeeze out the window very slowly. When they came out of the window, they needed to go up at that point to survey the pyramidion section. They would go up using a mechanical ascender, a device that actually clips onto the rope. When you push up on it, it will move up the rope. But when you pull down, it actually locks on the rope.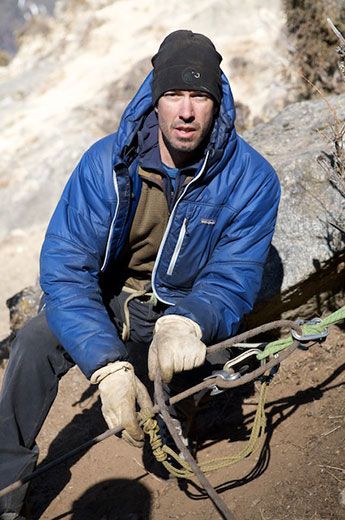 What can you say about the training and experience of the engineers?
All the engineers that are working on the monument have what is called a SPRAT certification. SPRAT stands for Society of Professional Rope Access Technicians. Basically, what they have to do to get that certification is go through a course, specifically for different things you have to do when you are on ropes like that.
How long will it take for them to assess the entire monument?
They are going to be working for five days doing the surveying outside, and that includes patching any of the major cracks with a type of material that the Park Service and Wiss, Janney, Elstner have chosen. You're looking at a number somewhere between 10 and 15 times total that they are coming out of the windows to do their job within a five-day span.
They are still in the process of completing the assessment to the very bottom. They have cleared the top pyramidion section and are down below the windows. They are looking at each block, taking photos and notes. I imagine they will be completely finished with their survey by Tuesday.
What damage has been found so far?
They are finding some loose spalls, or pieces of stone. Of course, they are finding cracks that we have actually seen from photographs taken from a helicopter already. From a structural standpoint, they still feel very confident that the monument is sound. That is the main take away. There is going to be some work to be done on it, but there is nothing too serious.
What would you say, in your climbing experience, best prepared you for this type of assignment?
My main responsibility as a mountaineering ranger is to perform search and rescue activities up on Denali. Sometimes that involves using rope systems similar to the rope systems that the engineers are using on the monument, just in a little bit different fashion. It is still a two-rope system. Of course, the anchors are different. We are using snow and ice anchors versus rock and steel anchors that the engineers are using.
I have been climbing for 20 years, and I have been working in the search and rescue and rope access worlds for 10 to 12 of those years. I also worked as an instructor for a company that teaches the physics behind these types of rope systems. The company is called Rigging for Rescue out of Colorado. It is a research- and testing- based company for these types of systems. My background in climbing and rope access is important. But I think understanding the physics and math behind it all is what I bring most to the table, being able to explain to people, most of all the Park Service, that it is going to be a sound system.
When you first started climbing as a teenager, you were climbing on overpasses in Louisiana, right?
Yeah. That is where I first started to learn how to climb. There are no cliffs or crags in Louisiana. Some friends of mine actually climbed in Oklahoma before, on some cliffs and crags. They started epoxying little chips of rock onto the overpass, and that was our cliff so to speak.
Have you rappelled off any buildings?
I have rappelled on buildings around the country—nothing bigger than maybe 30 or 40 stories, which is 300 or 400 feet. It is basically all construction work. Have you seen huge banners on buildings, like out in Las Vegas? I have done some of that work. The rope access systems are used a lot on oil rigs. Rope access is also used to inspect dams for cracks and other things.
What is the closest natural equivalent to rappelling down the Washington Monument?
Imagine you had a big granite cliff that was 555 feet tall just outside of the city, and you went out there and you clipped a sling around a big tree at the top and you put a rope down and clipped yourself in and you started rappelling. The environment, of course, is a little different. It's a natural setting, versus a manmade structure. The main difference between the two, rappelling on a cliff and rappelling on a manmade structure, is going to be the equipment that is involved. When people go out and rappel on a cliff, most of the time they just have one rope, because there is a different level of acceptable risk. But you still have exposure. From an exposure standpoint, the feeling of being in that vertical world is going to be very similar.
The Washington Monument is currently closed. The Wiss, Janney, Elstner team plans to provide a report on it findings by mid-October, and the National Park Service will decide what repairs are needed before the monument reopens.