Royal Observatory Photography Prize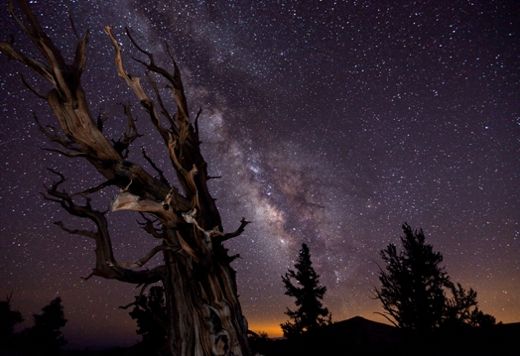 The Royal Observatory, in Greenwich, England, has announced its 2010 Astronomy Photographer of the Year. Tom Lowe won with this photo, Blazing Bristlecone. Though he won, Lowe wasn't perfectly satisified with his photo. He said:
If I could change anything about this photo, it would be the artificial lighting! The light on that tree occurred accidentally because I had my headlamp and possibly a camping lantern on while I was taking a series of test shots! The artificial light is too frontal and not evenly distributed, but in the end the light did in fact show the amazing patterns in the tree's wood. The reason these trees inspire me so much, aside from their striking beauty, is their age. Many of them were standing while Genghis Khan marauded across the plains of Asia. Being a timelapse photographer, it's natural for me to attempt to picture our world from the point of view of these ancient trees. Seasons and weather would barely register as events over a lifetime of several thousand years. The lives of humans and other animals would appear simply as momentary flashes.
Lowe also won the Earth and Space category. All the winners can be viewed online, and the Royal Observatory has also produced a set of guides to instruct photographers on how to capture astronomical phenomena such as auroras, the Moon and comets.
You might think about putting those lessons to use in Smithsonian magazine's 8th Annual Photo Contest. The deadline for entries is December 1.
Check out the entire collection of Surprising Science's Pictures of the Week on our Facebook page.
​Photo Credit: Blazing Bristlecone (c) Tom Lowe. White Mountains, California, August 14, 2009