Ride the Cartosaurus to See Tracks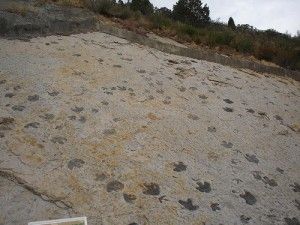 There are a few ways to see Morrison, Colorado's famed "Dinosaur Ridge." If you just want to have a look at the tracks you can walk or bike up the roadside trail, but if you want a less strenuous guided tour you can hop onto the new electric-powered "Cartosaurus."
According to Denver's CBS4 News the popular attraction, known for its many dinosaur tracks, is now offering tours via an electric-powered shuttle. The vehicle runs on 16 6-volt batteries, not fossil fuels, making it much cleaner and efficient than similar gas-powered shuttles. It is not decorated with dinosaurs like its gas-powered predecessor, but that's a small price to pay for going green.