Picture of the Week—Underwater Tiger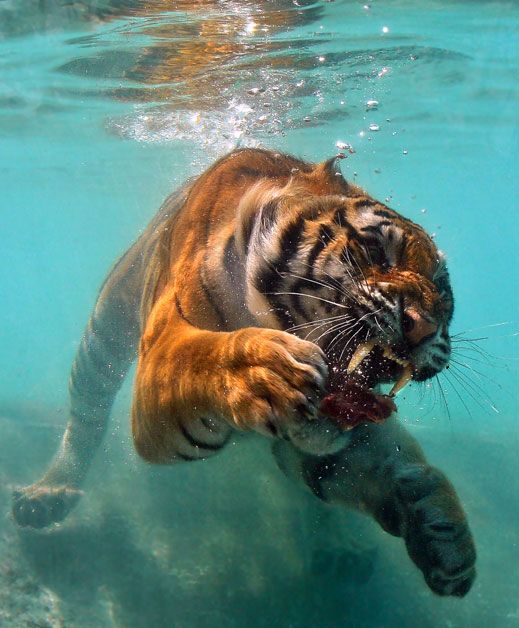 This photo of a tiger underwater was taken by Pam Wood in Vallejo, California. It's one of the finalists in the Natural World category of Smithsonian magazine's 6th Annual Photo Contest. We've placed all of the finalists online and voting is open (until the end of the month) for the Reader's Choice. Which one is your favorite?
And we're now taking entries for our 7th Annual Photo Contest:
Contestants may enter photographs in five categories; The Natural World, Americana, Altered Images, Travel and People. Each represents subjects of special interest to the magazine. Fifty finalists will be selected, ten for each of the five categories. Smithsonian will notify the 50 finalists by February 28, 2010. From these 50 finalists, five category winners and a grand prize winner will be selected. The entries of all winners and finalists will be published on the magazine's Web site on February 28, 2010. At that time, readers can vote online for one readers' choice winner. The winning entries and select finalists will be published in the print edition of Smithsonian magazine during summer 2010.

Category winners will be awarded $500. The readers' choice winner will be awarded $500. The grand prize winner will receive a four-day, three-night Smithsonian Journeys Grand Canyon Weekend Adventure for two, or the wholesale cash equivalent.
What makes a winner? "Technical quality, clarity and composition are all important, but so too is a flair for the unexpected and the ability to capture a picture-perfect moment."