Photo of the Week: Anemone and Shrimp
One appeared on the very top of one of the highest fingers and grasped the tip in what appeared to be a moment of victory: King of the Hill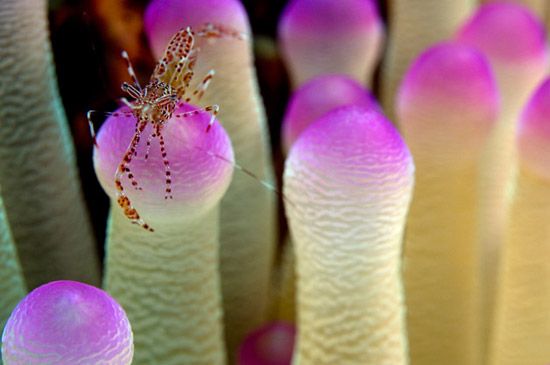 Fall is one of the most photogenic times of year, a good time to be on the lookout for subjects for Smithsonian Magazine's Photo Contest. The leaves are changing, migratory birds are flying south and absurd produce is being harvested (read all about thousand-pound-plus pumpkins).
One of the finalists in the Natural World category from our 8th Annual Photo Contest is from photographer James Kasher. He explains how he got the shot, taken off of the island of Bonaire in the Netherlands Antilles:
As I was swimming above the pristine reef, I noticed an isolated anemone that had stunning purple tips. As I got closer I became mesmerized with its beauty and texture. Upon closer inspection I noticed a few anemone shrimp tucked away near the bottom of the anemone fingers. Every so often they would move and reposition themselves in different areas.

A few moments later one appeared on the very top of one of the highest fingers. It grasped the tip in what appeared to be a moment of victory: King of the Hill.
If you've caught your own moment of victory (or defeat) on film, enter our 9th Annual Photo Contest. The deadline is December 1.