Well, on Friday morning it was snowing at McMurdo Station, and the pilots scrubbed our flight down to Antarctica. It being Thanksgiving, the station had Saturday and Sunday off. It seemed we were not destined to become polar explorers on this particular weekend.
So we hightailed it to 12,300-foot, stupendously scenic Mt. Cook (which the Maori call Aoraki), New Zealand's highest point. Here I ran across the kea, a famously mischievous parrot that lives only in the New Zealand mountains, up near treeline.
I had hiked up an incredibly steep trail set against blue-white glaciers that crowded the slopes of Mt. Sefton just across the valley. Aoraki itself loomed at the end of another valley, a cold white cloud streaming off its peak. My hillside was covered with grassy tussocks, strange, stunted trees, and rocks of gray, black and red.
Into this scene floated a green-and-brown parrot calling "kee-aaa� in a reedy voice. It landed on a boulder, flashing red underneath the wings, then sidled down the rock and into a treetop to pick at foliage. These birds are renowned for being smart enough to get into trouble: they eat windshield wiper blades in parking lots, break into campers' tents, and figure out how to raid tins of biscuits. Some have even learned the macabre habit of feeding on sheep.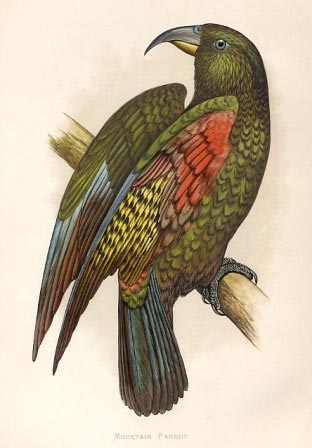 ​
By coincidence, the next person I ran into on the trail was Gyula Gajdon, a postdoctoral scholar at the University of Vienna who studies keas. He and an assistant were just beginning a project to track young keas after they leave the nest. Other aspects of his research investigate how the parrots share new skills by watching each other. It's an ability called "cultural learningâ€? – something you attempt every time someone shows you a card trick and you say "Hey – how'd you do that?â€?
Hugh will be posting from Antarctica through late December. Follow his adventures at Polar Discovery.