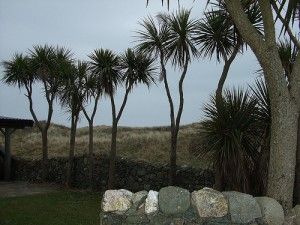 Today's post was written by the magazine's staff writer, Abigail Tucker:
On a recent trip to the Emerald Isle, I expected all kinds of verdant foliage, like the ancient yew tree my family saw growing outside the walls of a ruined castle. I was not, however, prepared for the Irish palm trees. We observed suspiciously tropical-looking specimens around every corner—at bed and breakfasts, in abbey gardens, or just springing up on the side of the road.
A quick email to Colin Kelleher at Dublin's National Botanic Gardens yielded an explanation: the species is Cordyline australis, a.k.a. the cabbage palm. "However, it is neither a palm nor a tree," Kelleher writes. (Nor is it a cabbage, I might add.) A New Zealand native, the plant was popularized in Irish gardens as early as the late 1800s. By the 1970s—and almost certainly before that, Kelleher says—the palm imposter had gone rogue, spreading into the wild and lending parts of coastal Ireland a distinctly beachy aura.
The cabbage palms are able to thrive in Ireland because of warm ocean currents. Ireland is at about the same latitude as Newfoundland, but its winters are much milder. Last winter, though, Ireland experienced the unusual weather patterns reported in other parts of the world. "We had severe snow and frosts, with temperatures going down to -10 degrees centigrade," Kelleher writes. "In fact, because of the extreme winter conditions last year many Cordyline palms were damaged or died."