Paleontology in Action at Dinosaur National Monument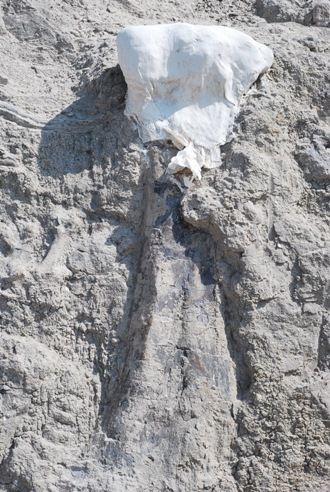 As soon as I arrived at the temporary visitor's center in Utah's Dinosaur National Monument two weeks ago, a ranger asked if I would like to go on a hike to an active fossil dig. "Sure!" I said, to which the ranger replied "Well then you had better get ready. We're leaving in five minutes."
I ran back to the car as fast as I could and hurriedly pulled on my hiking boots. The sandals I was wearing just were not going to cut it on the rocky trail. While I was tugging on my socks and tying my laces, though, I wondered what dig site we were going to. The famous fossil wall at the national monument had been closed a few years ago due to instability of the glass building that covered it, and the only other quarry I knew of was one that had been blasted open with dynamite a few months ago.
Being that the park was at a higher elevation than my home state of New Jersey I was breathing a little heavy by the time the group made it to the quarry, but it was worth the effort. Embedded in a vertical rock face about eight feet high were the various bones of sauropod dinosaurs that had lived during the early Cretaceous, about 110 million years ago. The work was being carried out by a team from Brigham Young University, and while it will be some time before the remains are formally described they appear to have belonged to a smaller relative of the giant dinosaur Brachiosaurus. A few bones from a fleet-footed predatory dinosaur related to Deinonychus had also been recovered from the site.
As exciting as this was, though, I was a little disappointed that I could not see the famous wall of dinosaurs that the paleontologist Earl Douglass discovered about a century ago. I had seen many photos and videos of the wall, but that can't compete with the real thing. The good news, though, is that Dinosaur National Monument recently received federal stimulus money to build a new permanent visitor's center. Groundbreaking on the new facility is scheduled to occur in the spring of next year, and with any luck the new building should be ready in a few years. Don't let the wait stop you from visiting though; there is still plenty to see at Dinosaur National Monument!