Paleontologists Track Dinosaurs Near Las Vegas
Very few skeletons have been found from this period, and much of what we know about the dinosaurs of the Early Jurassic Southwest comes from tracksites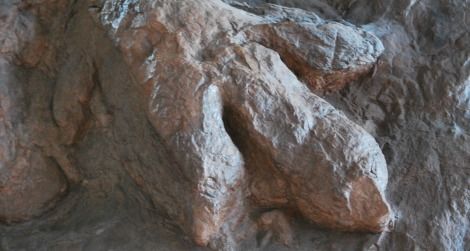 Earlier this month, paleontologists from around the world convened in Las Vegas for the 71st annual Society of Vertebrate Paleontology conference. Preliminary findings were shared, new discoveries were presented, and researchers caught up with friends and colleagues, but not all the news came from the meeting halls. Various field trips held just before the conference introduced paleontologists to the geology and paleontology in the vicinity of Las Vegas, Arizona, and southern Utah. One of them confirmed the traces of a dinosaur not far from the bright lights of the Las Vegas strip.
An article in the Las Vegas Review Journal has the details. About twenty minutes outside of Las Vegas, within the Red Rock Canyon National Conservation Area, lie the tracks of a relatively small theropod dinosaur in the red, roughly 190-million-year-old Early Jurassic rock. Our knowledge of dinosaurs in North America from this time is relatively sparse. Very few skeletons have been found from this period, and much of what we know about the dinosaurs of the Early Jurassic Southwest comes from tracksites. For the moment, these three claw-tipped toe impressions indicate that the Red Rock Canyon dinosaur was a small theropod. Details of the dinosaur's behavior, such as how fast it might have been walking, have not yet been studied.
The interpretation of the Red Rock Canton site will emerge as research is conducted. According to the LVRJ story, Bureau of Land Management officials are planning to create casts of the tracks to let visitors learn about the site without risking damage to the ancient footprints. If you're in the area and are really itching to see some dinosaur tracks, though, there are other opportunities within a few hours drive: the Dinosaur Discovery Site in St. George, Utah is packed with similar Early Jurassic dinosaur footprints.