Our Top Ten Videos of 2015
From Hitler's home videos to the suffocating upbringing of an American princess, here are the most-watched videos on Smithsonian.com this year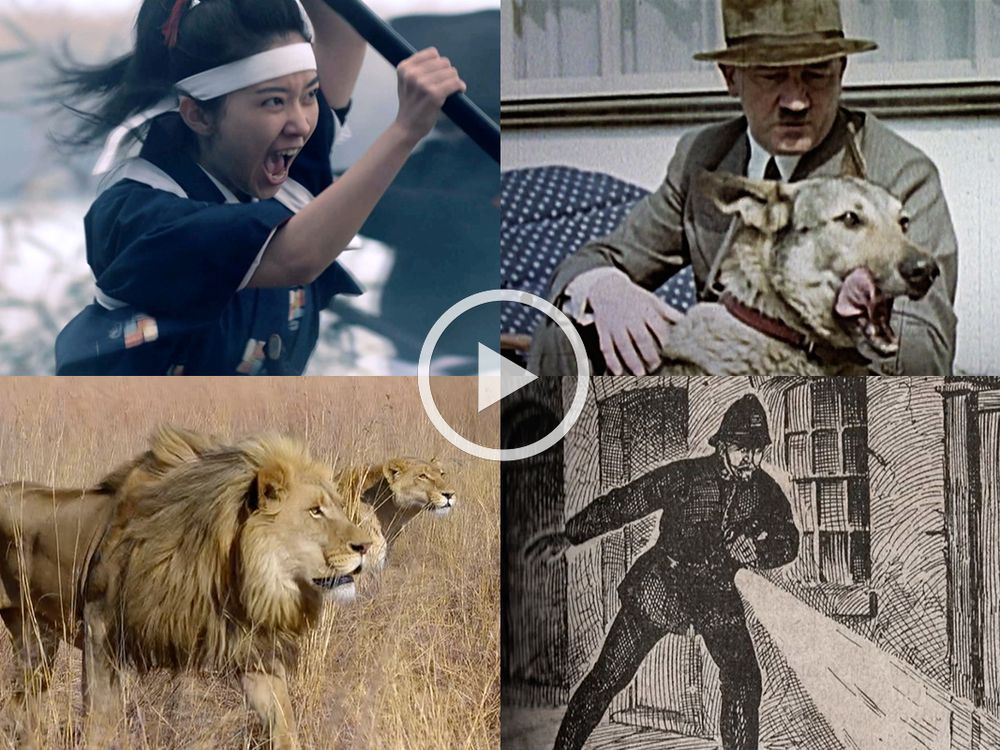 1) A Mongoose and Black Mamba Fight to Death
It's a tough world in sub-Saharan Africa. The mongoose, with its razor-sharp teeth and quick footing, is one of the only animals that hunts the black mamba, a venomous snake that can kill 15 grown men with one bite. Watch their dance of death.
2) In Wisconsin, Evidence of Human Sacrifice
Wisconsin's Aztalan State Park is home to a mysterious pyramidal mound built by Native Americans who once lived there. Though the site, barely noticeable among green fields, is beautiful when viewed from the air, archeologists have uncovered evidence of a dark past, including wartime defense structures and burnt human remains. 
3) What the Completed Great Pyramid Would Have Looked Like
Today, the Great Pyramid's stones are colored by smog, pollution and the passage of time, but when it was first built, the sanded limestone would have shone a brilliant white. Egyptologist Jacquelyn Williamson explains how it was made.
Read also: The World's Oldest Papyrus and What It Can Tell Us About the Great Pyramids | From: Smithsonian Channel: Secrets - Great Pyramid
4) Rarely Seen Footage of Life in Nazi Austria​: Amateur Shots in Vienna, Spring 1938
One of 50 films assembled by the Ephemeral Films Project, a collaboration of the United States Holocaust Memorial Museum, the Austrian Film Museum and the Ludwig Boltzmann Institute, this footage by an amateur cameraman provides a chilling glimpse into everyday life during the rise of Nazism in Austria. 
From: Watch Rarely Seen Footage of Life in Nazi Austria, Thanks to a New Video Archive
5) Could You Have Endured Consuelo Vanderbilt's Upbringing?
At the turn of the 20th century, it was not uncommon for daughters of new-money Americans to marry into British aristocracy. Though these unions promised financial stability, they often required sacrifice. In this video, Dr. Elisabeth Kehoe, author of The Titled Americans, and Jessica Fellowes, author of A Year in the Life of Downtown Abbey, recall the childhood of Consuelo Vanderbilt. Tutored in several European languages for hours on end and strapped to a steel rod for posture, Consuelo's upbringing gives new meaning to the term "a gilded cage."
From: Smithsonian Channel - Million Dollar American Princesses
6) How Lions Choose Their Prey
"Lion Whisperer" Kevin Richardson's relationship with some of South Africa's most fearsome predators has played a key role in a groundbreaking set of experiments designed to measure the species' social intelligence. In this clip, Richardson and wildlife biologist Natalia Borrego observe three lions as they coordinate an attack.
Read also: What Makes the "Lion Whisperer" Roar? | From: Smithsonian Channel: Killer IQ - Lions vs. Hyena 
7) Why Jack the Ripper's Identity May Soon Be Proven
The identity of Jack the Ripper is among the greatest mysteries in the history of British crime. Over the course of three decades, Swedish journalist Christer Holmgren has sifted through 120 years of evidence in an attempt to close the case. Watch Holmgren and a team of historians, detectives and forensic pathologists revisit crime scenes and tie six horrific murders to one man.
8) Women Were Some of the Fiercest Samurai Warriors Ever
In ancient Japan, battle was typically reserved for male samurai. Takeko Nakano and her sister, Yuko, changed that. Following a village invasion, they rallied women to fight for their clan's independence.
9) These Are Home Movies From Hitler's Vacations
Hitler strived to keep his personal life, and especially his relationship with Eva Braun, a closely guarded secret. These clips from his Hitler's vacations in the Bavarian Alps shed new light on the leader of Nazi Germany.
Watch also: Rare Interviews With Hitler's Inner Circle Reveal What Truly Happened on "The Day Hitler Died" | From: Smithsonian Channel: Hitler's Riches
10) How to Lie for Your Life
Predating the CIA, the OSS was conceived by Roosevelt and Churchill in the darkest hours of World War II to help Britain reenter occupied territory. Here, Helias Doundoulakis shares his story of working as a young WWII spy for the U.S in German-occupied Thessaloniki.