Open-Fire Stoves Kill Millions. How Do We Fix it?
Pollutants from crude stoves are responsible for many deaths – a D.C.-based NGO has a solution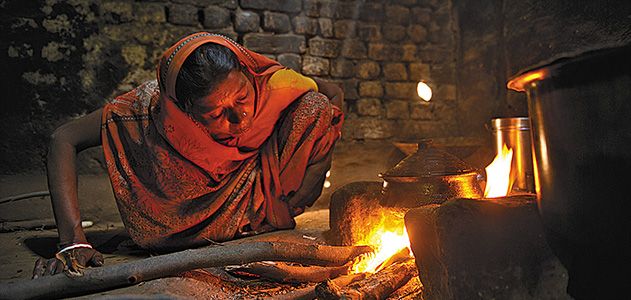 Making dinner shouldn't be fatal. But millions of people in the developing world die each year from illnesses linked to smoke spewing out of crude stoves—a scourge that has frustrated experts for decades. Now a Washington, D.C.-based group with a new approach hopes to place "green" stoves in 100 million homes worldwide by 2020.
Part aid organization, part venture-capital broker, the Global Alliance for Clean Cookstoves has raised $158 million to help develop, market and distribute clean-burning cookstoves. Championed by celebrities such as Julia Roberts, the initiative is ramping up in Bangladesh, China, Ghana, Kenya, Nigeria and Uganda. "Cooking kills, and it doesn't have to," says Alliance director Radha Muthiah. "It's the fifth-biggest killer in developing countries."
Some three billion people prepare meals at rudimentary stoves that burn wood, dried dung or coal and that produce choking smoke or lack proper ventilation. Because cooking chores most often fall to women, and children are typically at hand, they are the primary victims of smoke-related respiratory illnesses such as pneumonia, lung cancer and chronic obstructive pulmonary disease. "Having an open fire in your kitchen is like burning 400 cigarettes an hour in your kitchen," says Kirk Smith, a professor of global environmental health at the University of California at Berkeley.
The two-year-old Alliance is the most concerted effort yet to coordinate the world's many clean-stove projects, from arranging financing sources to establishing quality-control standards. The organization doesn't sell cookstoves but works with manufacturers, distributors and others to supply a range of stove types; it also plans to broker microfinancing to help poor households afford those wares. The goal: stimulate a global clean-stove market that's self-sustaining, in contrast to past aid programs that gave away or subsidized new stoves with limited success. The Alliance enjoys growing support partly because of the potential environmental benefits of cleaner cooking. Open-fire stoves produce nearly as much black carbon soot as diesel cars and trucks worldwide.
To be sure, convincing poor rural families to change traditional cooking habits is tough. And designing an affordable stove that won't harm health remains a challenge. Take so-called rocket stoves, with insulated, closed combustion chambers allowing for more complete incineration of firewood; they save on fuel but don't eliminate smoke or black carbon. Newer stove designs with built-in fans generate much less smoke, but are pricey. "There's a lot more work to be done," Smith says.
Women who've begun using cleaner stoves attest to the positive changes. "I used to get sick and cough all the time," recalls Vandana Dubey, of Jagdishpur, India, who appears in an Alliance video. Now she'd like to start a business with other women: "Something that shows we matter."