The One Use of Drones Everyone Can Agree on, Except for Poachers
Conservationists are looking to Unmanned Aerial Vehicles for help in keeping an eye on endangered species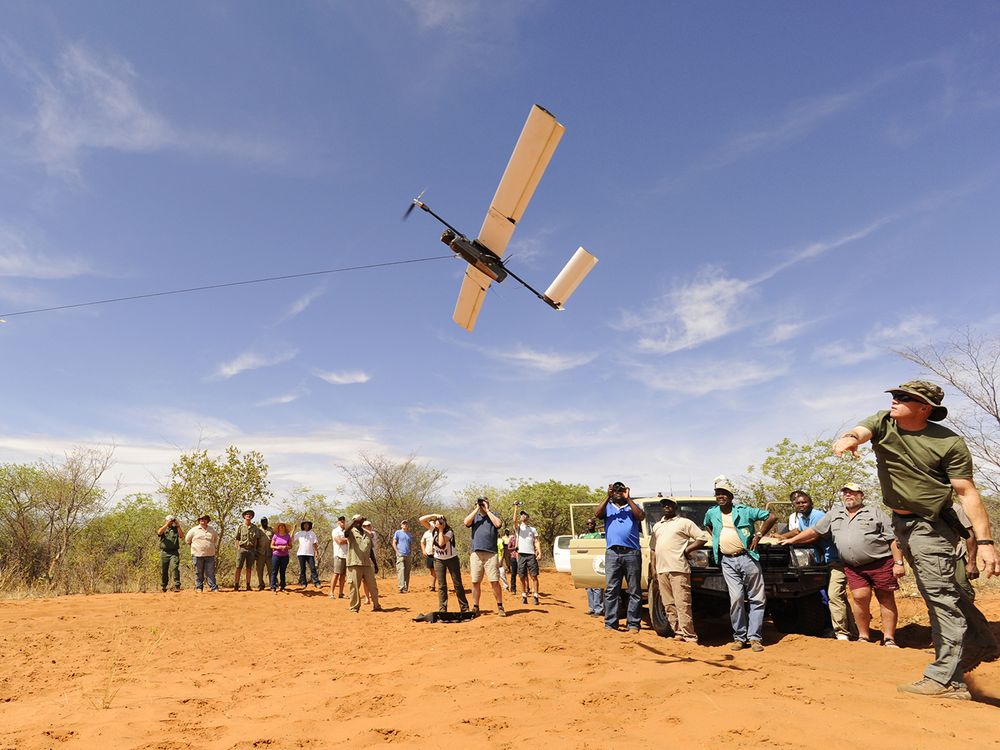 The forest rangers of Nepal's Chitwan National Park are charged with protecting some of the world's last remaining one-horned rhinoceroses and Bengal tigers. But they have a problem: Patrolling the 360-square-mile swath of wetlands and forests in the Himalayan foothills is costly, time-consuming and dangerous to do on foot.
So on a warm, clear day in Nepal, a group of camo-clad, combat-booted rangers gather around a professor from the University of Adelaide who has a possible solution. The professor is holding what appears to be a model airplane—only this is not a toy. This is a drone designed specifically for conservation purposes. Lian Pin Koh, a cofounder of the non-profit Conservation Drones, shows off the 33-inch wingspan, the autopilot system and the GoPro video camera. Then, in one swoop of his arms, he flings the plane over his head. It wavers for a moment and rises away, collecting video footage that will show the rangers what it's like to have eyes in the sky.
Often referred to as unmanned aerial vehicles, or UAVs, drones are most commonly associated with military operations, and their civilian use has, until recently, been limited almost entirely to collecting scientific data, monitoring crops, tracking down criminals and observing forest fires and disaster areas. In the last few years, however, conservationists have begun to develop UAVs to survey wildlife, monitor deforestation and help park rangers locate poachers before apprehending them on foot. Scientists believe the tool could revolutionize the way conservation is done in many countries, slashing the costs of monitoring large, rugged areas and, ultimately, better protecting wildlife from threats.
"The pressure on natural resources in almost all conservation spaces on the planet is increasing," says David Wilkie, director of conservation support for the Wildlife Conservation Society, which is testing drones in Madagascar, Cambodia and Palau, among other places. "How do you move beyond enforcing the law and catching guys with ivory to preventing them from shooting the elephants in the first place? Can we use drones to do that? That gets people's ears pricked up and they begin to think, oh my gosh, this could really be a game changer."
Just over two years ago, Lian Pin Koh and ecologist Serge Wich, a professor at Liverpool John Moores University in England, first hatched the idea to use a UAV for conservation work when they identified a problem in their own research on primates: Surveying forested areas can be expensive and arduous. A drone, they reasoned, could help them survey orangutan nests without trips into the bush.
At the time, however, the pair couldn't find a model that was commercially available for less than $5,000, so they built their own low-cost version using instructions and parts ordered off the Internet. After tweaking several models, in late 2012, they flung their drone into the sky in North Sumatra and, about 20 minutes later, it returned with some of the first aerial footage of treetop orangutan nests.
Since then, dozens of scientists have caught wind of the gadget and asked for drones of their own. Eventually, to keep up with demand, Koh and Wich founded Conservation Drones, which continues to develop drone designs but has transferred production to manufacturers in New York, Switzerland and Borneo. Pilot flights have gone off in more than a dozen countries, including Scotland, Belize and Greenland, where they're used for purposes as diverse as monitoring ice and surveying protected waters for illegal fishing.
After the testing of two different drone models in Nepal, officials with Chitwan National Park ordered five drones. They recently arrived and will soon begin skimming the park's lush forest canopy and grasslands in search of poaching activity.
Meanwhile, commercial UAV manufacturers have started developing drones specifically for conservation. In 2012, Denel Dynamics, a South Africa-based defense manufacturer, provided a high-tech drone that has since helped rangers locate poachers in Kruger National Park, a last refuge in a country where more than a thousand rhinos died at the hands of poachers last year. In December, San Francisco-based Airware tested a UAV designed to detect poachers with night-vision cameras in Kenya's Ol Pejeta Conservancy. And, in Namibia, the World Wildlife Fund recently tested drone systems designed by Falcon UAV in the savannas of Etosha National Park.
"You put this web of communication and data feeds across the park, and it all comes together in one command center so you can have an instant response to poachers," says Crawford Allan, who heads up the Wildlife Crime Technology Project at WWF. "It's never going to be a replacement for rangers, but it really ranks up their game."
Even as Nepal's forest rangers adopt the technology, though, there are new problems to be solved, such as short flight times because of limited battery life and the heft and high cost of surveying technology such as thermal imaging. In October, the Al-Kareem Foundation announced a contest, the Wildlife Conservation UAV Challenge, to encourage researchers and hobbyists to develop even smaller, more affordable, easier-to-use drones with capabilities like image stabilization. About 130 teams from 28 countries are currently competing for cash prizes, and the winners will be announced this fall.
While many conservationists believe UAVs could be a powerful tool for good, drones aren't without controversy. Critics say that UAVs could also create noise pollution, erode the quality of public space and compromise civil liberties, especially privacy. "There are some really important uses of drones, but we need to be concerned about what kind of data they're gathering," says Jennifer Lynch, senior staff attorney for the Electronic Frontier Foundation, which is devoted to protecting civil rights in the digital world.
Despite the concerns, in the United States, some government agencies and universities have nevertheless started using UAVs for science and conservation, with special permits from the Federal Aviation Administration. The U.S. Geological Survey, for example, has tracked wildlife like sandhill cranes and bighorn sheep, and NASA has measured greenhouse gas levels with the help of drones.
The use of conservation drones in fledgling democracies and authoritarian states is an equally touchy issue. Critics fear the technology could be diverted for military purposes, and even distract from ongoing conservation efforts.
"Using militarized means to lock down the perimeters of parks and escalate firefights with poachers will do little good by itself," says Ken Conca, director of the global environmental politics program at American University. "It may also divert emphasis and funding from the most important tasks, and deepen tensions with local communities that are already skeptical about the benefits of conservation."
No one can predict exactly how U.S. and international airspace will change as drones multiply, but one thing is certain: Conservationists are clamoring for them. "Demand is very high," says Koh. "By 2015, I think it'll be a common thing for biologists to have a UAV in the field. It'll be just as essential as a pair of binoculars."