Meet an Environmental Activist and an Artist Who Share a Passion for "Trashion"
One man's trash suit is another woman's work of art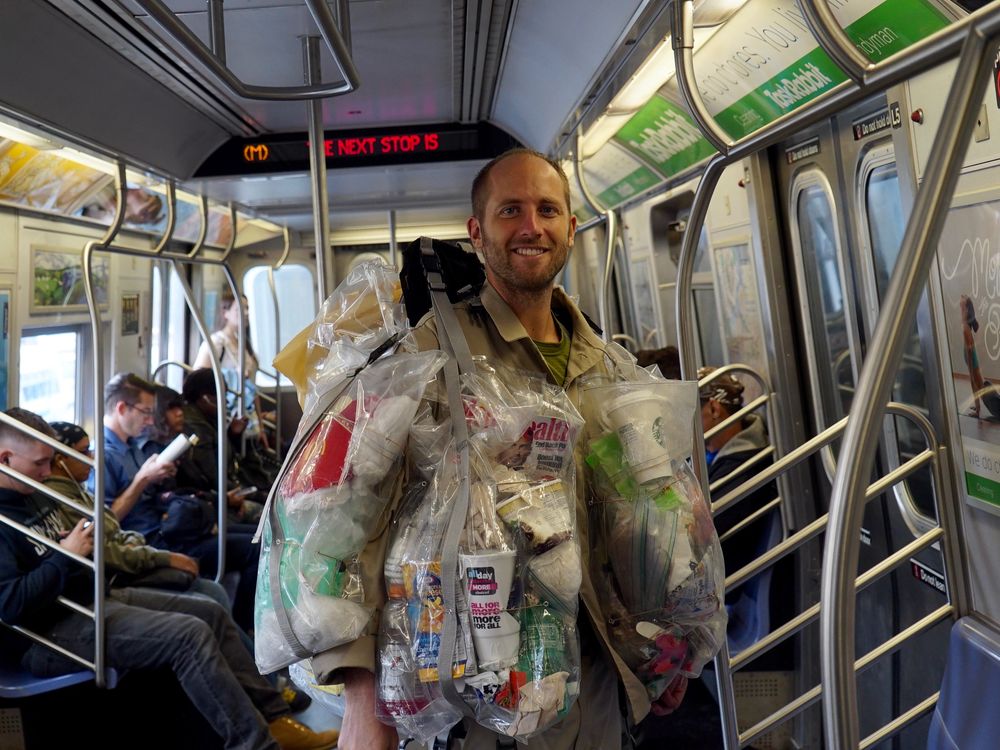 Like a perverse turtle, Rob Greenfield wears his trash on his back: Sandwiched between heavy duty plastic sheeting is every wrapper, bag, tissue and twisty tie the environmental activist has accumulated over the past few weeks. His unusual garb is part of an attention-grabbing demonstration: Since September 19, Greenfield has been shuffling down the streets of New York City ensconced in his own debris to raise awareness of how much waste the average American produces in a month.
This is not Greenfield's first sustainability-related stunt. In the past, the 30-year-old has lived off the grid, shunning traditional showers for more than two years to bring attention to water use; he's also gone dumpster diving with a television reporter to highlight urban food waste. In this case, "the focus is waste in general," says Greenfield, by which he means food waste like orange peels and apple cores as well as manmade waste products. "It's all the waste that we're sending to a landfill as individuals."
Right now, Greenfield is creating about 3 lbs of trash per day. That's significantly less than the average American, who creates about 4.5 lbs of trash per day—or about 130 lbs of trash per month—according to the Environmental Protection Agency. Greenfield attributes the discrepancy to the length of his project: Over a longer period of time, the average person would typically be replacing broken electronics or buying a new couch, which contributes to the 4.5 lb tally.
All that trash adds up to a sobering reality: In 2013, Americans generated about 254 million tons of trash. The global rate of trash production—which is currently dominated by the U.S., with China following close behind—is on track to triple by 2100. Those striking statistics are what propelled Greenfield to walk the streets covered in his own personal trash, including paper coffee cups, Target bags and McDonald's wrappers.
"My goal … is to always find ways to get people excited about environmental issues," he says. "There's so many reasons to feel that utter doom and gloom but I don't feel that's necessarily the best way to get people involved. That's why I try to keep things positive, fun and interesting."
But Greenfield couldn't have executed this vision without another key player: Nancy Judd, founder of a sustainable art and fashion company called Recycle Runway, is the creator of the meticulously-designed suit Greenfield is wearing. You could call their synthesis a match made in trash heaven; Judd, who made her first "trashion" in 1998, has a long history of combining art and recycled products dating back to an event she co-founded called the Recycle Santa Fe Art Market and Trash Fashion Show.
"We have such a disregard for the materials that pass through our hands, the resources that were used to create them and the pollution that was caused in their creation," says Judd. "Everything we touch has a story, and the stories get lost so easily in this society where we throw things away without even thinking about it."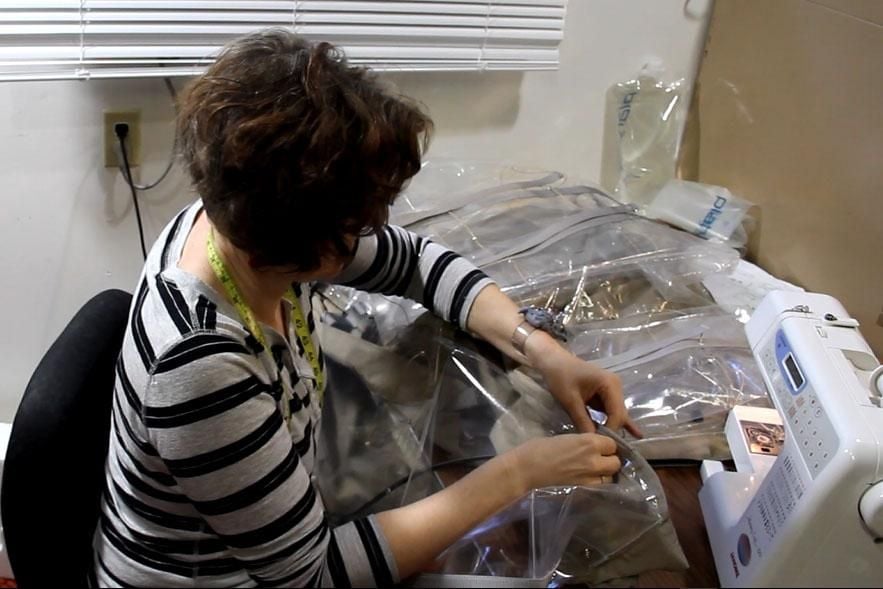 In August, Greenfield's video producer, Chris Temple, discovered Judd and her recycled fashion through a fortuitous Google search. Her aesthetic and philosophy merged perfectly with their environmental ideals, so he reached out via email. Judd immediately agreed to be a part of the project. "I was intrigued right away," she says.
Greenfield describes their collaboration as "kismet," or fate: Both shared the goal of creating environmental awareness through education. "I don't know what would've happened if I hadn't found Nancy," he says. "One of the challenges has always been how am I going to hold onto all of this trash. Not only is it bulky, but you have to have something designed that can hold 135 lbs of trash." While Greenfield admits that there are days he dreads putting on his suit, thanks to Judd's design, the trash load is fairly balanced.
In fact, trash has played a weighty role throughout Judd's life. "It actually all started quite unexpectedly at art school, when the administration put in a soda pop machine," she recalls. "I watched the garbage fill up with cans and asked the school if I could start a recycling program." She would go on to have a 20-year career in waste, first as the recycling coordinator for the city of Santa Fe, and next as the executive director of the New Mexico Recycling Coalition, where her role was "to get people to think differently about trash and to utilize our recycling program more and create less waste."
Yet outside of her day job, Judd was a passionate photographer. Her interests in recycled materials and her involvement with local artists came together when she helped launch the Recycle Santa Fe Art Festival, which has since become one of Santa Fe's renowned art events. "My interest in conservation and my life as an artist collided in that moment and I created a piece of recycled fashion to promote our trash fashion show," she says.
Several years—and countless trash couture creations—later, Judd decided it was time to leave her day job and fully embrace art for a living. In 2007, she founded Recycle Runway, which brings in revenue through sculpture commissions, exhibit sponsorships, speaking engagements and workshops. With her new business, Judd began to focus less on entertainment and more on education, from fashion shows to high traffic public exhibitions.
Her choice of where to display her art, for instance, is intentional. She usually hosts exhibits not in high-class galleries, but in airports. "It [is] a perfect place where my work could reach a high number of people who weren't necessarily environmentally-minded," she explains. Many of her pieces are commissioned by corporations like Delta Air Lines, Toyota, Target and Coca-Cola.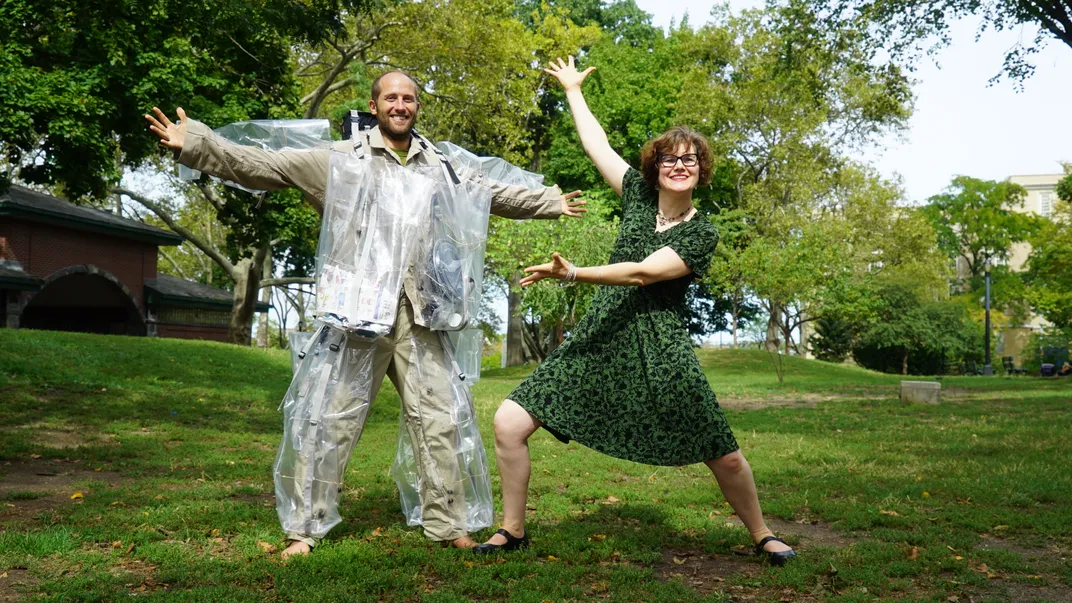 Judd thinks of herself as more of a sculptor than a fashion designer. While her pieces are wearable, the intention behind them is more educational than functional, she says. One of her creations, known as the "Obamanos Coat"—a purple-and-silver winter coat she created using door hangers from the 2008 Obama presidential campaign—is currently on display at the National Museum of African American History and Culture and is part of the Smithsonian's Institution's permanent collection.
Nearly all of Judd's creations are made from trash she has gathered herself, either by dumpster diving or through various collections or donations. If it's a work commissioned by a corporation, the trash often comes from the company itself. A typical piece can take her anywhere from 100 to 650 hours to execute, depending on the type of material used and how complex the design is. But for Greenfield's trash suit she was crunched for time: she had only about 25 days to design, source and construct the piece.
As a result, some of the suit's components ended up coming from second-hand stores rather than directly from the garbage can. "If I'd had more time I could've sourced the strapping as well as the base coat and pants," says Judd, noting that the strapping came from used backpacks, while she found the coat and pants from an army surplus store. "The only reused material is the clear plastic."
The final product ended up taking her 125 hours from start to finish. "I didn't realize how big of a job this would be, and neither did she," says Greenfield, who's nearing the end of his demonstration. Fortunately, all that time and care won't be going to waste (so to speak): Greenfield plans to travel across the country with the suit in 2017, using it as a dramatic visual aid that will drive home his point of how much trash each person makes. In 2018, Judd will exhibit the suit along with 19 other pieces at the Atlanta International Airport.
As of Thursday, Greenfield weighed in at 68 lbs of trash.