North Carolina's Origami Dinosaur Finds New Home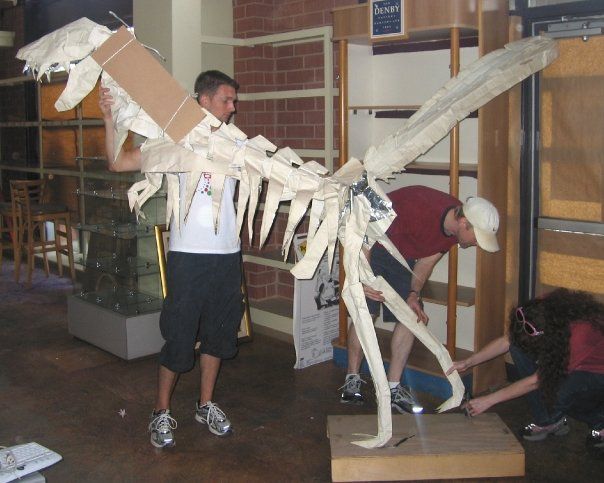 For the past seven years, a seven-foot-tall origami Tyrannosaurus has served as the mascot for the TEA ReX Teahouse in Charlotte, North Carolina. As The Charlotte Observer recently reported, however, the company is switching to a new online format, and the giant paper dinosaur would need a new home.
Now it has one, says TEA ReX president Wayne Powers. The origami structure is being installed in the entryway of ImaginOn, an arts and library center for children.
"ReX" was created in 1996 for an origami festival held in Charlotte every other year. According to Powers,
is made up of 46 pieces, each with more than 100 folds to complete the required bone shape.  It was designed by a prominent Japanese artist, Issei Yoshino, and opened up an entire new era of realistic-looking origami in the early 1990's.  Under the direction of Southeast Origami Festival founder Jonathan Baxter, this one-quarter size prototype was folded by the Southeast Origami "D-Team", who reside in cities throughout the southern United States and meet regularly to work on large-size origami exhibit pieces.

"ReX" was presented to Wayne Powers, in gratitude for his support of the Origami Festivals, and was prominently displayed at Powers' TEA ReX TEAHOUSE in Charlotte's Historic South End from 2002 until its closing in June, 2009, where he was enjoyed and regularly photographed by countless visitors from around the world.
It will be on display again next month. During the transfer, ReX will undergo "elective neck surgery," Powers says, to reinforce a weak spot in its neck.