Never Heard of Doggerland? Blame Climate Change From Millennia Ago
Rising waters have forced populations to relocate since the dawn of early man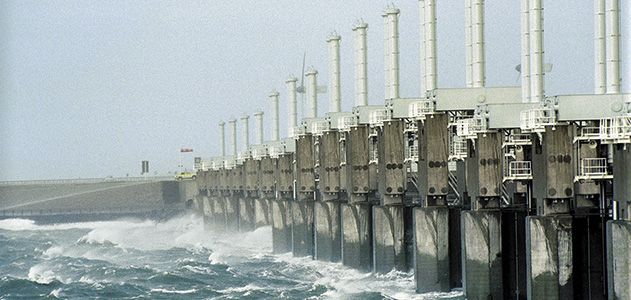 As you contemplate the likelihood of sea level rise, consider that just 20,000 years ago—a snap of the fingers in geologic time and well within the span of human existence—the North Sea didn't even exist. Global sea levels were as much as 400 feet lower than today, Britain was part of Continental Europe and terra firma stretched from Scotland to southern Norway.
This vast expanse, known as Doggerland, was a paradise for human hunters, who caught fish and fowl and gathered plants. Archaeologists sifting through seabed artifacts have developed a sketchy portrait of these human societies: Perhaps 10,000 people or more, clustered here and there in grass huts in waterside camps.
But this homeland was doomed. Water began encroaching around 18,000 B.C. as a natural climatic shift melted the ice sheets mantling Scandinavia. Seismic surveys and ice cores from Greenland, among other evidence, suggest sea level rose by as much as six feet a century during a series of melting events. As coastlines retreated, the northern North Sea formed, and when temperatures jumped again, the southern North Sea became an archipelago of low islands.
During this time of change, residents of Dogger­land must have engaged in an intricate minuet with an ocean lapping at their doorsteps, says Vincent Gaffney, an archaeologist at the University of Birmingham, in England, who has mapped the landscape under the North Sea. Sea­water inundated mussel beds and beaches. Rivers altered course. Familiar landmarks vanished within a generation. To adapt, people moved and moved again, collecting their few belongings and heading for higher, drier ground.
Surviving the next big round of sea level rise, estimated by scientists to be as much as three feet by 2100, may not be so simple. The millions of people now living near the North Sea cannot readily move, nor can farmers in Bangladesh or the Nile Delta. New Yorkers and New Orleanians will want to stay put, despite destructive flooding events.
With movement not an option, countries may go on the defensive—an approach long familiar to the Dutch. They sought for centuries to control the sea with windmills, dikes and revetments. "Here the tide is ruled, by the wind, the moon, and us," reads the inscription on their Eastern Scheldt surge barrier, one of 13 separate dams in the Delta Works, a massive sea defense system built during the second half of the 20th century.
But two near disastrous floods in the 1990s shook the confidence of the Dutch, prompting them to change directions. They are now digging out river­beds to boost discharge capacity; building squares and skate parks to serve as reservoirs for excess rainwater; and investigating how wind and waves can naturally distribute sand to rebuild coastlines over time.
Dutch cities won't move, but taking a different cue from the Doggerlanders, their people will adapt to the water instead of working against it. Can the rest of the world do the same?