Miniature African Forest Elephants Could Be Extinct in 10 Years
Ivory poachers slashed the population of the small elephants by 62 percent in the past decade—future losses at those rates will doom the species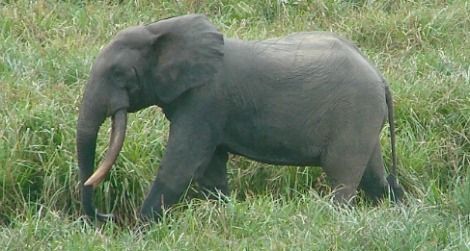 When you think of an elephant, you probably picture a big-tusked bull stampeding through vast African grasslands. But there are more to elephants than this run-of-the-mill savannah variety. The African forest elephant—recently declared a distinct species from its plains-dwelling cousin–lives exclusively in the forests of Central Africa. Males rarely exceed 8 feet in height, compared to about 13 feet for savannah elephants–all the better for navigating through the jungle trees. They eat mostly fruit, and researchers think they play a key role in spreading seeds and shaping the forest's environment and structure through their comings and goings.
But like many other animals living in Africa and Asia, this unique species is in decline as a result of rampant poaching for its ivory and loss of its forest habitat to human development. A new study led by the Wildlife Conservation Society and published in PLoS One puts those threats into perspective, and the news is not good. The situation for forest elephants is much worse than we thought, the paper announces, and unless we act quickly, the survival of these miniature elephants is in jeopardy.
Until now, conservationists had little idea of where exactly forest elephants live and how many of them there are. A team of 62 researchers from African, Europe and North America–the authors of the study–pooled their expertise and research efforts to figure out this basic information. Without these data, organizations such as the International Union for the Conservation of Nature (IUCN) cannot properly assess whether a species qualifies as endangered or not.
From 2002 to 2011, the team members conducted more than 80 forest elephant surveys in the jungles of Central Africa, focusing on five countries–Cameroon, Congo, the Central African Republic, the Democratic Republic of Congo, and Gabon. The scientists traveled on foot, covering around 13,000 kilometers of jungle. To determine elephant presence and density, the researchers set up transects to sample elephant dung, collecting more than 11,000 samples in total. Based on the amount of dung found, they extrapolated estimates of elephant population within a given area.
Their survey results were startling. They found "a widespread and catastrophic decline" of forest elephants, they write, corresponding to about a 62 percent decrease in forest elephant population size between the nine years of their survey. The elephants lost around 30 percent of their range during that time period, and they occupy just 25 percent of their potential forest habitat. The authors say that the population of forest elephants is now less than 10 percent of what it could be, given the extent of its habitat.
The paper conservatively estimates that around half a million forest elephants roamed Central Africa in the 1930s, but now 80 percent have been lost, leaving the population at an estimated 100,000 animals at most. In the Democratic Republic of Congo's protected Okapi Faunal Reserve, for example, 5,100 elephants—75 percent of the park's population—were killed over the past 15 years. In Gabon's Minkébé National Park, officials announced earlier this year that roughly 11,000 forest elephants have been poached since 2004. The paper puts these reported losses into broad perspective.
"This is the first range-wide, data-driven study confirming that Central Africa is hemorrhaging elephants on an unprecedented scale," said Samantha Strindberg, a researcher at the Wildlife Conservation Society and one of the study's lead authors, in a statement. "The analysis confirms what conservationists have feared: the rapid trend towards extinction–potentially within the next decade–of the forest elephant, according to the authors."
In the last few years, poaching for ivory and other wildlife products has escalated. Analyses performed by the Elephant Trade Information System and the Monitoring the Illegal Killing of Elephants program–both maintained by the Convention on International Trade in Endangered Species–confirmed that this escalation in illegal trade is largely due to a strong demand for and increase in value of ivory in China, where ivory carvings are prized and ivory powder is sold as a folk cure for cancer. The black market for ivory is estimated to have netted more than $264 million over the past decade.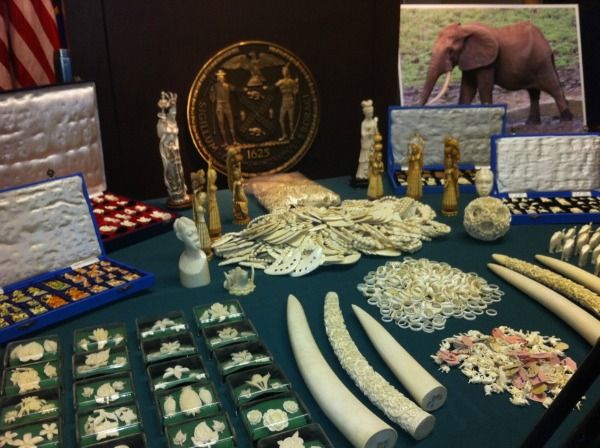 While this problem is typically associated with slain savannah elephants, the growing crisis increasingly applied to forest elephants as well. In addition to the increase in price and demand for ivory, the authors add that:
The persistent lack of effective governance in Central Africa and a proliferation of unprotected roads that provide access to hunters combine to facilitate illegal ivory poaching, transport and trade. Forest elephant population and range will continue to decline unless conditions change dramatically.
Habitat loss, often to oil palm plantations for biofuel production, further exacerbates the problem, they write.
Given this dire situation, the authors call for the IUCN to add the African forest elephant onto their species Red List as Critically Endangered (the IUCN currently lists forest elephants as a subspecies of savannah elephants). This upgrade would draw international attention to the problem, the authors hope, which may help boost efforts and support to curb poaching. But reducing demand for ivory, the authors remind, remains the best way to ensure the survival of forest elephants and the countless other species impacted by the illegal wildlife trade.
Sign up for our free newsletter to receive the best stories from Smithsonian.com each week.