Lessons in Space Exploration From Lewis and Clark
The similarities between the Lewis and Clark expedition of 1803 to 1806 and a manned mission to Mars are not immediately obvious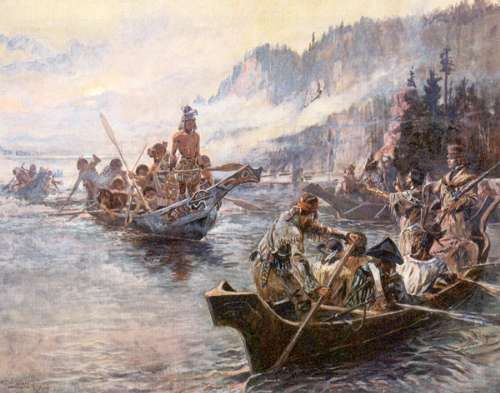 The similarities between the Lewis and Clark expedition of 1803 to 1806 and a manned mission to Mars are not immediately obvious. Meriwether Lewis, William Clark and their fellow adventurers never had to deal with the problems of cosmic radiation, for instance, or the osteoporosis and muscle atrophy caused by spending months in zero gravity. And they had a never-ending supply of air. I expected that a comparison between their trip across the West and a potential space mission wouldn't be that useful. I'm rethinking that conclusion, though, after reading the study from Colorado Springs science teacher Matthew Allner and University of North Dakota space studies professor Vadim Rygalov that has just been published in Advances in Space Research.
Allner and Rygalov note parallels between the two missions such as length, high levels of risk and uncertainty that would stress the participants, and restrictions on cost and the amount of supplies that could be carried. They also extracted lessons that could be learned directly from the Lewis and Clark expedition, particularly on the composition of the leadership and mission crew. They write:
Positive group dynamic development requires a healthy balance of strong (but flexible) leadership, high crew motivation, openness to human differences (such as culture, race, and gender), and the implementation of a variety of effective countermeasures at various phases of a mission.
That last bit about phases of a mission comes from the authors' analysis of the timing of mistakes (unfortunately undefined) that were made during the Lewis and Clark expedition. Allner and Rygalov were able to use that analysis to divide the mission into four phases that might prove analogous to a space mission:
acute phase (months 1-3): adjusting to new routines, excitement at mission start
intermediate phase (months 4-6): crew has problems with fatigue and insubordination
long-duration phase (months 7-26): changes in crew performance, more fatigue, poor judgments
final phase (months 27 and 28): crew is anxious to complete the mission, euphoria and hyperactivity abound, but decisions are not well thought out
NASA could do worse than to consider historical analogues such as Lewis and Clark before sending people on years-long missions to far away places. But might I make a suggestion? Maybe they should also examine less successful adventures.
Let's consider the Australian version of Lewis and Clark: Burke and Wills. In 1860, Irish police officer Robert O'Hara Burke and William John Wills, an English doctor, led a group whose mission was to find a route from Melbourne in south Australia to the Gulf of Carpentaria in the north (map). As Bill Bryson notes in In a Sunburned Country, "they did everything wrong."
Despite bringing provisions they didn't need (1500 pounds of sugar!), squabbles among the men and traveling in the heat of the Australian summer, Burke, Wills and two fellow adventurers—Charles Gray and John King—managed to reach the gulf. Sort of. Mangroves blocked the final distance. But only King managed to survive the return journey, and he had to be saved by Aborigines.
Just a quick glance at both stories reveals that each group had, at some point, to rely on native people. There are no native people in space (that we know of, at least). What does that forebode for a mission to Mars?