For a Larger-Than-Life Space Icon, John Glenn Was Remarkably Down-to-Earth
Friends and colleagues recall his abiding love for Smithsonian's work, the history of spaceflight and peanut butter buckeyes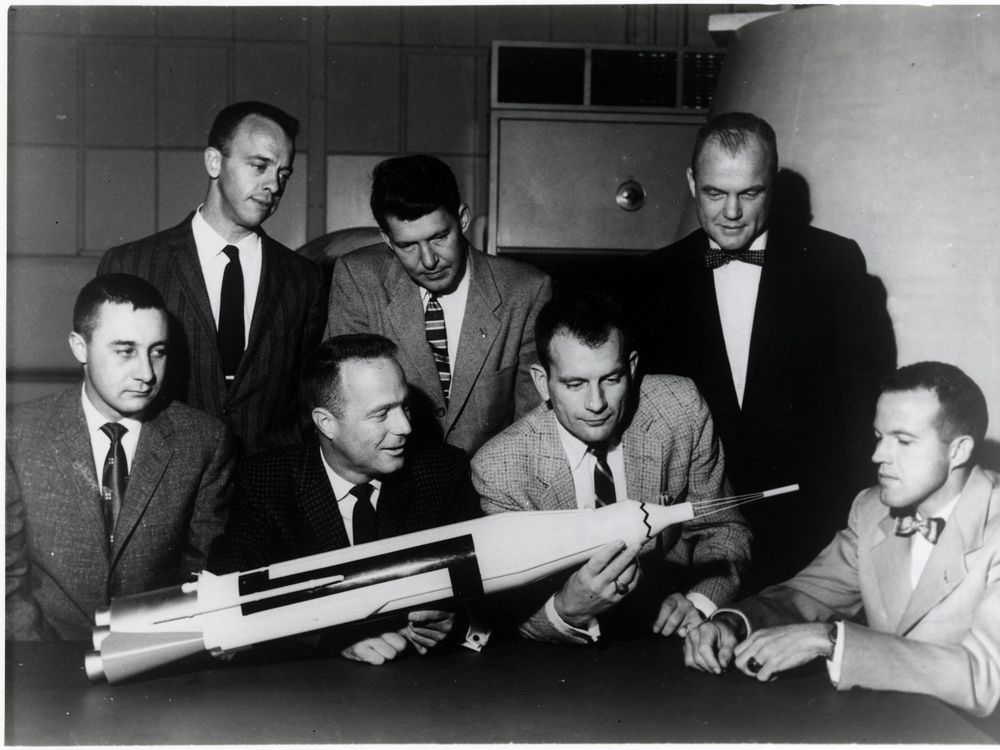 "He was a great American hero, there's no doubt about it," said Michael Neufeld, a curator at the National Air and Space Museum and the former head of its Space History Division, on the day that John Glenn died. Many Americans shared Neufeld's sentiment. From flying in both World War II and the Korean War; to paving the way for space exploration by becoming the first American to orbit Earth; to winning election to the U.S. Senate and then returning to space again, Glenn lived the life of a legend.
As a 10-year-old boy in Calgary, Canada, Neufeld remembers watching on the television as Glenn launched into space atop an Atlas rocket, just before he had to leave for school. Witnessing that historic moment helped shape Neufeld into the "space buff" he is today, he says. In his 95 years on Earth and beyond, Glenn was not only an explorer of space but a passionate fan and supporter of the Smithsonian's work, Neufeld and other friends and colleagues recall. And he did it all while remaining surprisingly down-to-earth.
Glenn's close friend J.R. Dailey, director of the National Air and Space Museum, wrote in an essay last week that Glenn was "committed to our mission to inspire the world to new heights." "To me, there is no greater calling," Dailey recalled Glenn saying. "If I can inspire young people to dedicate themselves to the good of mankind, I've accomplished something."
"Glenn was a big friend of the museum," Neufeld says.
Margaret Weitekamp, a curator in the National Air and Space Museum's Space History Division, worked closely with Glenn for five years on the museum's lecture series named after him. Besides giving the inaugural lecture on his life's journey before roughly 1,500 people in 2004, Glenn made a point of coming to introduce speakers whenever he could and helping out the museum in any way possible, she says. For an exalted American hero, Weitekamp remembers as being remarkably feet-on-the-ground. "For being someone who has lived a life on the national and international stage, he was very down-to-earth, very approachable," she says.
Weitekamp says she was shocked to discover that Glenn never got around to having the food or drinks at most of the museum's events he attended, because he didn't want to miss a chance to talk to people. Instead, his wife Annie would make him a sandwich for the road, which he would eat on the drive over from his home in Bethesda, Maryland. (Weitekamp would later make sure that the caterers prepared a plate of food before the event so Glenn got a proper dinner.)
At a 2011 banquet honoring Glenn and fellow astronaut Scott Carpenter, then the last two living members of the Mercury space program, Weitekamp recalls how Glenn ended up serving coffee to other guests, despite him being the guest of honor that night.
Glenn's affection for the Smithsonian stemmed in part from his deep interest in the history of flight, Weitekamp says. When asked what was his favorite artifact in the National Museum of Air and Space, Glenn did not pick the space capsule that carried him around the Earth in 1962 (which is still on display). In fact, he didn't pick anything related to space at all. Instead, Glenn picked the 1903 Wright flyer built by fellow Ohioans Orville and Wilbur Wright, Weitekamp recalls. "He thought it would have been a great adventure, being one of the first people getting on the very first airplane," Weitekamp says.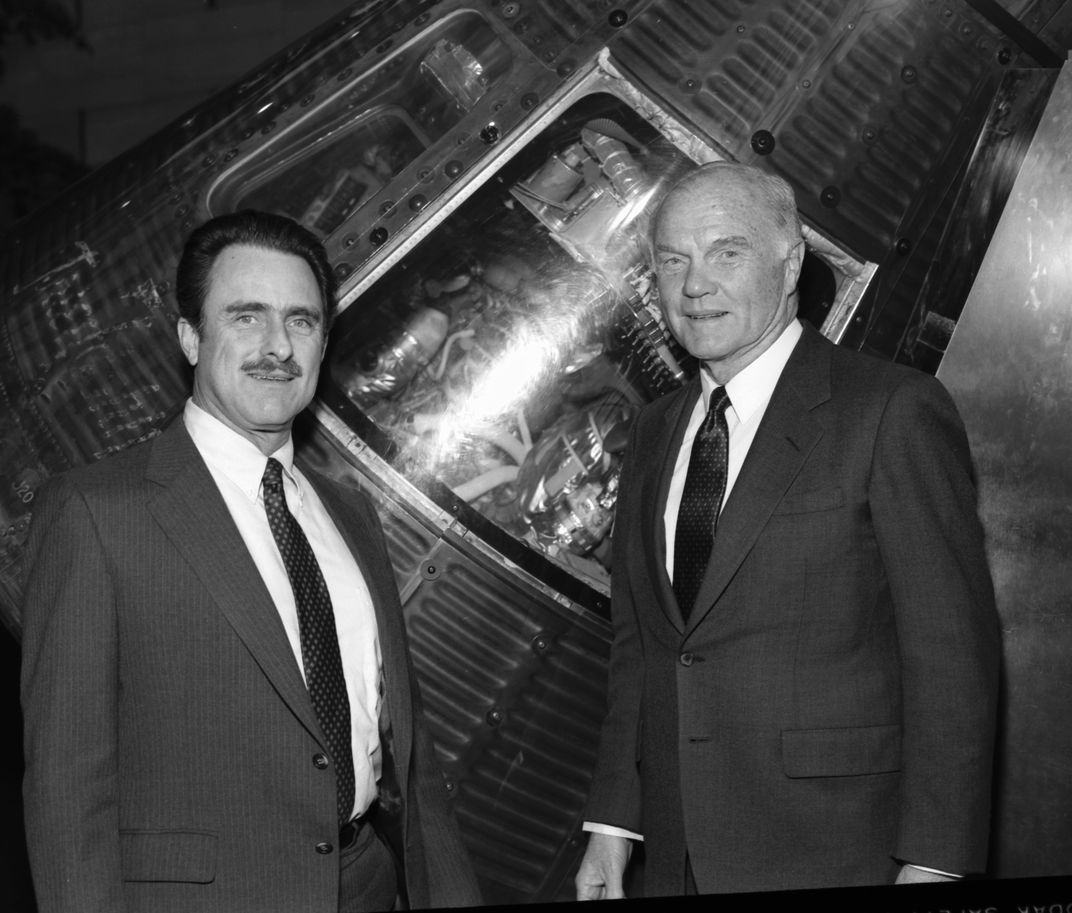 Glenn's own life was undeniably a great adventure. After retiring as an astronaut, he eventually went on to represent Ohio in the U.S. Senate for 24 years, transforming from space-goer to politician. Writer Nick Taylor first met Glenn during Glenn's final year as a senator, after being introduced through Glenn's friend David McCullough (who shared a literary agent with Taylor).  Taylor recalls walking into Glenn's Senate office to see the man signing a massive stack of pictures of himself. Glenn refused to use printed signatures, because he wanted to give fans what they actually expected: his real handwriting.
Taylor helped Glenn write his 2000 memoir, and the two "small-town boys" remained close friends afterwards. The New York author says he was always struck by Glenn's intense curiosity, and his desire to share what interested him with his friends and loved ones. Glenn even went on to convince Taylor to watch a video of his own cataract surgery because he found it so fascinating. Though he didn't graduate college, the former astronaut was fascinated by anything scientific or medical, Taylor says.
Despite having a larger-than-life career—two, in fact—Glenn still managed to appreciate the little things. When he orbited the Earth, he recalled seeing three sunsets in less than five hours, a memory that stuck with him for the rest of his life. From then on, he made a point of "collecting sunsets" through photographs for the rest of his life, Taylor says. Glenn also had a passion for chocolate: In his home and office, he kept bowls of Hershey kisses and Ohio's famous buckeye treats on hand. "You could always count on being offered candy when you were around John," Taylor recalls.
After leaving the Senate, Glenn spent his final years supporting future leaders through the John Glenn College of Public Affairs, the college named after him, at Ohio State University. One of the many students whom he impacted was Rachel Coyle, who found in Glenn a man who would help pave her path into a career in politics. Through Glenn's program, Coyle was able to intern in a Senate office in Washington, D.C.; she now works in the Ohio statehouse, where Glenn will lie in state this week.
Coyle recalls Glenn and his wife as being very engaged in her program, and always taking the time to meet and learn about every student. "He was always there," Coyle says. "Pretty much everyone I know has at least one story that they've been sharing the last few days about the time they got to meet John Glenn … That's unique for someone who's as famous as he is."
The well-known devotion between Glenn and Annie, his high school sweetheart and wife of 73 years, also left a big impression on Coyle. He and Annie would hold hands throughout dinners with the students, and John would jokingly try to steal food off her plate, which would result in a smack on the hand from Annie. Even decades into their marriage, the two were clearly in love. "That always really struck a chord with me," Coyle says.
A 1988 portrait by Henry C. Casselli that captures John Glenn at the time of his mission aboard the Discovery space shuttle at the age 77 is now on view in memory of the astronaut's life and accomplishments at the National Portrait Gallery.