Karijini National Park in HD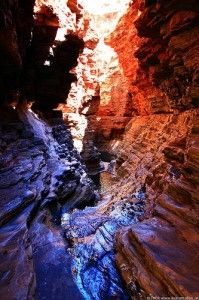 If you know what park this continent is on, you're ahead of me. I was browsing through videos on Vimeo's HD Nature channel (they are all amazing!) and came across the one below. The gorges and waterfalls are spectacular. So where are these photographers?
Karijini National Park is in northwestern Western Australia, and it's truly the middle of nowhere. The nearest city, Perth, is more than 800 miles away. If you make it there, you can stay at the Karijini Eco Retreat, where a night in an Eco Tent goes for AU$157, but you'll have to share a bathroom. (At least the camping is cheap.)
As with most of Australia, wildlife abounds—red kangaroos, echidnas, geckos and pythons are just a few creatures you might see. The gorges, though, would appear to be the real draw. They can be 100 meters deep, but how did they form?
Rocks exposed at the gorges originated as fine grained sediment which accumulated on an ancient sea floor 2,500 million years ago. At this time, the atmosphere contained much less oxygen and the only forms of life were simple bacteria and algae. Many of these sediments laid down in the oceans were rich in iron and silica.

Over hundreds of millions of years, the iron-rich deposits were transformed by the pressure of further sediments laid down over them, and they gradually turned into tough well-bedded rock. The gorges were eroded when a sharp drop in sea level caused the rivers to downcut rapidly - a process enhanced by the onset of a more arid climate, which depleted the protective vegetation cover on the valley sides.
Might this be one more spot to put on my "places to see" wish list?
Images Of Karijini National Park from Michael Fletcher on Vimeo.