Inside the Minds of America's Young Scientists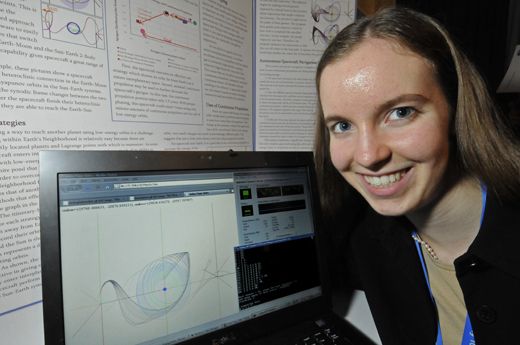 Forty high school seniors have traveled from across the country to Washington, D.C., this week for Intel's Science Talent Search 2010, a program from the Society for Science & the Public. While here, the students have presented their projects to rounds of judges at the National Academy of Sciences. And tonight, Intel will announce which students have won awards (among them, a $100,000 top prize).
I recently spoke with two of the finalists about their projects: one about software that could allow spacecraft to fly through space with little fuel, and another about the dangerous effects of burning indoor candles on air quality.
Erika Debenedictis, Albuquerque, New Mexico: "Traveling the Interplanetary Superhighway: An Autonomous Spacecraft Navigation System"
Debenedictis wanted to be an astronaut for years, but when she read an article about the "Interplanetary Superhighway," she became curious about the vehicles that carried astronauts. The article explained the theory behind the Interplanetary Transport Network, a set of pathways through space that allow spacecraft to travel with very little energy. Using the pathways, spacecraft can move around the solar system with little or no fuel. Instead, they navigate orbits using gravity and the movement of planets, like a sailboat can sail using only ocean currents and the wind.
Spacecraft have used low-energy routes to navigate space before, most memorably when Japan rescued its Hiten lunar mission in 1991, and also in NASA's Genesis mission, which is orbiting the Sun and Earth on one of the ITN pathways to collect solar wind particles. But Debenedictis says the method never been used specifically to travel to other planets. This area of research has lost most of its funding over the past decade, which means research on low-energy routes has nearly come to a halt.
Her goal is to revive it.
Satellites frequently use low-energy routes to travel through space, Debenedictis says, by using station-keeping ability (methods like an ion thruster or solar sail to keep a spacecraft in a specific orbit) that gives them continuous propulsion through space.
Debenedictis designed a software program based on this concept. When used on a spacecraft, the software could help satellites or spacecraft stay on one of ITN's pathways with little to no fuel. And based on Debenedictis' calculations, her program could save the space industry millions of dollars in fuel costs for their satellites and spacecraft and may even cut the time it takes to travel between planets—say, from the Earth to the moons of Jupiter—in half.
Debenedictics is talking to the Boeing Company with the hopes of running her software on their equipment, to see how satellites and other spacecraft would react to its station keeping methods. Instead of an astronaut, she now wants to be an aerospace engineer so she can continue her research and make low-energy orbits a reality.
"Nobody is funding low-energy orbits right now, but think this is a cool area that hasn't been figured out yet," she said. "This is a good time for me to be around."
Otana Jakpor, Riverside, California: "Indoor Air Pollution: A Comparison of Fine Particulate Matter (PM 2.5) Emissions from Paraffin and Soy Candles."
Many people in Otana Jakpor's home state of California have worried about outdoor air pollution. But they should be just as worried about pollution inside their own homes, Jakpor says.
Every year, about 2.4 million people worldwide die from diseases related to air pollution, according to the World Health Organization. Much of that exposure to pollution occurs indoors.
Inspired by her mother, who has severe asthma, Jakpor has spent several years studying indoor air pollution. Her most recent project examines the particles released by indoor candles made from soy and paraffin. What makes fine particulate matter, like that released from candles, so dangerous is its small size, Jakpor says. Because they are such tiny particles, they affect more than just breathing. The particles can go deep into the respiratory tract and from there into the blood stream, and cause heart attacks and cancer.
Using an air monitor from the University of California at Riverside, Jakpor tested both paraffin and soy candles in her own home, measuring the amount of fine particulate matter in the air before burning candles, while burning them, and after they were put out.
She found that one paraffin candle could produce as much as 50 times more fine particles (PM 2.5) than a soy candle. She also found that the candles' wax petroleum, a byproduct of the burning candle, has similarities to diesel exhaust—a known carcinogen. The national air quality standard for outdoor particulate matter, like diesel, is 35 micrograms per meter cubed for 24 hours. The paraffin candle Jakpor studied released 52 micrograms per meter cubed during the same time period.
"I don't want people to get scared and think they can't buy candles anymore, but I think it's important that people have knowledge and information about what they're buying," Jakpor says.
But knowing what you're buying is tricky because many candles don't have labels. Even candles labeled as soy could have paraffin mixed in with them, Jakpor says, and there are several other factors that could affect PM 2.5, like fragrances or metal in the wicks.
Those are factors Jakpor wants to study in the future. In the meantime, she is active as a spokesperson for the American Lung Association, testifying at environmental hearings about her research. "I like to be able to go and make my voice heard," she says.