In Study, iPads and Readers Help Those With Vision Loss Read Faster
Researchers say that the larger fonts and backlights available on tablets help improve reading speeds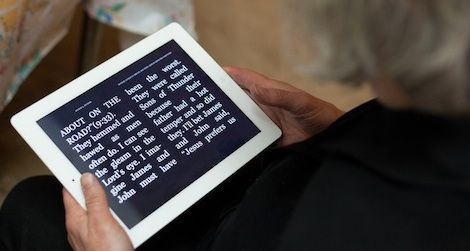 If you have an e-reader, you probably like it for its ability to carry thousands of books at once, download them wirelessly and hold them in a thin slab, lighter than a thick hardcover. For most of us, the list pretty much ends there. But for people with severe vision loss, these readers present an advantage so important that they might not be able to read without them—the ability to increase font size and turn up the contrast in a way that isn't possible with traditional books.
New research, presented yesterday at the meeting of the American Academy of Ophthalmology by Daniel Roth of the Robert Wood Johnson Medical School, quantifies this benefit. In a study conducted by Roth and colleagues of 100 people with eye diseases that had damaged their vision, all increased their reading speed by at least 42 words-per-minute (WPM) by using the iBooks app on iPad with the font cranked up to 18-point size. When they used a non-backlit Kindle, their average speed increased by 12 WPM over print.
The researchers point to the iPad's backlight as the reason that the participants read faster with it, so newer backlit versions of the Kindle as well as other backlit readers would probably test similarly. This backlight—as many iPad owners notice—makes reading a bit easier by increasing what the scientists call contrast sensitivity: the eye's ability to pick out black letters on a white background. For people with vision loss, limited contrast sensitivity is the most common problem.
In addition to turning up the font size, switching to a black background with white letters is often mentioned as a helpful tip for readers with vision loss (though reading with this setting wasn't tested in the study).
Roth believes that iPads and other readers are overlooked as a potential aid for those with reduced vision. "Our findings show that at a relatively low cost, digital tablets can improve the lives of people with vision loss and help them reconnect with the larger world," he said in a statement. The study participants with the worst vision—defined as 20/40 or worse in both eyes—enjoyed the greatest increases in reading speed. Before e-readers, the main tools available to this group were lighted magnifiers, much less convenient to use than e-readers.
The study also asked participants to rate how comfortable they felt using each of the devices, along with print. Those with the worst vision preferred the iPad, but interestingly, those with only moderate vision loss preferred traditional print books. One explanation could be that the benefits to the lowest-vision readers were so obvious that they preferred them immediately, while for the others, the more modest increase in readability didn't outweigh the difficulty of using an unfamiliar device.
Apart from simply making reading easier, software on tablets and smartphones have brought a slew of potentially life-changing benefits for those with impaired vision. Already, apps can use these devices' cameras to identify and announce colors, detect light and note the value of a piece of paper money. Some even integrate GPS and geographically linked information to provide a virtual talking tour guide of an unfamiliar place.