In Southern Utah, a Hadrosaur Left Quite an Impression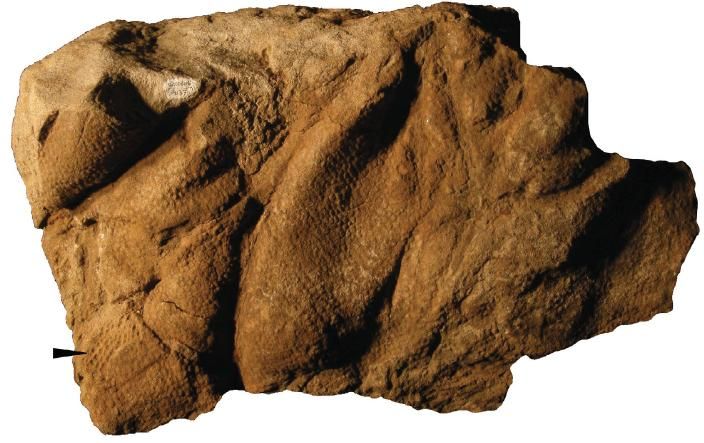 When Charles H. Sternberg and his sons excavated one of the first hadrosaur mummies ever found, in the summer of 1908, it was a major discovery. For nearly a century naturalists and paleontologists could only imagine what a dinosaur's skin was like, but the Edmontosaurus the Sternbergs collected gave scientists an unprecedented look at the hadrosaur soft tissue anatomy. In the century since that discovery, though, so many hadrosaur skin impressions have been found that they don't make the news anymore—only the most spectacular finds, such as the Brachylophosaurus "Leonardo," get much attention.
Despite the number of hadrosaur skin impressions that have been found, there is still much to learn about the skin of different hadrosaurs and how the impressions came to be preserved. In the latest edition of PalArch's Journal of Vertebrate Paleontology, for example, high school student Lucia Herrero and paleontologist Andy Farke have described the partial skin impressions associated with a disarticulated hadrosaur skeleton from southern Utah's 76- to 74-million-year-old Kaiparowits Formation. The specimen was too broken up to determine what genus and species of hadrosaur it had been, but among the scattered bones were patches of skin imprints left in the rock.
On its surface, the association of skin impressions with a busted-up skeleton might appear to be a contradiction. The depositional environment was delicate enough for traces of soft tissue anatomy to be preserved, yet the dinosaur's bones were moved out of place or destroyed. As hypothesized by Herrero and Farke, what this may indicate is that—in the right circumstances—dinosaur skin was durable enough to survive becoming detached from the rest of the carcass and enter the fossil record. Rather than being just an oddball case, the specimens described by Herrero and Farke represent a kind of preservation that may simply have been overlooked at other disarticulated hadrosaur sites, and the Kaiparowits Formation appears to be rich enough in both hadrosaurs and skin impressions to further investigate the way in which traces of dinosaur skin entered the fossil record.
References:
Lucia Herrero & Andrew A. Farke (2010). HADROSAURID DINOSAUR SKIN IMPRESSIONS FROM THE UPPER CRETACEOUS KAIPAROWITS FORMATION OF SOUTHERN UTAH, USA PalArch's Journal of Vertebrate Palaeontology, 7 (2), 1-7