Great Science Books for the Little Ones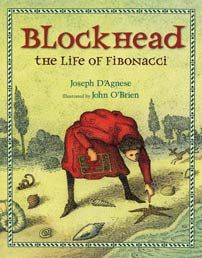 How do you raise a miniature scientist? Start with books, of course. Below is a list of my favorite children's science books from the past year (if you're looking for other types of kids' books, Smithsonian.com will have our annual list of notables online later this week):
Adventure Beneath the Sea, by Kenneth Mallory, photographs by Brian Skerry. The author spends a week in the world's only underwater laboratory, Aquarius, and participates in a mission to learn where fish go. (Ages 9 to 12)
All the Wild Wonders, edited by Wendy Cooling, illustrated by Piet Grobler. A collection of poems celebrating the Earth and its creatures, accompanied by delicate watercolor paintings. (Ages 9 to 12)
Amy's Light, by Robert Nutt. This simple rhyming tale of a little girl who catches and releases fireflies in the night is followed by a page of firefly biology and links for how kids can participate in firefly research. (Ages 2 to 10)
Blockhead: The Life of Fibonacci, by Joseph D'Agnese, illustrated by John O'Brian. A fictionalized tale of Leonardo Fibonacci, the greatest mathematician of the Middle Ages. He discovered what we now call the Fibonacci Sequence of numbers, which pops up in all sorts of places in the biological world. (Ages 9 to 12)
Champions of Wild Animals, by Carol L. and Bruce Malnor, illustrations by Anisa Claire Hovemann. Short biographies of eight animal researchers, including E. O. Wilson and Jane Goodall. Other books in the Earth Heroes series include Champions of the Wilderness and Champions of the Ocean. (Ages 10 to 14)
Come See the Earth Turn, by Lori Mortensen, illustrations by Raúl Allén. The story of Léon Foucault, the man who had been a sickly child and poor student but discovered how to prove, with a simple pendulum, that the Earth spins. (Ages 4 to 8 )
EcoMazes: 12 Earth Adventures, by Roxie Munro. Kids can learn about 12 different types of ecosystems as they search for walruses, buffaloes, penguins and other creatures. (Ages 4 to 8 )
Every Bone Tells a Story, by Jill Rubalcaba and Peter Robertshaw. This book tells the stories of four major anthropological discoveries: Turkana Boy (a Homo erectus from Kenya), Lapedo Child (a 24,500-year-old H. sapiens from Portugal), Kennewick Man (a 9,000-year-old human skeleton from Washington State) and the 5,300-year-old Iceman found in the Alps. The book is thick and detailed, discussing how the finds were made and what they say about human evolution. (Grades 8 to 12)
Frozen Secrets: Antarctica Revealed, by Sally M. Walker. The book begins with a brief history of Antarctica's first explorers and then delves into the adventures of modern scientists studying everything from ice to deep lakes to dinosaurs. (Young adult)
How the Sphinx Got to the Museum, by Jessie Hartland. If you've ever wondered how a piece from an archaeological dig made it into a museum exhibit, wonder no more. Track one sphinx through history—and many hands, from a queen to an archaeologist to conservators and more—from ancient Egypt to the Metropolitan Museum of Art in New York. (Ages 6 and up)
How the World Works, by Christiane Dorian, illustrated by Beverley Young. An interactive book that uses pop-ups, tabs and flaps to illustrate and expand on topics like plate tectonics, the water cycle, weather and ocean currents. (Ages 4 to 8 )
I'm a Scientist: Backyard and Kitchen, by Lisa Burke. Simple, fun and kid-friendly experiments that teach about things like surface tension, bridges, worms and magnets. One volume uses items found in the backyard and garden, the other, common kitchenalia. (Ages 4 to 8 )
Let's Save the Animals, by Frances Barry. A beautiful book uses collage and clever flaps to introduce ten threatened species, included black rhinos, monarch butterflies and polar bears. (Ages 4 to 8 )
Mammoth Bones and Broken Stones, by David L. Harrison, illustrations by Richard Hilliard. This book looks at how humans migrated out of Africa and all the way to North America, examining the archaeological evidence and addressing questions such as whether humans could have crossed the South Pacific to South America. (Ages 9 to 12)
Ocean Soup: Tide-Pool Poems, by Stephen R. Swinburne, illustrations by Mary Peterson. Adorable poems about the denizens of the tidal zone—such as barnacles, mussels and hermit crabs—are paired with short paragraphs that teach the reader more about these creatures. (Ages 4 to 8 )
Quackenstein Hatches a Family, by Sudipta Bardhan-Quallen, illustrations by Brian T. Jones. Quackenstein, a duck, adopts an orphan egg and is shocked by his new son—a furry creature with spurs on its legs and a beaver-like tail. What could it be? (Ages 4 to 8 )
The Humblebee Hunter, by Deborah Hopkinson, pictures by Jen Corace. Etty Darwin helps her father—Charles Darwin, of course—in a little experiment on bees. The story provides a glimpse into the Darwin household and how the famed scientist involved his children in his work. (Ages 4 to 8 )
The Ice Age Tracker's Guide, by Adrian Lister, illustrated by Martin Ursell. What might a children's book of animals have looked like 50,000 years ago? It would have mastodons, moas and lots of other creature now long extinct. (Ages 4 to 8 )
There's a Hummingbird in My Backyard, by Gary Bogue, illustrations by Chuck Todd. Beautiful watercolor images accompany this tale of a family that observes Anna's hummingbirds in their backyard. (Ages 4 to 8 )
Why Do Elephants Need the Sun? by Robert E. Wells. Lots of fun facts about the Sun and how it affects all living things, including elephants, here on Earth. (Ages 4 to 8 )
And if you missed it last year, here are my favorites from 2009.