Genetics Lab or Art Studio?
DNA 11, based in Ottawa, has built the first high-tech genetics laboratory devoted solely to art making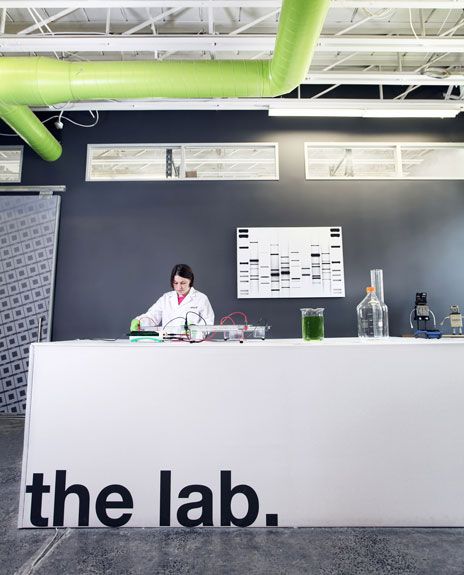 Nazim Ahmed remembers when he and his business partner Adrian Salamunovic first came up with the idea. "We were hanging out one evening," says Ahmed. "At the time, I was working for a biotechnology company, so I had a lot of images of DNA lying around. When Adrian looked at the images, he saw art."
The two friends talked about how cool it would be to take samples of their own DNA and, from it, create artwork to decorate their apartments. Right then and there, Ahmed, who had some DNA swabs, and Salamunovic swabbed their mouths for cheek cells. They sent the samples off to a lab, where technicians isolated specific DNA sequences and created a unique digital image—a pattern of highlighted bands—for each of the men. Once they had the images, they added color to them in Photoshop, blew them up and printed them on canvas.
"It was a little experiment. We thought it would be cool," says Ahmed. "We never thought it was going to turn into a business."
Soon enough, the pair started to sell the customized prints to friends and family. The success inspired Ahmed and Salamunovic to found, in June 2005, DNA 11, a Web site where people from around the world can order their very own "DNA portraits."
In seven years of operation, DNA 11—11 represents the two strands of DNA that are paired in a double helix—has garnered a lot of attention. Just months after the site launched, Wired magazine praised the idea: "Finally, someone's found a way to exploit your inner beauty." In April 2007, the plot of a CSI: NY episode, titled "What Schemes May Come," hinged on a DNA portrait. Then, in 2009, actor Elijah Wood auctioned off his DNA portrait on eBay, with proceeds going to The Art of Elysium, a charity connecting actors, artists and musicians to children with serious illnesses. Late night comedian Conan O'Brien mentioned the fundraiser on his show. And, just last month, Apple co-founder Steve Wozniak was given a DNA portrait at his 62nd birthday party in San Francisco. The image was also transposed onto his cake.
DNA 11 has a staff of 50, spread between its 5,000-square-foot headquarters in Ottawa, Canada, and its 20,000-square-foot production center in Las Vegas. Until this year, the company outsourced its lab work to a large biotech company. But, now, DNA 11 has its own swanky in-house lab.
"We wanted to have control over the entire process from beginning to end," says Ahmed. "And we wanted to create the first genetics lab in the world dedicated to crossing art and science."
DNA 11 loosely compares its new lab to Andy Warhol's Factory, an experimental New York studio where the artsy set congregated in the 1960s. "It provides an inspirational space for artists, creatives and scientists to create truly remarkable biometric-inspired products," says Ahmed. (Biometrics measure physical and behavioral characteristics, such as fingerprints and voice patterns, that are unique to individuals.)
With polished concrete floors, clean white surfaces, neon accents and state-of-the-art biotech equipment, the space has a very modern sensibility. One full-time biochem technician oversees all of the lab work.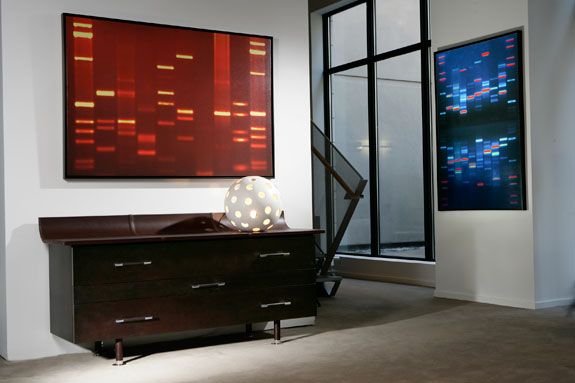 So, how exactly is a DNA portrait made? Here's a step-by-step run-down:
Collect DNA Sample – Once you place your order on DNA 11's Web site, choosing the size and color scheme for your portrait, the company sends you a DNA collection kit. With a foam swab, you collect material from the inner check of your mouth. (Many customers have even collected saliva from their dogs for pet portraits.) You then rub the swab onto a small piece of paper called an FTA card, then seal it and return it to DNA 11.
At the Lab – Technicians scan a barcode on the FTA card so that, from that point on, a tracking number is attributed to your sample instead of your name. The card goes through a series of washes, and the client's DNA sample is extracted. Technicians then identify eight small DNA sequences that are unique to every individual with respect to frequency and location. Using a process called polymerase chain reaction (PCR), they replicate the strands of DNA that are flanked by those sequences. These strands of DNA are loaded into an agarose gel, which is zapped with a current. This gel electrophoresis separates the DNA strands by size, creating a distinct pattern. Technicians stain the DNA with an ultraviolet-based dye and take a digital photograph of it. "Every image is completely unique to the individual," says Ahmed.

Design Work – The raw image is then sent to in-house designers. "This is where we are starting to cross the art and science," says Ahmed. The designers clean up the image and add color. Then, the image is printed onto canvas using a Canon large-format printer. A protective coating is added, and the portrait is framed.
"We are bringing genomics to the mainstream, to people who would normally not be exposed to the field," says Ahmed.
"Before 2005, everyone visualized DNA as a double helix. Now, if you do a Google search for DNA, you will see our banding pattern," Ahmed adds. "We have affected the way people see DNA."