Geeky Gifts for Your Valentine
Having trouble finding a gift that matches the brilliance of your Valentine? We've got the solutions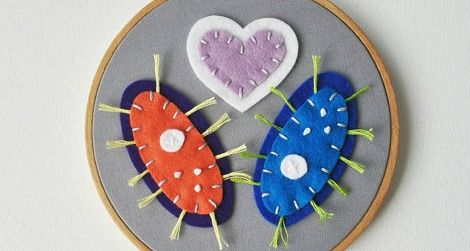 Valentine's Day is right around the corner, and it's time to get serious about shopping for your geeky other half. Chocolate, flowers and jewelry are all well and good, but you'll have to be a little more clever than that to strengthen your bond (whether it's covalent or ionic).
Struggling to find the right way to say "I love you" to your brainy sweetheart? Everyone knows the language of love is binary code. Or perhaps it's the periodic table. Choose one of the many geeky Valentines cards on the market, or make your own with Lovestagram.
Wearing your heart on your sleeve is so passé. Why not plot it on a graph? This T-shirt has the equation to show him you're always plotting for his heart. If your girl is more of a bio geek, she's sure to squeal when you give her the keys to your anatomically correct heart. Show that special lab geek exactly how he or she makes you feel with this heart pillow, embroidered with the molecular structure of dopamine, the brain chemical of pleasure.
For the techie couples out there, push her buttons with a Mac power button ring. In fact, there are lots of ways you can recycle your favorite gadgets into bling: These classy cufflinks are crafted from actual microchips, and this necklace turns a circuit board into art.
Perfume is a classic romantic choice. Try intoxicating your sweetheart with a chemically perfect scent. Last year, scientists at the University of Nottingham concocted a perfume called Mendeleev's Dream (after the father of the periodic table, naturally). Just get your hands on some Vanillin, Hippodamine (which is used by ladybugs to attract other ladybugs), theobromine (found in chocolate), a few other ingredients, and start mixing!
Once you've picked out a gift, it's time to create the mood on that special night. Bask in the glow from these lightsaber candles and plug in a flash drive for a little aromatherapy while you cuddle under this "parameciums in love" hoop art.
Now there's no excuse for further procrastination. Have fun, relax, and remember: Love long and prosper.